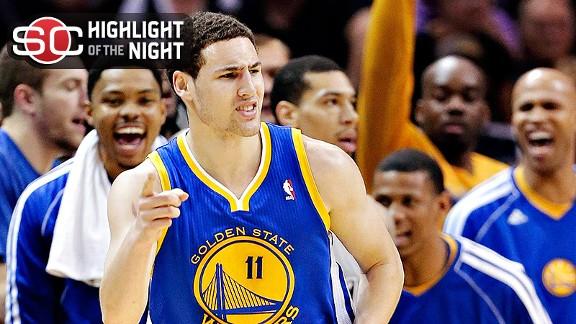 Metta World Peace Wants To Settle The Score With The Clippers For Best Team In L.A.

dimemag.com

May 9, 2013

In a weird scheduling quirk, there are no NBA Playoff games on tonight, with Miami/Chicago and San Antonio/Golden State continuing with Game 3s tomorrow evening. But if it was up to Metta World Peace, we'd have some entertainment. The Lakers forward wan

Share Tweet

yahoo.com ESPN.com feltbot.com

May 9, 2013

A look around the league and the Web that covers it. It's also important to note that the rotation order and starting nods aren't always listed in order of importance. That's for you, dear reader, to figure out. C: Hardwood Paroxysm. Andrew Lynch looks …

Share Tweet

CNNSI.com

May 9, 2013

Stars are born in the postseason. Warriors dynamo Stephen Curry has joined this select group of active players who have made a next-level leap in the playoffs, writes Ian Thomsen.

Share Tweet

yahoo.com dimemag.com

May 9, 2013

Klay Thompson exploded into the national consciousness on Wednesday night, pouring in 29 first-half points in a scintillating shooting display that left the San Antonio Spurs stunned and helped propel the Golden State Warriors to a convincing 100-91 win…

Share Tweet

Too Close to Call

May 9

Spurs vs. Warriors was supposed to be a cakewalk for San Antonio. But some classic games in San Antonio, and a split series, makes this a toss-up. Who's favored now that the Warriors have homecourt? Ethan Sherwood Strauss and Graydon Gordian weigh in

MVP Of The Playoffs

May 9

LeBron James? Kevin Durant? Joakim Noah? Marc Gasol? Tony Parker? Stephen Curry? Mike Conley? David Thorpe names his MVP of the playoffs so far.

Spurs-Warriors Game 3 Preview

May 9

Bruce Bowen breaks down the Game 3 matchup between the Spurs and Warriors.