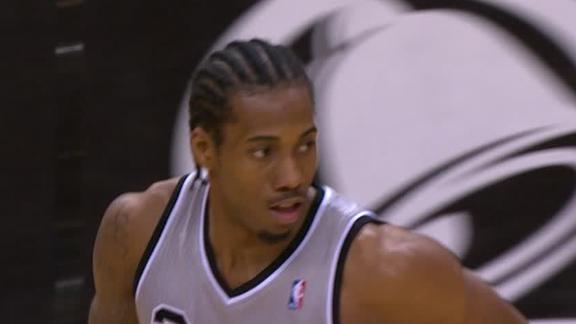 Updated May 15
Share
Tweet
Forgive the San Antonio Spurs if they aren't that excited about holding a 3-2 series lead over the Golden State Warriors in the Western Conference semifinals.
Sources:
nba.com
feltbot.com
ESPN.com
For the Spurs, Parker Is the Steady Hand (Again)

Updated May 15

Share Tweet

Stephen Curry of the Warriors has been in the spotlight this round, but Tony Parker personifies the consistently efficient Spurs.

Source:

nytimes.com

The Top 10 Point Guards In The NBA This Season; Everyone Is Now Gunning For Russell Westbrook

Updated May 15

Share Tweet

The point guard position in the NBA has quickly become one of the most competitive spots in all of sports. There are so many good lead guards in the NBA that it's impossible for any player at the position to take a night off. The position has seen a maj

Stephen Curry's Wild Behind-The-Back Dime To Harrison Barnes

Updated May 15

Share Tweet

The Warriors were beaten thoroughly by the Spurs in Game 5, and Harrison Barnes might've been on the wrong side of the best highlight of the night. But the rook is stepping up. He had 25 points last night, single-handedly keep Golden State close when Sa

Veteran Know-How: Stung repeatedly by Golden State's backcourt, the…

Updated May 15

Share Tweet

Stung repeatedly by Golden State's backcourt, the Spurs struck back in a 109-91 Game 5 win by clamping down on the upstart Warriors like few teams have, writes Ben Golliver.

Source:

CNNSI.com

Tracy McGrady Blocked Two Shots, And The Spurs Won, Too

Updated May 15

Share Tweet

So, the San Antonio Spurs smacked the Golden State Warriors 109-91. The Spurs are up 3-2, and have a chance to close out the most exciting series of the NBA Conference semifinals when they travel to Golden State on Thursday. Fine. Great. That's not why …

Source:

deadspin.com

Kawhi Leonard's Sick Statue Of Liberty Dunk On Harrison Barnes' Face

Updated May 15

Share Tweet

Charles Barkley called it. Kawhi Leonard was going to have a big night, needed to have a big night for San Antonio to win. He delivered, going for 17 points and seven boards and this nasty Statue Of Liberty dunk on Harrison Barnes' face. Who would you r

Spurs-Warriors Game 6 Preview

May 15

Tim Legler breaks down what the Warriors need to do to win Game 6.

Warriors Done?

May 15

The Spurs have devised ways to stop the Warriors' potent 3-point attack. Ethan Sherwood Strauss and Graydon Gordian have seen enough to declare the Spurs will move on.

Sport Science: Stephen Curry

May 15

John Brenkus and the Sport Science team examine Golden State guard Stephen Curry's sweet stroke.