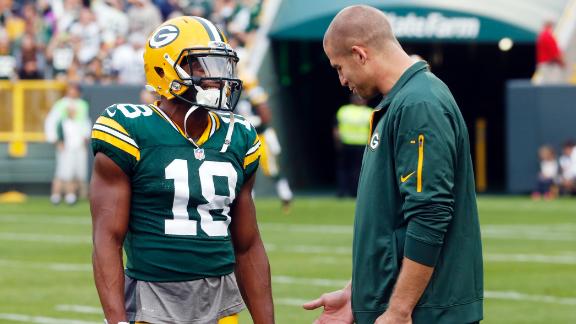 profootballtalk.com
ESPN.com
nytimes.com
yahoo.com
Updated 6 hours ago
Packers wide receiver Randall Cobb feared a broken collarbone when he was first injured in Saturday's game against the Eagles, but they were able to rule out an injury of that severity before the night was over. Cobb went for further tests on Sunday and…
Share
Tweet
profootballtalk.com

3 hours ago

Tight end Brandon Bostick was released by the Packers shortly after he mishandled an onside kick against the Seahawks in the NFC Championship game this year and signed with the Vikings a couple of days later. Nothing quite so dramatic happened during Bo…

Share Tweet

greenbaypackernation.com

5 hours ago

Raves I know some fans are thinking what's to rave about but there were some good things that came out of this game, Hundley got off to a bad start but soon as he settled in he played pretty darn

Share Tweet

ESPN.com

13 hours ago

Mike McCarthy has work to do with Packers' defense, special teams

Share Tweet

profootballtalk.com

15 hours ago

There's a good reason the Eagles have kept Sam Bradford in bubble wrap, pulling him after one series and some hard hits against the Ravens, and limiting his work last night against the Packers. When he's been on the field, he's been practically perfect.…

Share Tweet

ESPN.com

23 hours ago

Brett Hundley is no Aaron Rodgers, but plays well in Packers debut

Share Tweet

The aftermath of Saturday night's preseason game in Miami includes another injury to one of the Pouncey twins. Steelers center Maurkice Pouncey broke an ankle last week against the Packers; Dolphins center Mike Pouncey emerged from a contest against the…

Share Tweet

Micah Hyde carted off at Lambeau Field

The decision to keep Packers quarterback Aaron Rodgers out of Saturday night's preseason game is looking better and better. Green Bay cornerback Micah Hyde has been carted off at Lambeau Field during the second quarter of the preseason game against the …

Share Tweet

Packers quarterback Aaron Rodgers recently lobbied for the reduction of the preseason by a couple of games, after the season-ending knee injury suffered by receiver Jordy Nelson in a meaningless exhibition last Sunday against the Steelers. While the pre…

Share Tweet

Packers quarterback Aaron Rodgers said Wednesday that the Packers offense is right where it needs to be for the start of the regular season before saying he wasn't sure how much playing time he'd get in Saturday's game against the Eagles. Based on what …

Share Tweet

Letroy Guion's three-game suspension is upheld

Packers defensive lineman Letroy Guion was suspended three games by the NFL under the substance-abuse policy. He had appeal rights under a procedure that, as of September 2014, removed final say from the league office and exported it to an external pane…

Share Tweet

Report: Mike Daniels, Packers far apart in contract talks

Defensive end Mike Daniels has provided the Packers with 14 sacks through his first three seasons with the team, which is a good total for a player at his position in a 3-4 scheme and good reason why the team has engaged in extension talks with him this…

Share Tweet

profootballtalk.com ESPN.com

Aug 27 (4 days ago)

After Packers wide receiver Jordy Nelson tore his ACL last Sunday, quarterback Aaron Rodgers lamented that his top target from last season had been injured in a "meaningless" game. Nelson's absence will force some players into new roles and cause some c…

Share Tweet

Cobb injury putting a strain on Packers' receiving corps

Aug 30

Mark Dominik breaks down how Randall Cobb's absence would impact the Packers' offense.

Packers relieved regarding Cobb's injury

Aug 29

ESPN Packers reporter Rob Demovsky and Bob Holtzman discuss the injury to Packers receiver Randall Cobb.

Bradford: 'I found a rhythm tonight'

Aug 29

Sam Bradford talks to Bob Holtzman after leading the Eagles to a 39-26 win over the Packers.

Bradford impresses, Cobb injured in Eagles' win

Aug 29

SportsCenter Highlight of the Night: Sam Bradford completes all 10 pass attempts for 121 yards and three touchdowns while Randall Cobb leaves in the first quarter with a shoulder injury in Philadelphia's 39-26 win over Green Bay.