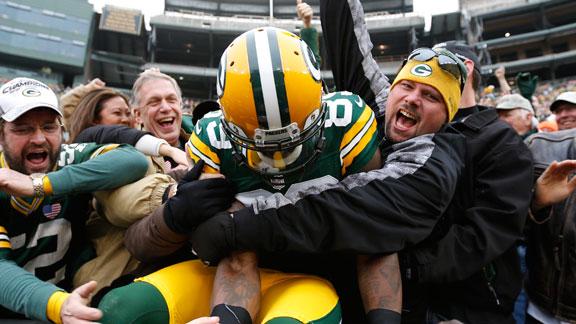 Packers: Don Barclay (!) is next man up
ESPN.com
Updated Dec 2, 2012
GREEN BAY, Wis. -- As the Green Bay Packers' injury list has grown this season, I've been saving the panic button for two occasions. The first is so obvious that I don't think I need to mention it. (Follow this link if you must.) The second was a little…
Share
Tweet
Megatron Makes It Look Easy: Your Sunday NFL GIF Roundup

deadspin.com

Dec 2, 2012

We'll be putting all our GIFs for the day here, from the silky-smooth Calvin Johnson to Mark Sanchez getting his hopes up. We'll update the post as the later games conclude, so stay tuned. More »

Share Tweet

yahoo.com

Dec 2, 2012

On the way to a 23-14 Minnesota Vikings loss, tight end Kyle Rudolph committed the ultimate act of Lambeau Field sacrilege. After catching a touchdown pass from Christian Ponder in the second half, Rudolph checked out the wall where Green Bay Packers pl…

Share Tweet

With the Green Bay Packers trailing the Bears by one game, thanks to that bad call in Seattle way back in Week Three, and reeling from a blowout loss last Sunday to the Giants, the Pack jumped back into first place, thanks to a win over the Vikings coup…

Share Tweet

Packers survive Peterson's heroics, top Vikes

James Starks had Green Bay's first rushing touchdown in almost two months, Morgan Burnett picked off Christian Ponder twice and the Packers overcame a monster day by Adrian Peterson for a 23-14 victory Sunday over the Minnesota Vikings.

Share Tweet

Packers lose WR Nelson, OL Lang vs. Vikings

The Green Bay Packers are playing short-handed again with offensive lineman T.J. Lang and Jordy Nelson out for the rest of Sunday's game against the Minnesota Vikings.

Share Tweet

Leading 14-10 at the start of the third quarter, the Vikings had a chance to get some separation from the Packers. And running back Adrian Peterson did his part, reeling off a 48-yard run after the opening kickoff went out of bounds. After a four-yard r…

Share Tweet

On the day that Packers saw receiver Greg Jennings return, they may have lost receiver Jordy Nelson. Again. Nelson has walked to the locker room with an apparently leg injury.  If he's limping, it's only slightly. The Packers lead 10-0.  What would

Share Tweet

Packers give Rodgers an early birthday present

profootballtalk.com

Dec 2, 2012

The Packers are celebrating their quarterback's 29th birthday in style, so far. Seven days after being blown out by the Giants, the team is blowing out the candles on Rodgers cake by blasting into the end zone on the opening drive. In eight plays, the P

Share Tweet

yahoo.com

Dec 2, 2012

The Green Bay Packers will have the services of veteran wide receiver Greg Jennings when they host the Minnesota Vikings at Lambeau Field on Sunday. Jennings has missed eight games this season with a groin injury, costing him over $200,000 in "per …

Share Tweet

Here is the online version of Merril Hoge's sitdown interview with Detroit Lions defensive tackle Ndamukong Suh. Suh maintained that he has turned around his image since making a "horrible mistake" last season in stomping Green Bay Packers gua…

Share Tweet

Are running back issues in Green Bay due to scouting or scheme?

profootballtalk.com

Dec 2, 2012

As the Green Bay Packers welcome the best running back in the NFL back to Lambeau Field on Sunday, the home team will trot out Alex Green (pictured), James Starks, Johnny White, and DuJuan Harris. Who? Exactly. That's not entirely fair.  Starks has som

Share Tweet

Sunday Blitz: Vikings-Packers Recap

Dec 2

Prim Siripipat and Cris Carter break down the Packers' 23-14 win over the Vikings

Packers postgame press conference

Dec 2

Packers react following game with Vikings

Packers Rally Past Vikings

Dec 2

Down 14-10 at the half, the Packers scored 13 unanswered points to defeat the Vikings 23-14.

Vikings vs. Packers highlights

Dec 2

Aaron Rodgers and the Green Bay Packers celebrate the quarterback's 29th birthday in style, knocking off the Minnesota Vikings 23-14.

Sports Columnists

Don Banks: Backs against wall, Batch, Steelers prove they're not quite don…

Dec 2

BALTIMORE -- We probably should have seen this one coming. The aging Charlie Batch has looked like he was on his last legs for years now. Just like the aging Pittsburgh Steelers. But they both refuse to go away. At least quietly.

Don Banks: Surprisingly, the race is on in NFC West, North; more Snaps

Dec 2

BALTIMORE -- Musings, observations and the occasional insight from a tragedy-marred Week 13 in the NFL, but one that treated us to multiple fantastic finishes...