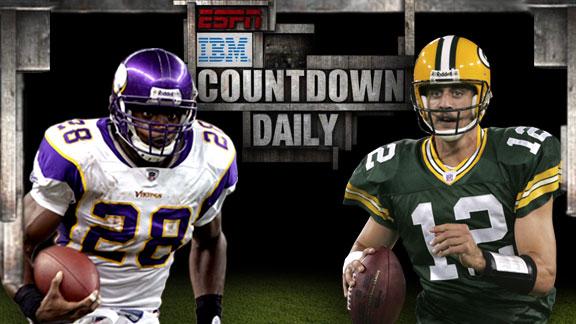 ESPN.com
CNNSI.com
profootballtalk.com
Updated Jan 1, 2013
Charles Woodson has been cleared to play again, and the Green Bay Packers are counting on the defensive back to provide a lift in Saturday night's playoff game against the Minnesota Vikings.
Share
Tweet
Vikings-Packers III: Lambeau 'advantage'

ESPN.com

Jan 1, 2013

Faced with a short work week, Tuesday was really a Wednesday for the Minnesota Vikings and Green Bay Packers. Both teams had full practices scheduled, and in Minnesota, the Vikings opened the doors to their practice facility to give them at least a part…

Share Tweet

Final NFC playoff standings*

ESPN.com

Jan 1, 2013

So there it is. Three months after it occurred, the "Fail Mary" deposited one ripple in the NFC playoff seeding: It cost the Green Bay Packers a first-round bye in the 2012 playoffs. You know the drill in this post. We've been tracking the pot…

Share Tweet

Mike Ditka calls the Bears "stupid" for firing Lovie Smith

profootballtalk.com

Jan 1, 2013

Former Bears coach Mike Ditka is not happy that Lovie Smith got the boot following a 10-6 finish in 2012. Ditka called the Bears "stupid" for making the decision, noting that if the Packers had beaten the Vikings on Sunday afternoon, Smith would be pr

Share Tweet

Sports Columnists

Peter King: Rams started their rebuilding effort the right way in 2012; ma…

Jan 1

On Black New Year's Day, as 11 NFL teams try to figure out what to do with either their organization, GM, coach, coaching staffs -- or all of them -- I bring you my Smart Team of the Year: the St. Louis Rams.

Jim Trotter: Seahawks defense short on marquee names, but not superstar pl…

Jan 1

There were 53 cornerbacks selected in the 2011 NFL draft, and Richard Sherman wasn't among the first 33 chosen. If you think that doesn't grate on him, then you don't know Sherman, who was taken in the fifth round by the Seattle Seahawks.