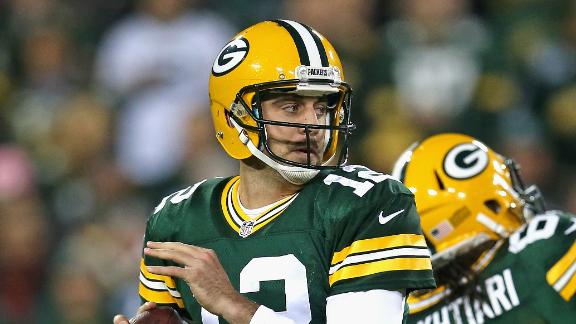 ESPN.com
yahoo.com
profootballtalk.com
grantland.com
Updated Nov 25, 2013
Don't count on Aaron Rodgers returning from his broken collarbone to play in the Green Bay Packers' Thanksgiving game against the Detroit Lions.
Share
Tweet
Lions poised to be favored on Thanksgiving for first time since 2000

With the Packers likely again without quarterback Aaron Rodgers, numerous Nevada sports books have posted the Lions as anywhere from 5.5-to-6.5-point favorites over Green Bay on Thursday, via multiple line-tracking websites. If the line holds — and it m…

Share Tweet

Packers' Ryan Pickett: We all feel we can win the Super Bowl

The Packers are 5-5-1 and haven't won a game in a month, but that doesn't mean they see their season heading in the wrong direction. Instead, Packers defensive tackle Ryan Pickett told the Milwaukee Journal Sentinel, the team is united in the belief tha…

Share Tweet

CNNSI.com

Nov 25, 2013

Sports Illustrated's Boomer Esiason reasons that the NFL needs to remove ties from the game after the 26-26 tie between the Minnesota Vikings and Green Bay Packers.

Share Tweet

It has been less than 24 hours since the Vikings' tie with the Packers came to an end, but cornerback A.J. Jefferson has been pretty busy. A Hennepin County Jail spokesperson confirmed with Tom Pelissero of USA Today that Jefferson is in jail after bein…

Share Tweet

yahoo.com profootballtalk.com ESPN.com

Nov 25, 2013

Green Bay Packers running back Eddie Lacy was punishing the Minnesota Vikings defense so hard on Sunday, he was forced to catch his breath – literally. Lacy left the game late in overtime after his asthma condition flared-up because of the 19-degree wea…

Share Tweet

ESPN.com

Nov 25, 2013

GREEN BAY, Wis. -- A review of four hot issues from the Green Bay Packers' 26-26 tie against the Minnesota Vikings on Sunday: Too early for two: Mike McCarthy became the latest in a long line of coaches who made the mistake of trying a two-point convers…

Share Tweet

Packers', Bears' QB Troubles

Nov 25

The NFL Live crew evaluates the conservative approach the Packers and the Bears are taking with the returns of Aaron Rodgers and Jay Cutler, respectively.

Aaron Rodgers Likely Out Thursday

Nov 25

Eric Allen with the latest on Aaron Rodgers' injury and how the Packers will replace him at quarterback.

A Season Of Injuries

Nov 25

With a plethora of NFL starts sitting on the sideline due to injuries, has the level of play in the league suffered? Cary Chow and Eric Allen discuss.

When will Green Bay Packers quarterback Aaron Rodgers be back?

Nov 25

With recent news that Green Bay Packers quarterback Aaron Rodgers will unlikely play on Thanksgiving, when can we expect him back? NFL Media Insider Ian Rapoport has the latest.