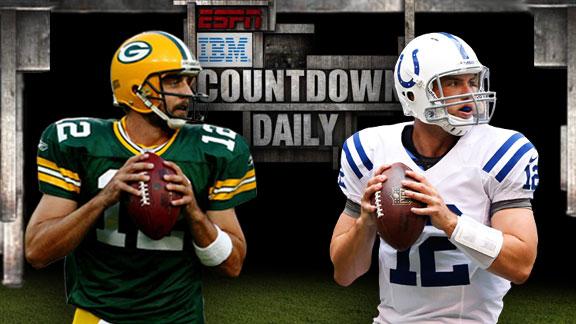 ESPN.com
profootballtalk.com
Updated Oct 4, 2012
Green Bay Packers wide receiver Greg Jennings will miss Sunday's game against the Indianapolis Colts due to a groin injury.
Share
Tweet
Replacement refs say they were told to let pass interference penalties go on Hail Mary plays

yahoo.com

Oct 4, 2012

Thankfully, the Replacement Official Era of the NFL is over, but the officiating issue is not completely off our radar screen. Ed Hochuli graces the cover of this week's Sports Illustrated, Green Bay Packers coach Mike McCarthy demonstrated his class la…

Share Tweet

Packers coach reaches out to controversial ref

ESPN.com

Oct 4, 2012

One of the NFL replacement officials at the heart of the most controversial moment of the lockout said that Green Bay Packers coach Mike McCarthy has reached out to him.

Share Tweet

profootballtalk.com

Oct 4, 2012

A cottage industry emerged last week among a small handful of contrarians who pandered to Seahawks fans by suggesting that the events that concluded the Monday night game between Green Bay and Seattle were handled correctly. That industry can now offici…

Share Tweet

NFL32OT: Is Russell Wilson's Job in Jeopardy?

Oct 4

Episode 200: Suzy Kolber and Chris Mortensen discuss whether Russell Wilson should remain the starter in Seattle. Steve Young breaks down the Chiefs staying with Matt Cassel. The NFL32 crew discuss how Andrew Luck will fare against the Packers defens

Mike McCarthy reached out to replacement refs

Oct 4

In an interview on "Inside The NFL" on Showtime, replacement referee Wayne Elliot talks about the encouraging phone call he received from Green Bay Packers head coach Mike McCarthy, as well as the overall experience in the aftermath of the &qu…

Countdown Daily Prediction: Packers-Colts

Oct 4

The NFL Live crew makes their picks for Green Bay at Indianapolis

McCarthy Reaches Out To Replacement Ref

Oct 4

Mike Greenberg and Mike Golic discuss Packers coach Mike McCarthy's phone call to replacement referee Wayne Elliot.