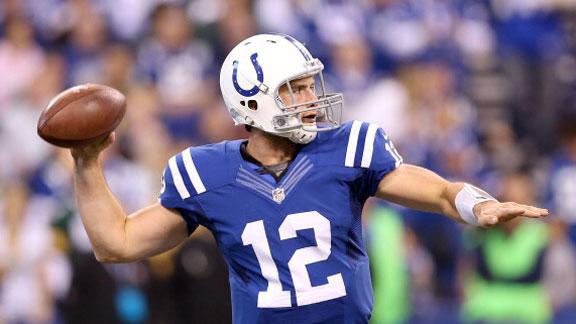 profootballtalk.com
ESPN.com
Updated Oct 7, 2012
Packers running back Cedric Benson left Sunday's loss to the Colts early with a foot injury, but he doesn't believe it's serious. Benson was wearing a protective boot on his left foot after the game and said he will have more tests on it on Monday,
Share
Tweet
The Colts Discount Double Checked And B.J. Raji-Shuffled All Over The Packers: Your Sunday NFL GIF Roundup

deadspin.com

Oct 7, 2012

Here's where we're putting the GIFs of the week, from Donald Brown triumphantly trolling the Packers to Brandon Lloyd dancing around like no one's looking. Only the Chargers and Saints have yet to play, so let's see what the week had to offer. More »

Share Tweet

packersgab.com

Oct 7, 2012

Last season the Packers lost one regular season game the entire season. Five weeks into the 2012 season, they have lost three of their first five games, Sunday in stunning fashion. They led the Colts 21-3 in Indianapolis, and appeared to be rolling towa…

Share Tweet

yahoo.com

Oct 7, 2012

The hit Packers linebacker Nick Perry put on Andrew Luck might be the hardest hit a NFL quarterback takes this season. The most impressive thing happened after the play, when the Colts rookie quarterback bounced right back up, and then went on to have a…

Share Tweet

profootballtalk.com yahoo.com

Oct 7, 2012

The Indianapolis Colts, who have become this week the most sympathetic team in football, erased a 21-3 halftime deficit and beat the Green Bay Packers on Sunday, 30-27. The victory comes as Colts head coach Chuck Pagano receives treatment for leukemia, …

Share Tweet

ESPN.com profootballtalk.com

Oct 7, 2012

A few thoughts on Sunday's events at Lucas Oil Stadium: What it means: The Green Bay Packers fell to 2-3 after a stunning second-half comeback by the Indianapolis Colts. Ahead 21-3 at halftime, the Packers were overwhelmed by an emotional Colts team and…

Share Tweet

yahoo.com

Oct 7, 2012

Two of the top wide receivers in the National Football League are inactive on Sunday, most notably Greg Jennings of the Green Bay Packers and Hakeem Nicks of the New York Giants. Both were ruled "out" by their respective teams on Friday's inju…

Share Tweet

Luck Talks Win

Oct 7

Andrew Luck discusses his performance in the Colts' 30-27 win over the Packers.

Sunday Blitz: Packers-Colts Recap

Oct 7

Prim Siripipat and Cris Carter break down the Colts' 30-27 win over the Packers.

Packers vs. Colts highlights

Oct 7

Rookie quarterback Andrew Luck leads the Indianapolis Colts to a 30-27 come from behind win over the Green Bay Packers.

Packers postgame press conference

Oct 7

Packers react following game with Colts

Sports Columnists

Don Banks: Broncos were prepared mentally, but not physically, for Patriot…

Oct 7

FOXBORO, Mass. -- After another loss to New England was in the books -- their third in the span of 10 games, including last season's playoffs -- Champ Bailey and the rest of his Broncos teammates found the repetition of it all a little wearing.