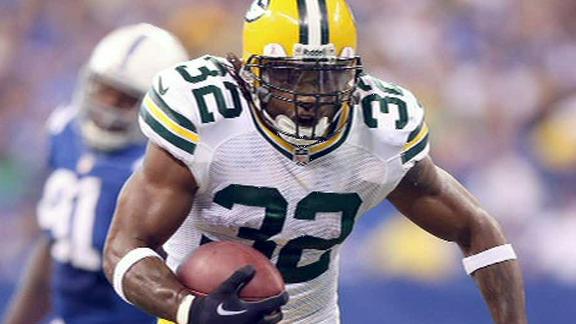 Updated Oct 8, 2012
Share
Tweet
In essence, the Green Bay Packers are back where they started. They opened training camp with plans to use James Starks, Alex Green and Brandon Saine as their top three tailbacks, with John Kuhn serving as a swing fullback/tailback. And the news that Ce…
Sources:
ESPN.com
profootballtalk.com
packersgab.com
Bruce Arians: I threw the red flag knowing I couldn't challenge

Updated Oct 8, 2012

Share Tweet

Bruce Arians won his first game as the Colts' interim head coach on Sunday, but in the process he appeared at one point to make a rookie mistake: He picked up an unsportsmanlike conduct penalty for throwing the challenge flag on a play when the Packers

Packers Work Out a Trio of QB's — Wallace, Hoyer and McGee

Updated Oct 8, 2012

Share Tweet

The Packers worked out a couple quarterbacks on Monday, a day after the team suffered another stunning loss, 30-27 to the Colts in Indy. Among those that worked out were former Browns QB Seneca Wallace, Cowboys QB Stephen McGee, and former Pats QB Brian…

Source:

packersgab.com

Steep price of Packers' pass-happy ways

Updated Oct 8, 2012

Share Tweet

We noted earlier how the Green Bay Packers shifted heavily toward their passing game Sunday after tailback Cedric Benson departed with a foot injury. It was probably no coincidence that the Indianapolis Colts sacked quarterback Aaron Rodgers five times …

Source:

ESPN.com

Updated Oct 8, 2012

Share Tweet

Indianapolis Colts coach Chuck Pagano, who has been hospitalized with leukemia, wrote an e-mail to the Indianapolis Star to express the pride he has for his team after watching it come back by 18 points to beat the Green Bay Packers 30-27 on Sunday.

Sources:

CNNSI.com profootballtalk.com

Peter King: Arians, Colts keep beloved Pagano close to heart in stirring win

Updated Oct 8, 2012

Share Tweet

There are a lot of stories in the naked city this morning -- the Brees ascension over the great Unitas, the 49ers playing like the '66 Packers, the air being let out of the Buffalo Counterfeit Bills, Eric Winston in a rage, Wes Welker with a needle, Chi…

Source:

CNNSI.com

Updated Oct 8, 2012

Share Tweet

The Colts' stunning 30-27 win over the Packers has plenty of story lines.  Leave it to Mike Silver of Yahoo! Sports to dig up a new one. Silver reports that receiver Reggie Wayne, who generated a career-high 212 receiving yards on Sunday, overcame "s

Fran Tarkenton admits he was wrong about the Vikings

Updated Oct 8, 2012

Share Tweet

Add legendary Vikings quarterback Fran Tarkenton to the list of people who were wrong about the Vikings. People thought he was nuts in the preseason when he said the Vikings would trail only the Packers in the NFC North. "I was wrong," Tarkenton said

Updated Oct 8, 2012

Share Tweet

You know that 13-play touchdown-scoring drive you saw at the end of the Colts' win over the Packers on Sunday? That's what a franchise quarterback is supposed to look like. Andrew Luck, the No. 1 overall pick who had the biggest pair of shoes to fill

Week 5 Quick Hits: Packers' Offense Is Puzzling

Updated Oct 8, 2012

Share Tweet

With the exception of last week's win over New Orleans, Green Bay's offense has been uncharacteristically inconsistent in 2012.

Source:

nytimes.com

Benson Will Miss Next Week's Game

Oct 8

Packers RB Cedric Benson to miss Week 6 against the Texans after foot injury in loss to Colts.

What's wrong with the Packers?

Oct 8

Why are the Packers having issues to start the season? Darren Sharper, Heath Evans and Brian Billick explain why Aaron Rodgers has not been putting up MVP-like numbers.

Countdown Daily Hot Topics: Week 5

Oct 8

Antonio Pierce answers your facebook questions

How Much Trouble Are Packers In?

Oct 8

Stephen A. Smith and Skip Bayless discuss the level of concern in Green Bay.