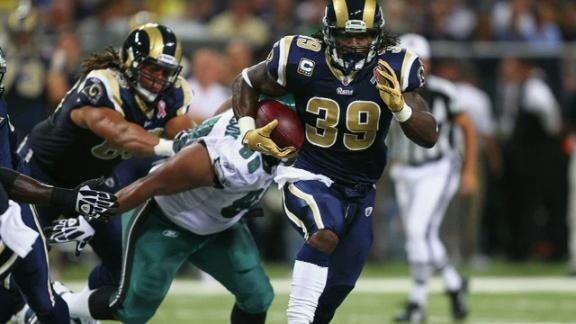 Two more days for Packers-Steven Jackson
ESPN.com
Updated Oct 29, 2012
As you might have heard, Hurricane Sandy has forced the NFL to close its New York City offices and, for now, push back the its trade deadline to Thursday at 4 p.m. ET. That gives us more time to speculate on whether the Green Bay Packers will pursue St.…
Share
Tweet
Packers wide receiver Greg Jennings was scheduled to undergo sports hernia surgery for a torn abdominal muscle in Philadelphia on Tuesday, but Mike McCarthy said it was postponed because of the superstorm on the East Coast.

Share Tweet

Jermichael Finley disappointed after beating Jaguars

profootballtalk.com

Oct 29, 2012

The Packers got more than a game from the Jaguars than bookmakers and many observers expected on Sunday, but they were able to finally close the door on a 24-15 victory. After such games, you'll often hear players say that there's no such thing as an

Share Tweet

Packers: No crack in Aaron Rodgers' helmet

Earlier Monday, during a discussion of Green Bay Packers quarterback Aaron Rodgers' condition and performance Sunday at Lambeau Field, we noted the circulation of a theory that his helmet appeared cracked near the end of the game. Based on a review of N…

Share Tweet

Free Head Exam: Green Bay Packers

After the Green Bay Packers' 24-15 victory over the Jacksonville Jaguars, here are three issues that merit further examination: This is an admittedly subjective observation, but I thought quarterback Aaron Rodgers looked and played subdued after his sec…

Share Tweet

profootballtalk.com

Oct 29, 2012

If you're looking for a capsule of the Jaguars' 1-6 start, look no further. The team that invested a third-round pick in punter Bryan Anger allowed a blocked punt for a touchdown yesterday, even though the Packers only had 10 men on the field. Accordi

Share Tweet

Sports Columnists

Mike Munchak says Matt Hasselbeck to be Tennessee Titans' QB 'until furthe…

Oct 29

Titans coach Mike Munchak says Matt Hasselbeck will continue as the team's starting quarterback "until further notice."