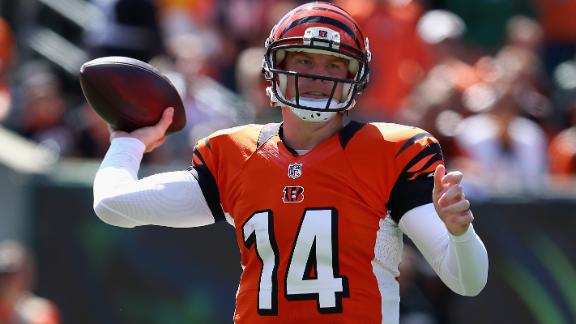 ESPN.com
profootballtalk.com
deadspin.com
CNNSI.com
Updated Sep 22, 2013
CINCINNATI -- When the NFL schedule was released in April, the Green Bay Packers were surprised to see that their bye came in Week 4 -- the earliest possible date. It meant a long, 13-game run without much of a break to finish the season. That bye week …
Share
Tweet
Examining the fourth-and-1 fumble

ESPN.com

Sep 22, 2013

CINCINNATI -- The question perhaps shouldn't be about Green Bay Packers coach Mike McCarthy's decision to go for it on fourth-and-1 from the Cincinnati Bengals' 30-yard line late in the fourth quarter of Sunday's game at Paul Brown Stadium. Rather, it m…

Share Tweet

Atypical showing by Rodgers on, off field

ESPN.com

Sep 22, 2013

CINCINNATI -- This was not what anyone is used to seeing from Green Bay Packers quarterback Aaron Rodgers -- on the field or on the sidelines. Rodgers had his first multiple-interception, regular-season game in nearly three years, didn't finish drives i…

Share Tweet

yahoo.com

Sep 22, 2013

Green Bay Packers defensive coordinator Dom Capers just can't figure out the San Francisco 49ers. He didn't again in Week 1 as the 49ers threw for more than 400 yards. Why does this matter in Week 3? Because it seems like everyone other than Capers has …

Share Tweet

profootballtalk.com

Sep 22, 2013

Two weeks ago, referee Bill Leavy's crew committed multiple errors in the determination and enforcement of penalties after 49ers quarterback Colin Kaepernick was mugged out of bounds by Packers linebacker Clay Matthews. Today, Leavy and company made an …

Share Tweet

profootballtalk.com ESPN.com

Sep 22, 2013

The Packers lost 34-30 to the Bengals on Sunday and they lost several key players to injury during the game. Linebacker Clay Matthews was one of those players, but he said after the game that he was pulled out of an abundance of caution after missing fo…

Share Tweet

Vontaze Burfict Draws A Penalty With A Ball Tap

deadspin.com

Sep 22, 2013

Packers-Bengals has turned into a shootout complete with pushing, shoving, and a ball tap the officials never saw.Read more...

Share Tweet

yahoo.com profootballtalk.com

Sep 22, 2013

Packers running back Eddie Lacy got hurt, then James Starks got hurt, and Johnathan Franklin finally got a shot. And he looked good, until a massive mistake cost the Packers the lead. Franklin was having a fantastic game in place of Starks, who was repl…

Share Tweet

ESPN.com profootballtalk.com

Sep 22, 2013

Jermichael Finley left Sunday's game in the first quarter after getting drilled by Cincinnati Bengals safety George Iloka, who appeared to lead with his shoulder and hit the Packers tight end in the head while breaking up a third-and-11 play.

Share Tweet

Big mistake on kickoff return leads to Packers' first 14-point first-quarter deficit in eight years

yahoo.com

Sep 22, 2013

Back in 2005, or about 17 Brett Favre retirements ago, the Packers trailed by 14 points to Baltimore in the first quarter. Amazingly, according to Fox's broadcast, they had not trailed by 14 points in the first quarter in any game until Sunday. The Pack…

Share Tweet

Holmgren didn't quit after Favre trade

profootballtalk.com

Sep 22, 2013

Former Packers coach, Seahawks coach/G.M., Seahawks coach/non-G.M., and Browns CEO Mike Holmgren recently provided a harsh critique of the trade that sent Browns running back Trent Richardson to the Colts. Holmgren didn't like it. In fact, Holmgren's re…

Share Tweet

NFL Sunday Blitz: Packers-Bengals Recap

Sep 22

Michele Steele and Tom Waddle break down the Bengals week 3 win over the Packers.

Bengals Rally To Stun Packers

Sep 22

The Bengals countered the Packers' 30 straight points with 21 unanswered points of their own to prevail for the 34-30 victory.

Packers postgame press conference

Sep 22

Packers react following game with Bengals

Green Bay Packers coach Mike McCarthy addresses quarterback Aaron Rodgers sideline argument

Sep 22

Green Bay Packers coach Mike McCarthy explains his sideline argument with Aaron Rodgers during Sunday's game against the Cincinnati Bengals.

Sports Columnists

Don Banks: Ravens turn back the clock in win over Texans

Sep 22

BALTIMORE, Md. -- Turns out Week 3 was a Throwback Sunday in what is shaping up as a Throwback Season in Baltimore. The Ravens are back to their old-school ways of winning with defense and special teams, and it was only fitting that they went all retro-…

Don Banks: NFC East hits rock bottom with winless Giants, Redskins; more S…

Sep 22

BALTIMORE, Md. -- Musings, observations and the occasional insight while watching Ray Lewis enter the Ravens' Ring of Honor amid an impressive Baltimore victory over Houston in Week 3 at M&T Bank Stadium. ...