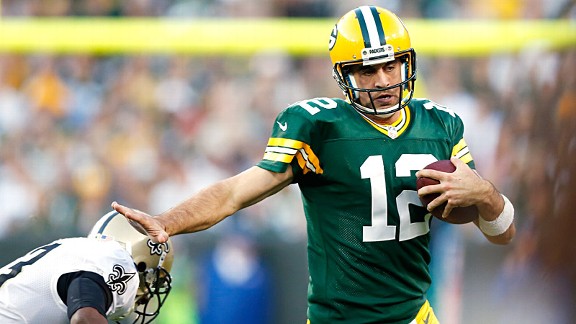 ESPN.com
Updated Sep 30, 2012
GREEN BAY, Wis. -- B.J. Raji, one of the most laid-back football players you'll ever meet, lost his cool at the bottom of a pile of players. Jordy Nelson spiked the ball so hard after scoring the game-winning touchdown that he lost his balance and flipp…
Share
Tweet
yahoo.com CNNSI.com profootballtalk.com

Sep 30, 2012

Say this about Graham Harrell: He made his NFL debut a memorable one. Too bad it's a memory he'll try to expunge from his brain. Green Bay was leading New Orleans 21-17 in the third quarter and moved inside the red zone, looking to add to the lead. It s…

Share Tweet

Thomas' revenge on Charles Woodson?

GREEN BAY, Wis. -- Green Bay Packers cornerback Charles Woodson dressed and departed the locker room quickly after Sunday's 28-27 victory over the New Orleans Saints. He declined to speak to reporters, a rare occurrence for a player who has emerged as t…

Share Tweet

ESPN.com profootballtalk.com CNNSI.com packersgab.com

Sep 30, 2012

Aaron Rodgers threw a go-ahead touchdown to Jordy Nelson in the fourth quarter, and the Green Bay Packers shook off a week's worth of controversy with a rally to beat the New Orleans Saints 28-27 on Sunday.

Share Tweet

Packers nearly lose second straight game thanks to rogue officiating

yahoo.com

Sep 30, 2012

If you feel about referee Jeff Triplette as I do, you may have wondered if the NFL was punishing the Green Bay Packers for their comments following Monday night's officiating atrocity, in which receiver Golden Tate of the Seattle Seahawks was awarded a …

Share Tweet

Another TD vs. Packers amid no PI call

GREEN BAY, Wis. -- The New Orleans Saints just tied this game at Lambeau Field in the most sensitive way possible for the Green Bay Packers. Receiver Marques Colston pushed Packers safety Morgan Burnett to the ground before pulling in a 19-yard touchdow…

Share Tweet

Packers deactivations and chat reminder

GREEN BAY, Wis. -- The Green Bay Packers' list of game-day deactivations included a couple of interesting names. Tight end D.J. Williams, defensive end Phillip Merling and running back James Starks are all healthy scratches for this game. Starks (toe) w…

Share Tweet

Green Bay's Ridge Road Plaza answers bell

GREEN BAY, Wis. -- I drive by Ridge Road Plaza here every time I cover a game at Lambeau Field, and I've come to expect a representative sample of sarcastic local sentiment on its marquee whenever the Green Bay Packers are in the national news. Upon the…

Share Tweet

Join our ESPN.com NFL experts as they break down the NFC clash between the New Orleans Saints and the Green Bay Packers. Contribute your thoughts and questions beginning at 4:25 p.m. ET. See you there. Countdown Live: Saints-Packers

Share Tweet

Will the Saints provide the cure for what ails the Packers' offense?

yahoo.com

Sep 30, 2012

Even before they gave up eight sacks in the first half of their controversial Week 3 loss to the Seattle Seahawks last Monday night, the Green Bay Packers were clearly struggling on offense, especially in comparison to their 2011 season. An offensive at…

Share Tweet

Aaron Rodgers' eye injury

Sep 30

Green Bay Packers quarterback Aaron Rodgers temporarily left the game due to an eye injury caused by New Orleans Saints cornerback Malcolm Jenkins.

Packers Keep Saints Winless

Sep 30

Aaron Rodgers threw for 319 yards and four touchdowns to lead the Packers over the Saints 28-27.

Packers vs. Saints highlights

Sep 30

The Green Bay Packers traveled to New Orleans to take on the Saints in their Week 4 matchup. After a close game, the Packers came out victorious with a one-point 28-27 win.

Packers fake punt

Sep 30

The Packers on fourth down line up in punt formation but fake the kick and run it up the middle with running back John Kuhn for 5 yards and a Green Bay first down.