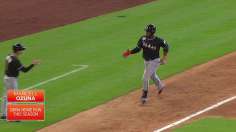 nytimes.com
chron.com
MLB.com
Updated 19 hours ago
Garrett Jones and Marcell Ozuna homered to lead the Miami Marlins over the Houston Astros 4-2 Sunday and complete a three game sweep.
Upvote
Share
Tweet
Jose Altuve's latest effort was thrice as nice, but that's nothing new

chron.com

16 hours ago

Jose Altuve went 3-for-4 with a home run for his second consecutive three-hit game and his 46th multi-hit game of the season. He has 18 three-hit games, becoming one of nine players in Astros history to have at least 18 three-hit games in a season. "It …

Upvote Share Tweet

Reliever Zeid set for MRI on foot on Monday

chron.com

21 hours ago

Astros righthander Josh Zeid, who was placed on the 15-day disabled list Saturday night with a left foot bilateral sesamoiditis, says he's likely to have an MRI on his left foot Monday. "It's just the tenderness that I had been dealing with," he said. "…

Upvote Share Tweet

In one of the stranger baseball stories we've heard this season, several Houston Astros players have anonymously expressed displeasure to the media over the fact that Mark Appel, the No. 1 overall pick in the 2013 draft, was promoted to Double-A Corpus …

Upvote Share Tweet

Well-traveled Brett Oberholtzer regains his spot in Astros rotation

chron.com

Jul 27 (yesterday)

Lefthander Brett Oberholtzer, who has shuttled between Class AAA Oklahoma City and Houston three times since making the opening day roster, has earned a chance to stay in the rotation for now. Forced to make a roster move so they could activate Collin M…

Upvote Share Tweet

STOCKTON, Calif. — Josh Hader's on the Astros' radar too. Before the year is out, the lefty could well join Mark Appel with Class AA Corpus Christi. "He is young, he's OK staying in Lancaster a little bit longer," general manager Jeff Luhnow said Saturd…

Upvote Share Tweet

nytimes.com chron.com

Jul 26 (yesterday)

The Miami Marlins know what they need to do to get back into the National League postseason picture.

Upvote Share Tweet

It looks good and feels good for Collin McHugh, so there was no reason to wait any longer. Astros manager Bo Porter announced Saturday that McHugh will come off the 15-day disabled list to start against the Marlins on Sunday. The fingernail on the middl…

Upvote Share Tweet

Gonzalez hoping day of rest is enough for sore hamstring

Shortstop Marwin Gonzalez was back in the starting lineup after sitting out Friday to rest the tender right hamstring that has hampered him for more than a week. "I hope the day off Friday helped me feel better today," he said. The Astros called up mino…

Upvote Share Tweet

Hernandez gets another shot in center a day after miscue

One day after his error led to the two unearned runs in a 2-0 loss against the Marlins, rookie utility man Kike Hernandez was back in center field Saturday night for the Astros. "When you look at the options that we have as far as the outfield goes, he'…

Upvote Share Tweet

MLB.com

Jul 26 (2 days ago)

The Marlins have presented an opportunity, and Brad Hand is seizing the moment. The left-hander scattered three hits over a career-high 7 1/3 innings and set the tempo in the Marlins' 2-0 win over the Astros at Minute Maid Park on Friday night. Jeff Mat…

Upvote Share Tweet

nytimes.com chron.com

Jul 25 (3 days ago)

Brad Hand pitched three-hit ball into the eighth inning and Jeff Mathis hit a two-run double for the Miami Marlins in their 2-0 victory over the Houston Astros on Friday night.

Upvote Share Tweet

Gregorio Petit rewarded with trip back to major leagues

chron.com

Jul 25 (3 days ago)

After nurturing Kike Hernandez and several young prospects at Class AAA Oklahoma City all season, infielder Gregorio Petit earned his own call to the majors and joined the Astros on Friday to provide cover while Marwin Gonzalez nurses a tender right ham…

Upvote Share Tweet

yahoo.com

Jul 25 (3 days ago)

The MLB Players Association has officially scorned the Houston Astros after last week's draft-pick debacle, in which Houston failed to sign No. 1 overall pick Brady Aiken, plus fifth-round selection Jacob Nix and 21st-rounder Mac Marshall. The players u…

Upvote Share Tweet

deadspin.com yahoo.com

Jul 25 (3 days ago)

This photo, taken by A's fan Nick Wong, shows the only response Astros pitcher Dallas Keuchel needed to shut down a good-natured heckler. You can tell a guy he sucks, but how much can he really suck if he's being paid to be where you spent money to get …

Upvote Share Tweet

Mark Appel has fun again in best, longest outing of season

chron.com

Jul 25 (3 days ago)

STOCKTON, Calif. — Mark Appel looked like Mark Appel. For the first time in a trying season, the Astros' best pitching prospect eclipsed five innings and five strikeouts Friday, facing one of the California League's best offenses. The 23-year-old righty…

Upvote Share Tweet

Marlins Sweep Astros

Jul 27

Garrett Jones and Marcell Ozuna each homered in the Marlins' 4-2 win over the Astros.

A's Pick Up MLB-Best 63rd Win

Jul 24

Brandon Moss' grand slam powers Oakland's 13-1 blowout win over Houston.

Do The Rays Trade Price?

Jul 23

The Baseball Tonight crew breaks down if the Rays should trade David Price.

Hoes, Astros Win In 12

Jul 22

L.J. Hoes' third home run of the season lifted the Astros to a 3-2 win over the Athletics.