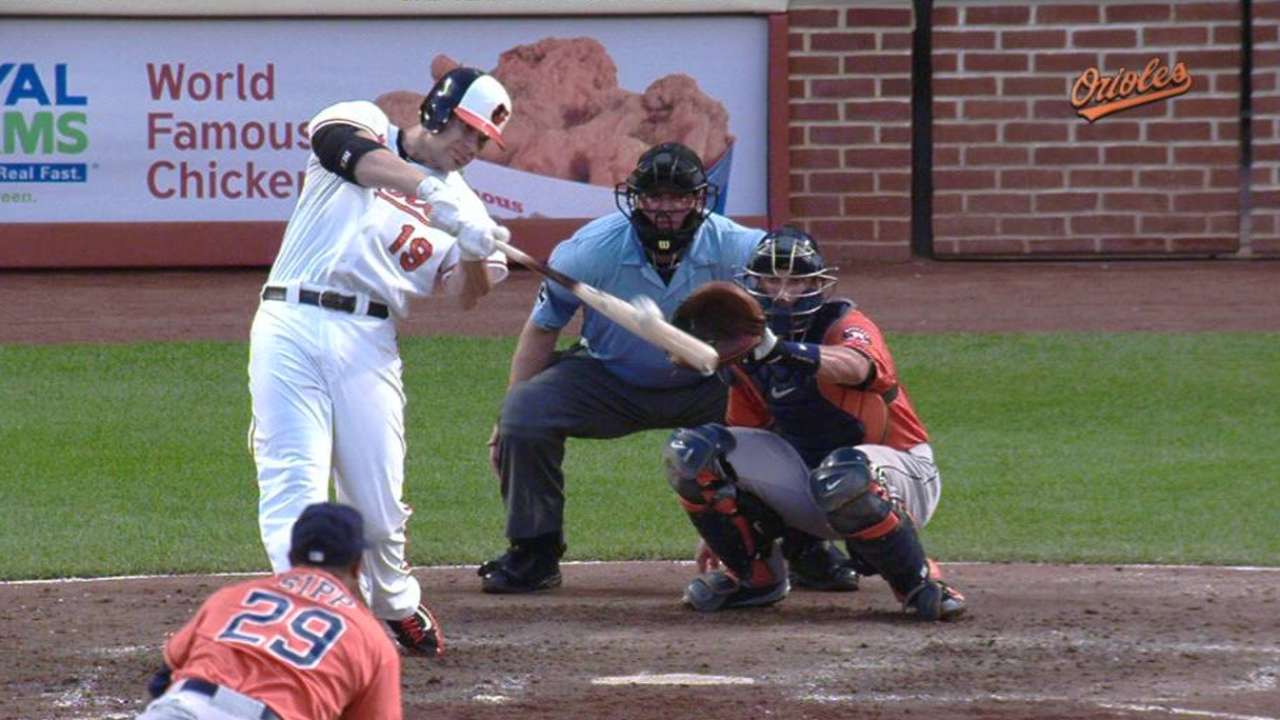 MLB.com
nytimes.com
chron.com
Updated 8 hours ago
Chris Davis hit his second homer of the game in the eighth inning off of reliever Tony Sipp, giving the Orioles a 5-4 win over the Astros on Wednesday night, and two of three games in the series.
Share
Tweet
Lightning strikes as O's Parades steals home

MLB.com

11 hours ago

Jimmy Parades made a mad dash for home plate in the fourth inning of Wednesday's game against the Astros, giving the Orioles their first steal of home since Aug. 28.

Share Tweet

yahoo.com

20 hours ago

Your browser does not support iframes. Make some room Giancarlo Stanton, Carlos Correa is also capable of crushing baseballs clear out of the stadium. The Houston Astros' top prospect, and the No. 1 prospect in all of baseball depending on who you ask, …

Share Tweet

MLB.com nytimes.com chron.com

May 26 (yesterday)

Houston, off to the best start in franchise history, used a solid start from Scott Feldman and two RBIs from Luis Valbuena to record a 4-1 series-evening win over the Orioles Tuesday night.

Share Tweet

Astros manager A.J. Hinch sends thoughts to Houston flood victims

BALTIMORE — Astros manager A.J. Hinch's thoughts are with Houston and the area's residents with the ball club on the road during the flooding. "It's sad to see our city you know under such duress," Hinch said. "We see the pictures, we call our loved one…

Share Tweet

Oberholtzer to make rehab start, role with Astros remains unclear

BALTIMORE — Brett Oberholtzer is to make a rehab start with Class AAA Fresno on Wednesday, but where he fits back in with the Astros once his rehab assignment is complete is unclear, and could well be the bullpen. The lefty Oberholtzer (blister on his l…

Share Tweet

Astros' Jose Altuve paces AL second basemen in all-star voting

Astros second baseman Jose Altuve leads all American League second basemen in All-Star voting as of Tuesday. Altuve, an All-Star in 2012 and 2014, has amassed 1,301,754 votes. Altuve is aiming to become just the seventh player in Astros history to be vo…

Share Tweet

Caleb Joseph and Steve Pearce each hit two-run home runs to send Astros ace Dallas Keuchel to his first loss since last August in the Orioles' 4-3 win in the series opener on Monday afternoon at Oriole Park at Camden Yards.

Share Tweet

MLB.com

May 25 (3 days ago)

J.J. Hardy left Monday's 4-3 win against the Astros after the seventh inning with back tightness, according to the Orioles.

Share Tweet

Astros report: First base coach Rich Dauer still has fond memories of Baltimore

Astros first base coach Rich Dauer spent 10 years playing for the Baltimore Orioles. (Karen Warren / Houston Chronicle) BALTIMORE — There are still some family-style Italian restaurants here Rich Dauer and his wife love. The entirety of Dauer's 10-year …

Share Tweet

Dominican native Jonathan Villar feels right at home when in Italy

Versatile infielder Jonathan Villar got the Astros' triple play started on Saturday afternoon. (Leon Halip / Getty Images) BALTIMORE — Jonathan Villar, renaissance man? The Astros infielder was born in the Dominican Republic but has picked up a tiny bit…

Share Tweet

Orioles reliever Brian Matusz, right, is the second pitcher to be suspended in the last week for having a foreign substance on his non-throwing arm. (Associated Press / Joe Skipper) By DAVID GINSBURG Associated Press BALTIMORE — Orioles lefthander Brian…

Share Tweet

nytimes.com ESPN.com yahoo.com

May 25 (3 days ago)

During a 20-batter stretch in Sunday's victory at Detroit, every hitter for the Houston Astros either reached base or struck out.

Share Tweet

On Deck: Astros at Baltimore Orioles

chron.com

May 24 (3 days ago)

Series schedule (at Oriole Park): • Monday, 12:35 p.m. – LHP Dallas Keuchel (6-0, 1.67) vs. LHP Wei-Yin Chen (1-3, 2.90).• Tuesday, 6:05 p.m. – RHP Scott Feldman (3-4, 5.17) vs. RHP Chris Tillman (2-5, 6.10).• Wednesday, 3:35 p.m. – RHP Collin McHugh (5…

Share Tweet

nytimes.com MLB.com chron.com

May 24 (4 days ago)

Evan Gattis and Preston Tucker both homered in the sixth inning, and the Houston Astros slugged their way to another victory Sunday, rallying past the Detroit Tigers 10-8.

Share Tweet

Struggling Jose Altuve gets a breather in Sunday's series finale vs. Tigers

chron.com

May 24 (4 days ago)

After leading the major league in hits and batting average in 2014, Astros second baseman Jose Altuve started out strong this season before cooling off in recent weeks. (Karen Warren / Houston Chronicle) DETROIT — The defending major league batting cham…

Share Tweet

Astros closer Luke Gregerson bounces back Saturday with save vs. Tigers

chron.com

May 24 (4 days ago)

Closer Luke Gregerson, right, has been solid for the Astros since coming to Houston as a free agent this past offseason. (Carlos Avila Gonzalez / San Francisco Chronicle) DETROIT — Astros closer Luke Gregerson looked more like Luke Gregerson in Saturday…

Share Tweet

Keuchel's Confidence Gets Boost In Spring Training

Mar 1

Astros pitcher Dallas Keuchel discusses his new approach to spring training, now that he doesn't have to battle for a starting spot in the rotation, and his relationship with new manager A.J. Hinch.

Springer Getting Ready For 2015

Feb 28

Astros right fielder George Springer discusses what he learned from his 2014 season and talks about getting ready for the 2015 season.

Pat Neshek Joins Olbermann

Feb 6

Pat Neshek joins Keith Olbermann to discuss signing with the Houston Astros during the offseason and his extensive baseball card collection.

Keith Law's Top MLB Prospects

Jan 26

Keith Law breaks down the three best prospects from his list of the top 100 major league prospects.