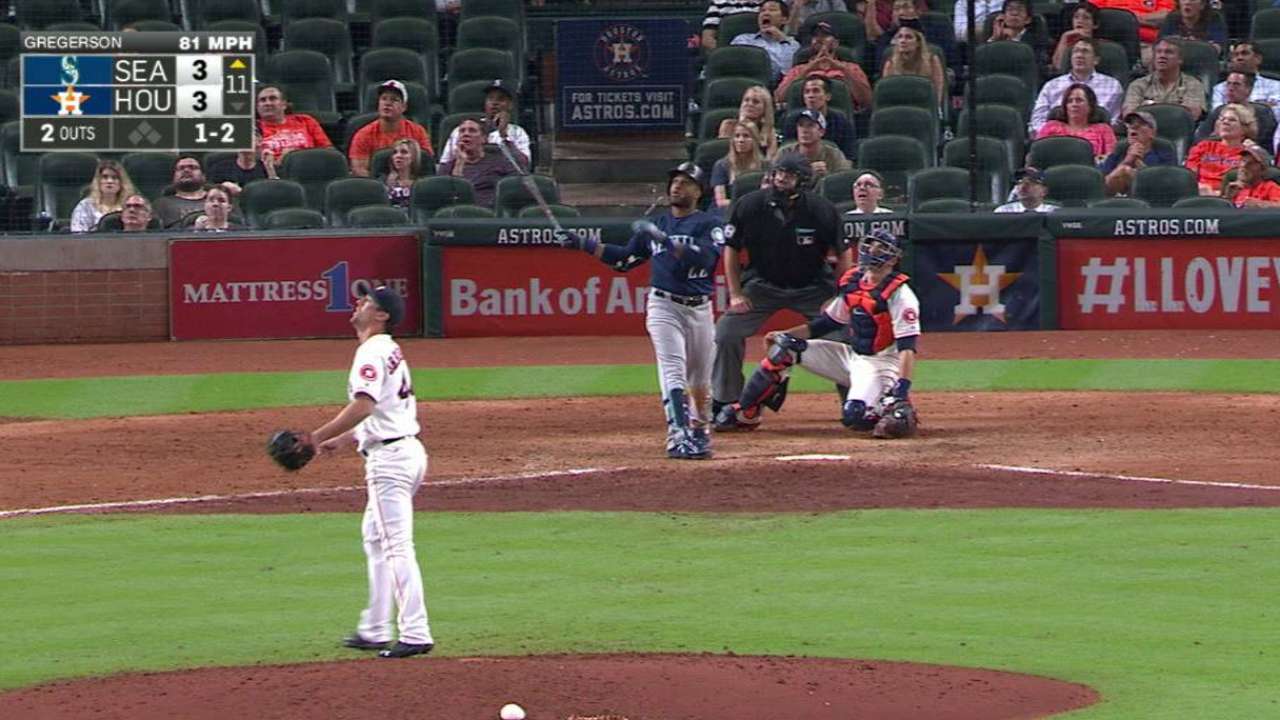 MLB.com
nytimes.com
chron.com
Updated 45 minutes ago
Robinson Cano continued his assault on Astros pitching, edging the Mariners closer in the American League Wild Card chase in the process while pushing Houston towards elimination.
Share
Tweet
MLB.com

5 hours ago

How did Carlos Gomez salvage his season after leaving the Astros for the Rangers? It helped that he walked into a new clubhouse full of familiar faces.

Share Tweet

chron.com

5 hours ago

Gurriel hung a No. 16 Astros jersey bearing Fernandez's name in the home dugout at Minute Maid Park about a half hour before Monday night's series opener against the Mariners. Cespedes and Puig honored their fallen compatriot in the same way Sunday, han…

Share Tweet

Tucker frustrated with season, excited about moving forward after surgery

chron.com

6 hours ago

It never went away and eventually hurt on every swing. Tucker, who had surgery Wednesday, went from the Astros' opening day designated hitter to being optioned to Class AAA Fresno in May. His return in July didn't change anything – Tucker hit .164 with …

Share Tweet

Astros' Alex Bregman could return to play this week

chron.com

6 hours ago

With Alex Bregman ahead of schedule in his rehabilitation from his strained hamstring, the Astros have not ruled out the rookie third baseman's return before the regular season ends Sunday.

Share Tweet

Colby Rasmus' season, Astros tenure likely over

chron.com

7 hours ago

Colby Rasmus, an impending free agent, left the team to seek a second opinion on what manager A.J. Hinch described as "a hip issue that's kind of gone into his groin."

Share Tweet

On deck: Astros vs. Mariners

Previewing the Astros' final home series of the regular season.

Share Tweet

Astros' George Springer's new approach showing results

George Springer slowed down in the batter's box and the results are obvious in the box score.

Share Tweet

nytimes.com chron.com

Sep 25 (yesterday)

Joe Musgrove pitched seven strong innings, Evan Gattis, Tony Kemp and Tyler White homered, and the Houston Astros beat the Los Angeles Angels 4-1 Sunday to snap a three-game slide and keep their playoff hopes alive.

Share Tweet

Less than 24 hours after being hit by a line drive during early batting practice, Astros closer Ken Giles was available out of the bullpen Sunday.

Share Tweet

Astros Rewind: Mike Scott's division-clinching no-hitter

Thirty years ago today, the Astros clinched their second NL West title in unforgettable fashion.

Share Tweet

nytimes.com chron.com yahoo.com

Sep 24 (2 days ago)

At the end of a disappointing season, Mike Trout and the Los Angeles Angels are having a little fun this weekend in Houston.

Share Tweet

chron.com nytimes.com

Sep 24 (2 days ago)

Carlos Correa knows it's a long season, so playing through pain is just part of the deal.That's where he find himself, inserted in the Astros lineup Saturday a day after a diving attempt in the field aggravated the left shoulder injury that has bothered…

Share Tweet

The American League West championship is officially out of reach for the Houston Astros. Without a strong finish, a potential wild card spot will slip through their fingers too. Fortunately for them, they're set up to gain ground against an opponent the…

Share Tweet

Astros' Brad Peacock going with slower slider

chron.com

Sep 23 (3 days ago)

Brad Peacock went from nearly throwing the same numbers of sliders and curveballs in his first spot start two weeks ago to increasing his slider usage by three or four times compared to his other breaking pitch.

Share Tweet

chron.com

Sep 23 (3 days ago)

The Mariners wasted little time dealing with Steve Clevenger's insensitive and racist tweets, suspending the backup catcher Friday without pay for the rest of the season.In the Astros clubhouse, Carlos Correa didn't shy away from the topic.

Share Tweet

Keuchel's Confidence Gets Boost In Spring Training

Mar 1

Astros pitcher Dallas Keuchel discusses his new approach to spring training, now that he doesn't have to battle for a starting spot in the rotation, and his relationship with new manager A.J. Hinch.

Springer Getting Ready For 2015

Feb 28

Astros right fielder George Springer discusses what he learned from his 2014 season and talks about getting ready for the 2015 season.

Pat Neshek Joins Olbermann

Feb 6

Pat Neshek joins Keith Olbermann to discuss signing with the Houston Astros during the offseason and his extensive baseball card collection.

Keith Law's Top MLB Prospects

Jan 26

Keith Law breaks down the three best prospects from his list of the top 100 major league prospects.