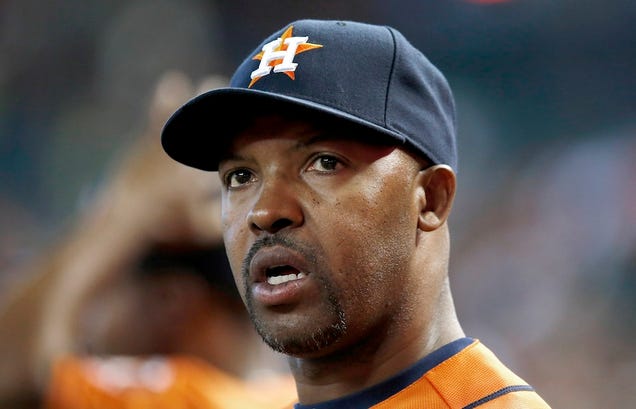 nytimes.com
chron.com
MLB.com
deadspin.com
yahoo.com
ESPN.com
Updated 14 hours ago
The Houston Astros are looking toward the future, and they decided there is no time like the present to get going on that.
Upvote
Share
Tweet
Astros interim manager Tom Lawless will have an extra-long bench to work with in his debut on Tuesday, as Houston announced a series of September callups in advance of its game against the Angels.

Upvote Share Tweet

Larry Dierker surprised by Bo Porter's firing

chron.com

20 hours ago

Larry Dierker has seen Astros managers come and go, including himself. Dierker was owner Drayton McLane's third manager and his second managerial hire, just as the successor to Bo Porter will be the third manager (owner Jim Crane inherited Brad Mills wh…

Upvote Share Tweet

Adam Everett eager to help Astros' turnaround in his old stomping grounds

chron.com

20 hours ago

Adam Everett cherishes his memories of being a member of the first and only Astros team to play in the World Series. He longs to help the franchise march back to the biggest stage in Major League Baseball. For that reason, the former slick-fielding shor…

Upvote Share Tweet

nytimes.com

21 hours ago

Philadelphia's Cole Hamels went six innings, striking out seven, before giving way to the bullpen in a rout of Atlanta.

Upvote Share Tweet

Astros owner Jim Crane on Luhnow, Porter: 'Sometimes personalties don't jell'

chron.com

21 hours ago

Astros owner Jim Crane acknowledged there was a disconnect between general manager Jeff Luhnow and manager Bo Porter, who was fired on Monday. "Those two guys have to be closely aligned and singing the same song," Crane told Houston Chronicle columnist …

Upvote Share Tweet

chron.com

Aug 31 (yesterday)

The hometown boy is definitely not an Astros fan anymore. Former Astros pitcher Jarred Cosart said he's been pitching with a chip on his shoulder since the Astros sent him packing in a deal with the Miami Marlins at the last minute on July 31. "Chip on …

Upvote Share Tweet

Photos from Astros-Rangers series

chron.com

Aug 31 (yesterday)

See the best images from the four-game set at Minute Maid Park.

Upvote Share Tweet

nytimes.com chron.com MLB.com

Aug 31 (yesterday)

Matt Dominguez hit a tying homer and Jose Altuve's fourth hit drove in the go-ahead run as the Houston Astros rallied in the eighth inning to beat the Texas Rangers 3-2 on Sunday.

Upvote Share Tweet

Astros to balance depth with Class AAA playoff picture at September's start

chron.com

Aug 31 (2 days ago)

Jonathan Villar could be back with the big club by Tuesday. (Karen Warren/Houston Chronicle) Marwin Gonzalez was on the bench again Sunday, resting his right hamstring. The good news for the Astros going forward is that they won't have to play short aga…

Upvote Share Tweet

Astros minor-leaguer suspended 50 games for 2nd drug violation

chron.com

Aug 31 (3 days ago)

Astros Class AA Corpus Christi pitcher Ruben Alaniz, a Texas-born pitcher whom the Astros found in a tryout camp and signed for $160,000 in 2009, has been suspended 50 games without pay for a second positive test for a drug of abuse. Alaniz, a 23-year-o…

Upvote Share Tweet

Grand Slam Lifts Astros Past Rangers

Aug 28

Jason Castro's grand slam led the Astros past the Rangers 4-2.

A's Charge Late In Win

Aug 27

Sam Fuld hit a go-ahead two-run homer in the ninth inning in the Athletics' 5-4 win over the Astros.

Carter Lifts Astros Past A's

Aug 26

Chris Carter's three-run home run in the bottom of the eighth lifted the Astros past the A's 4-2.

Samardzija, Athletics Shut Down Astros

Aug 25

Jeff Samardzija struck out 10 batters and Josh Donaldson drove in three runs to lead the Athletics past the Astros 8-2.