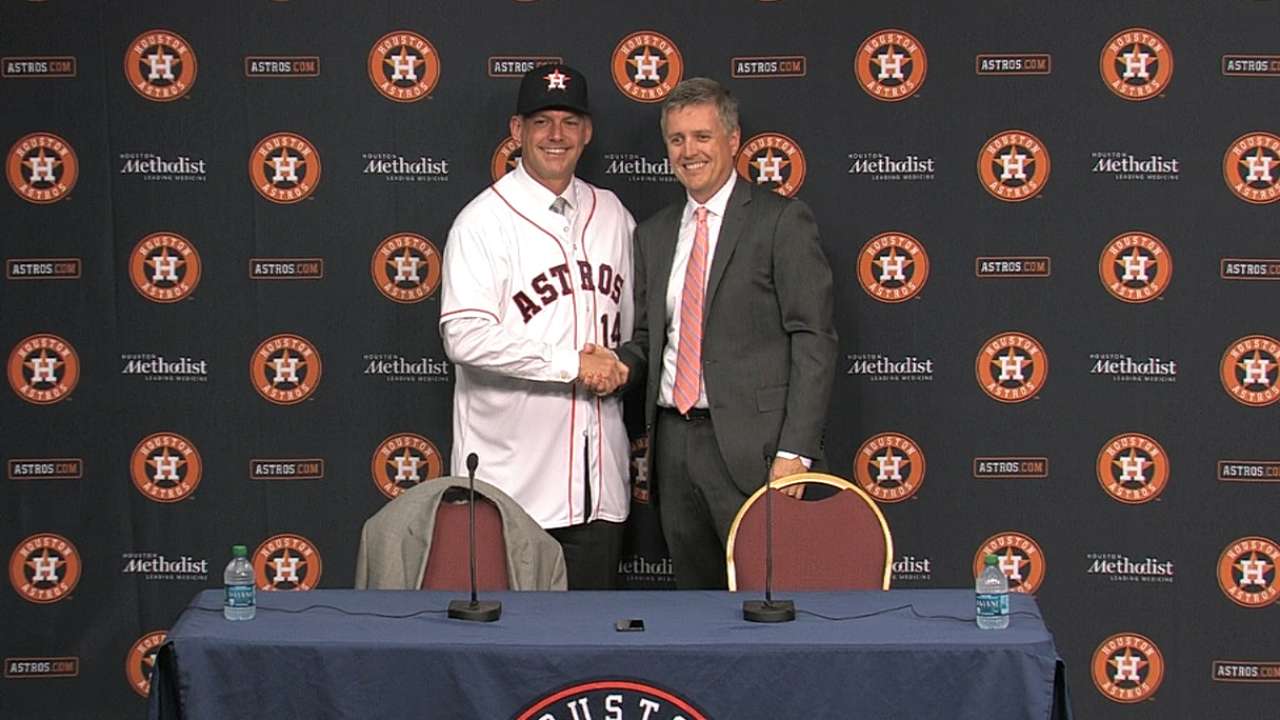 MLB.com
chron.com
nytimes.com
yahoo.com
ESPN.com
Updated Sep 30 (yesterday)
A.J. Hinch went right to work in his first day as manager of the Astros on Tuesday, a day that included a series of meetings, a tour of Minute Maid Park and a get-to-know-you session with All-Star second baseman Jose Altuve.
Upvote
Share
Tweet
Photos: Craig Biggio and Astros host Sunshine Kids party at Minute Maid Park

chron.com

18 hours ago

Craig and Patty Biggio treated the Sunshine Kids, a non-profit organization dedicated to children with cancer and their families, to a memorable experience on Wednesday at Minute Maid Park. The children played on the field and were treated to lunch in t…

Upvote Share Tweet

Accolades pouring in for hitting king Altuve

MLB.com

Sep 30 (yesterday)

Even though the season is over, Jose Altuve isn't slowing down. Two days removed from being crowned the first batting champion in Astros history, Altuve said he wished he could have played another game. The All-Star second baseman was the guest of honor…

Upvote Share Tweet

Astros to conduct full search for coaches; incumbents could have other options

The Astros will take their time to fill out the coaching staff that will assist A.J. Hinch.( James Nielsen / Houston Chronicle ) The Astros are going to conduct a full search to fill out their coaching staff, general manager Jeff Luhnow said Tuesday nig…

Upvote Share Tweet

Chart: Which MLB Fans Suck At Supporting Winning Teams?

deadspin.com

Sep 30 (yesterday)

This graph, from Harley Ellenberger, charts MLB home attendance and winning percentage throughout the season. As expected, the Red Sox, Cubs, and Yankees had solid attendance despite missing the playoffs, and no one went to see the Astros or Rays. But w…

Upvote Share Tweet

Jim Crane's state of the Astros: Rebuilding, new TV deal on the right track

Astros owner Jim Crane says it his job to keep unity in the organization. (Smiley N. Pool / Houston Chronicle) Astros owner Jim Crane says his long-term plan to rebuild the franchise remains on track despite financial losses associated with the collapse…

Upvote Share Tweet

At his introductory news conference, new Astros manager A.J. Hinch said (with a smile) that it would be nice if the team wouldn't draft in the top 10 any more. That's certainly a good goal for the 2016 draft, but for 2015 the Astros will have two picks …

Upvote Share Tweet

nytimes.com

Sep 30 (2 days ago)

In each of the last four years, Minnesota lost at least 92 games under Gardenhire, who had the second-longest active tenure in the major leagues.

Upvote Share Tweet

Astros Hire A.J. Hinch

Sep 29

Buster Olney discusses the Astros' hiring of A.J. Hinch as their manager.

Rangers Win Fourth Straight

Sep 24

The Rangers defeated the Astros' 5-1 to capture their 11th win in 12 games.

Rangers Slip Past Astros

Sep 22

Guilder Rodriguez's first career RBI lifted the Rangers past the Astros 4-3.

Who Will Win The Batting Titles?

Sep 19

Baseball Tonight Minute: The Baseball Tonight crew discusses who could win the batting titles in the American and National Leagues.