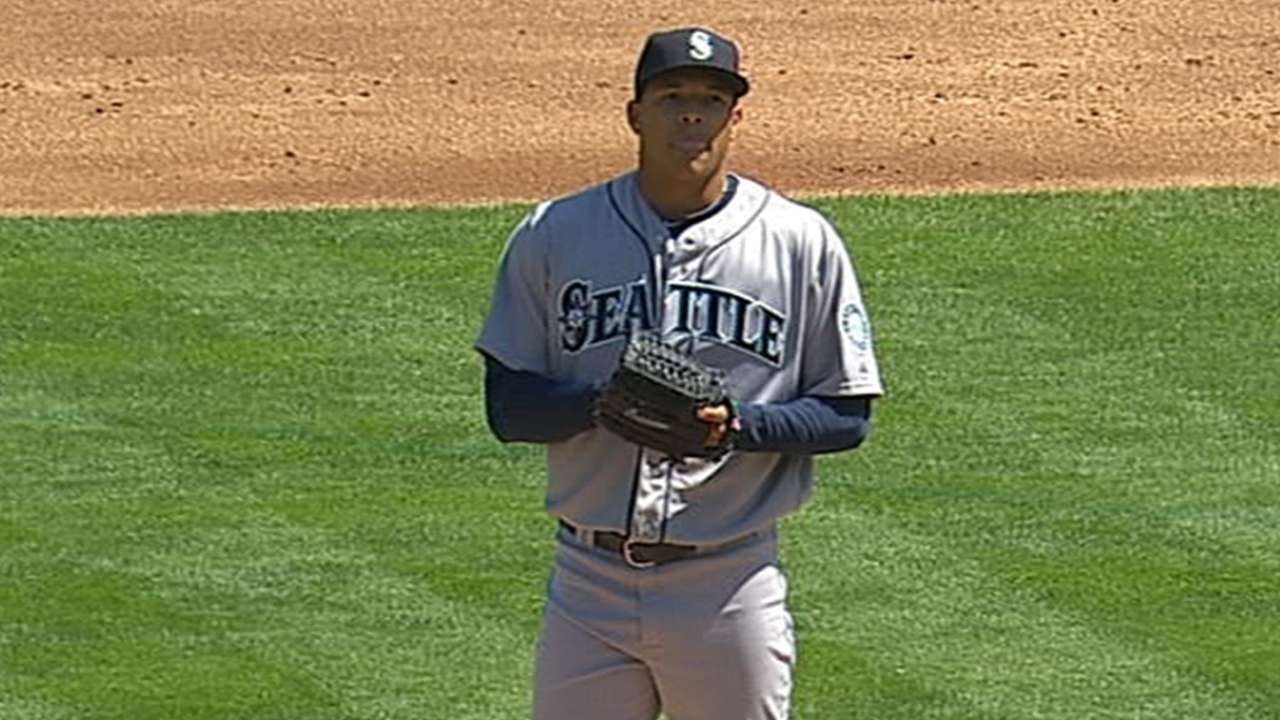 Mariners' top prospect Walker returning to rotation
MLB.com
Updated 21 hours ago
Top Mariners prospect Taijuan Walker will move back into the starting rotation Friday against the Astros, as rookie southpaw Roenis Elias is likely done for the season after experiencing elbow problems.
Upvote
Share
Tweet
chron.com

9 hours ago

In the game of minor-league affiliation musical chairs, the Astros have landed their Class AAA team in Fresno. We're thrilled to reach an agreement with the @astros. Be ready to see the No. 1 farm system play at Chukchansi Park. Press release coming. — …

Upvote Share Tweet

chron.com nytimes.com

24 hours ago

One night after breaking Craig Biggio's Astros record for hits in a season, All-Star second baseman Jose Altuve extended his record to 213. Here are some important numbers to consider from Altuve's latest two-hit gem.

Upvote Share Tweet

Carlos Carrasco tossed a two-hit shutout to lead the Indians past the Astros, 2-0, on Wednesday night at Minute Maid Park.

Upvote Share Tweet

After beating cancer, DeFrancesco 'absolutely' wants another shot to lead Astros

chron.com

Sep 17 (yesterday)

Former Astros interim manager Tony DeFrancesco, who took a leave from his job as Class AAA Oklahoma City's manager early in the season to battle cancer, has been in uniform helping the big league club since Monday. DeFrancesco guided the RedHawks to a 7…

Upvote Share Tweet

Astros name Josh Hader and Brett Phillips as top minor league players for 2014

chron.com

Sep 17 (yesterday)

Admittedly driven early in the season to stand out in a rotation with some of the top-rated pitching arms in the minors, Class AA Corpus Christi lefthander Josh Hader was named the Astros' Minor League Pitcher of the Year a few weeks after he became the…

Upvote Share Tweet

Kluber Strikes Out 14, Indians Top Astros 4-2

nytimes.com

Sep 16 (2 days ago)

Corey Kluber struck out a career-high 14 in seven innings and the Cleveland Indians halted their four-game losing streak with a 4-2 win over the Houston Astros on Tuesday night.

Upvote Share Tweet

Walters day to day with right rib soreness

MLB.com

Sep 16 (2 days ago)

Indians second baseman Zach Walters is "hopefully day to day" after leaving Monday's game against the Astros due to soreness in his right ribs, manager Terry Francona said on Tuesday.

Upvote Share Tweet

Renovations coming to Minute Maid Park in 2015

MLB.com

Sep 16 (2 days ago)

The Astros announced Tuesday that renovations will be coming next season to the club level and upper deck areas of Minute Maid Park in a continuing effort to improve the fan experience. The improvements made to both areas seek to elevate the quality of …

Upvote Share Tweet

chron.com

Sep 16 (2 days ago)

Astros righthander Brad Peacock, who was skipped from his scheduled start Monday because of back soreness, threw a bullpen session without much discomfort Tuesday. He has been inserted back in the rotation to start Friday against the Mariners, pushing a…

Upvote Share Tweet

Houston rookie George Springer, who has been out since July 20 with a left quadriceps injury, won't play again this season.

Upvote Share Tweet

When the Astros claimed him off waivers from the Rockies in December, few could have expected Collin McHugh would become one of the best rookie pitchers in baseball this season and a 10-game winner for the first time in his life. McHugh had an 0-8 caree…

Upvote Share Tweet

MLB.com

Sep 15 (3 days ago)

Utility man Ryan Raburn's hyperextended left knee hasn't improved at all, as he received treatment to no avail prior to Monday's game against the Astros.

Upvote Share Tweet

Struggling Astros rookie Jon Singleton getting another breather

chron.com

Sep 15 (3 days ago)

Noticing that Jon Singleton has struggled with his confidence lately, Astros interim manager Tom Lawless sat the rookie first baseman for the second consecutive game Monday for the start of a three-game series against the Indians at Minute Maid Park. As…

Upvote Share Tweet

nytimes.com

Sep 15 (4 days ago)

Wilson Ramos hit a two-run homer in the seventh inning, and the Nationals won a ninth straight game started by Jordan Zimmermann.

Upvote Share Tweet

Indians Blank Astros

Sep 17

Carlos Carrasco struck out 12 in the Indians' 2-0 win over the Astros.

Altuve Sets Mark In Loss

Sep 16

Jose Altuve broke Houston's single-season hits record, formerly owned by Craig Biggio, in the Astros' 4-2 loss to the Indians.

Angels' Winning Streak Snapped

Sep 14

Dallas Keuchel tossed seven strong innings and the Astros snapped the Angels' 10-game winning streak with a 6-1 victory.

Trout's Big Bat Powers Angels

Sep 13

Mike Trout hit two home runs as the Angels defeated the Astros 5-2.