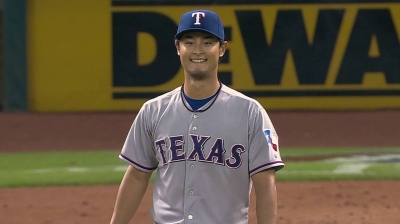 Astros television analyst Alan Ashby said his comments on Comcast SportsNet Houston during Rangers pitcher Yu Darvish's near-perfect game Tuesday were made in lighthearted fashion and were not intended as a slight to the pitcher. After Astros infielder
Share
Tweet
Box score Three games into their inaugural American League season, the Astros have made history. That's not to say the Astros will embrace the standards of futility they set after playing their first 51 seasons in the National League. Less than 24 hours

Share Tweet

Humber has strong outing despite absent offense

In a few days, Philip Humber will appreciate the moment. Standing at the center of Minute Maid Park. Facing the Rangers while wearing a home Astros uniform. Throwing 5 2/3 resilient innings and only allowing one earned during his first start for the fra…

Share Tweet

Ranger DH Lance Berkman was quite at home against old club

Former Astros slugger Lance Berkman slept at his home in Memorial during the opening three game series, making the short drive to Minute Maid Park each day to help the Texas Rangers. And although he now plays for the Rangers, he is clearly still at home…

Share Tweet

Gonzalez copes with negative and positive feedback after breaking up perfect game

Astros shortstop Marwin Gonzalez received plenty of complimentary texts after breaking up Yu Darvish's perfect game with two outs in the ninth, but not all the attention was good. Some folks on Twitter declared him the "most hated man in Texas and Jap

Share Tweet

MLB.com

Apr 3, 2013

Astros pitcher Alex White is bracing himself for the idea he could be headed for Tommy John surgery and a long recovery to get back on the mound.

Share Tweet

Skeeters sign former Astros pitcher Elarton

The Sugar Land Skeeters signed three pitchers Wednesday: former Astro Scott Elarton, Sean Gallagher and Bobby Livingston. Elarton, who was the Astros' first-round pick in the 1994 draft, played for the Astros (1998-2001), Rockies (2001-04, Indians (2004

Share Tweet

This Astros Fan Is Cooler Than You Will Ever Be

deadspin.com

Apr 3, 2013

Send stories, photos, and anything else you might have to more...

Share Tweet

Manager Bo Porter made several changes from the opening-night lineup, and the result saw the Astros almost victimized by a perfect game. Jose Altuve, Brett Wallace, Carlos Pena, Justin Maxwell, Chris Carter and Jason Castro started for the second consec…

Share Tweet

Welcome to the American League, Astros. Baseball's rebuilding, $20 million payroll team returned to reality Tuesday. And Rangers righthander Yu Darvish nearly entered baseball immortality. An almost-perfect, almost-unhittable Darvish fired through 8 2/3

Share Tweet

Sports Columnists

Nancy Lieberman says there's no downside to Brittney Griner trying to make…

Apr 3

Women's basketball pioneer Nancy Lieberman is encouraging Baylor star Brittney Griner to seize the opportunity to do the same with the Dallas Mavericks, no matter how overwhelmingly remote Griner's chances of sticking actually are.