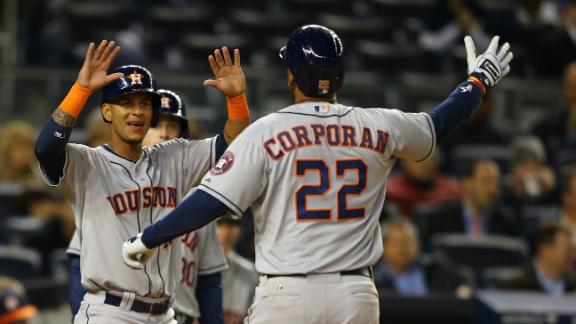 Carlos Corporan homered among his four hits and drove in four runs, Brandon Barnes had three hits and three RBIs, and the Houston Astros fit comfortably into the role of a slugging American League squad in a 9-1 romp over the New York Yankees.
Share
Tweet
Astros report: Porter keeps the faith through early trials

What keeps Astros manager Bo Porter believing through the losses, the short starts by his pitchers and the road embarrassments? His continued assurance the Astros are better than most believe, despite the team's losing 18 of its first 25 games and ownin

Share Tweet

NEW YORK — Courage. Strength. Self-belief. And that was just the start. When NBA veteran center Jason Collins' announcement Monday that he's gay was mentioned to Astros such as Jason Castro and Wesley Wright and the Yankees' Vernon Wells, MLB play

Share Tweet

First pitch: Astros' Peacock moved out of rotation, new starter to be named

NEW YORK - Righthander Brad Peacock is no longer part of the Astros' starting rotation and has been moved to the bullpen, manager Bo Porter said Monday. Peacock, 25, was named the Astros' No. 4 starter toward the end of spring training, beating out

Share Tweet

BOSTON - The Astros were still waking up. It was a bright, clear spring morning at Fenway Park. Baseball, daily history and a soon-to-be-sold-out stadium filled with devoted Red Sox fans watching the best team in the game waited. But Saturday night had

Share Tweet

Sports Columnists

Toronto Raptors ramp up push to have Phil Jackson as president, sources sa…

Apr 29

The Toronto Raptors, emboldened by the news that the Sacramento Kings apparently won't be moving to Seattle, have ramped up their pursuit of Phil Jackson to be their new team president, according to sources close to the situation.

Nate McMillan to interview for Detroit Pistons coach, sources say

Apr 29

The Detroit Pistons have opened the interview process in their search for a new coach and are scheduled to sit down Tuesday with Nate McMillan, according to NBA coaching sources.