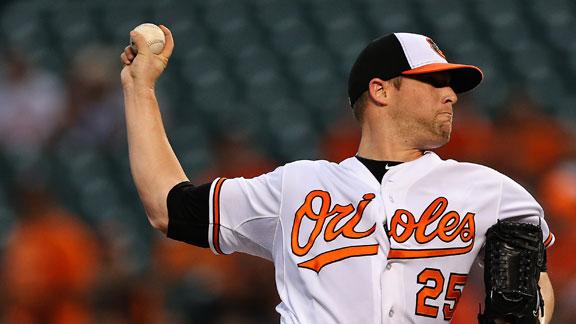 Updated Aug 1
Share
Tweet
BALTIMORE — Bud Norris spent five seasons watching the Astros cheapen and demolish everything he knew. The righthander was drafted in 2006, the year after the Astros' lone World Series appearance. He debuted three seasons later as a brash, bold 24-year-…
Updated Aug 1

Share Tweet

Brad Lidge, who pitched six seasons for the Astros, officially retired today as a Philadelphia Phillie, where he was traded by the Astros before the 2008 season and won a World Series title that year. "First and foremost, we accomplished the dream in Ph…

Source:

chron.com

Jimmy Paredes again recalled by Astros

Updated Aug 1

Share Tweet

BALTIMORE – Jimmy Paredes has again been recalled by the Astros. Paredes, 24, is hitting .178 with one home run, eight RBIs and a .477 OPS in 37 games this season. He's struck out 38 times in 101 at-bats. Paredes will join Brandon Barnes, Robbie Grossma…

Source:

chron.com

White Sox hilariously botch rundown

Updated Aug 1

Share Tweet

MLB.com labeled this play "Kipnis' RBI groundout" in its video library. But it's more than that. So much more. The Chicago White Sox, who are chasing down the Houston Astros for the league's worst record, gave the world prima fascia evidence o…

Source:

yahoo.com

Newly acquired Hader brings high upside to Astros

Updated Aug 1

Share Tweet

In exchange for starting pitcher Bud Norris, the Houston Astros continued to strengthen their organization with the acquisition of outfielder L.J. Hoes and 19-year-old left-handed pitcher Josh Hader from Baltimore.

Source:

MLB.com

Batting Practice Has Been A Menace During This Orioles-Astros Series

Updated Aug 1

Share Tweet

Before Wednesday's game against the Astros, Manny Machado was hit by a batted ball during batting practice. He was fielding grounders at third base when Adam Jones hit a ball that struck Machado's elbow. He was helped off the field as a precaution, thou…

Source:

deadspin.com

Norris Wins In Debut With Orioles

Aug 1

Bud Norris struck out eight to lead the Orioles past his former team.