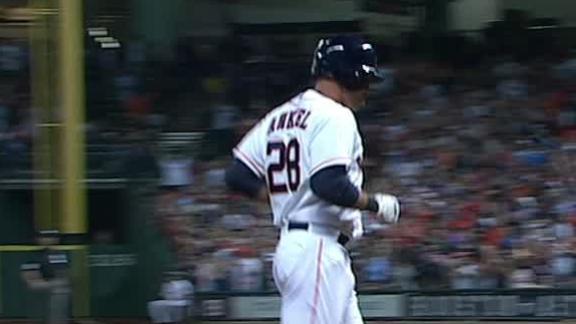 Rick Ankiel and the Houston Astros made an impressive debut in the American League, trouncing the Texas Rangers 8-2 Sunday in the major league opener and giving Bo Porter a win in his first game as manager.
Share
Tweet
Bud Norris' jersey, cap headed to Hall of Fame

Astros starter Bud Norris' jersey and cap from Sunday night's game will be sent to the Baseball Hall of Fame in Cooperstown, N.Y., to commemorate the Astros' first game in the American League, said Astros authentication director Mike Acosta. A baseb

Share Tweet

Box score On a night of firsts, Justin Maxwell and Rick Ankiel introduced the Astros to the American League with the biggest shots Sunday at Minute Maid Park before a national television audience. For one night at least, the Astros showed they're ready

Share Tweet

First two blown calls of MLB season come fast

yahoo.com

Mar 31, 2013

That didn't take long. I promise, we're not going to do a post every time an umpire makes a mistake. But, with it being opening night in Major League Baseball, and with the country watching (presumably) the Texas Rangers at the Houston Astros on Sunday …

Share Tweet

Scenes from Astros' inaugural night in the American League

Scenes from Astros' inaugural night in the American League

Share Tweet

Lyle Lovett sings national anthem in Astros' AL debut

Grammy Award-winning singer Lyle Lovett, who performed the national anthem in a brisk, efficient, tuneful 79.4 seconds, said the key to an effective anthem performance isn't the high notes. "Actually, the toughest part of singing the anthem is being a

Share Tweet

Deadspin Up All Night: Ready To Play

deadspin.com

Mar 31, 2013

Thank you for your continued support of Deadspin. Baseball is back! For real. Kind of. It's the Astros. But still, the game counts. Enjoy.Read more...

Share Tweet

Berkman predicts rivalry will heat up when Rangers-Astros have equitable expectations

Former Astros slugger Lance Berkman, who is renowned for his candor, acknowledges that the rivalry between the Astros and Rangers might not heat up until the teams are on more equal footing. A nice brawl might intensify the rivalry too. "I think one of

Share Tweet

Welcome To The West: Houston's first night in the American League coul…

CNNSI.com

Mar 31, 2013

Houston's first night in the American League couldn't have gone better, as Justin Maxwell and the Astros battered Matt Harrison and Texas to open the season with an 8-2 win.

Share Tweet

Astros waiting on second opinion for Alex White

Astros general manager Jeff Luhnow said Sunday injured righthanded pitcher Alex White could undergo Tommy John surgery. White was placed on the 60-day disabled list Saturday with a right elbow strain. White has already undergone an MRI. The Astros are w…

Share Tweet

Plenty of intrigue surrounds three days of openers

MLB.com

Mar 31, 2013

Opening Day arrived with the Rangers visiting the newest member of the American League, the Houston Astros, on Sunday night at Minute Maid Park, and it will continue with 12 matchups on Monday and six more on Tuesday.

Share Tweet

Astros owner Jim Crane said Sunday he believes "something will get done" as a deadline approaches for a resolution to long-stalled negotiations involving CSN Houston and national carriers such as DirecTV and Dish Network. If a deal isn't reached by

Share Tweet

The Astros finalized their 25-man roster Sunday. The club purchased the contracts of veterans Rick Ankeil, Erik Bedard and Edgar Gonzalez. Alex White and Fernando Martinez will begin the season on the disabled list. The Astros' 40-man roster is set at t

Share Tweet

Jonathan Singleton has potential to jumpstart Astros' rebuild

No one player can immediately save the Astros. The rebuilding club's major league turnaround isn't targeted until 2015. And that's just a launch date — not a planned World Series celebration. But while prospects including shortstops Carlos Correa

Share Tweet

Astros Top Rangers In AL Debut

Mar 31

Rick Ankiel's three-run pinch-hit homer seals Astros' 8-2 win over the Rangers.