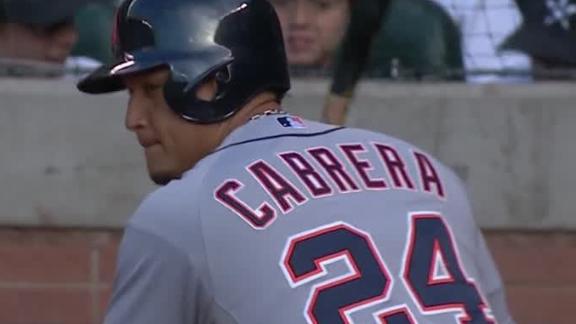 chron.com

May 4, 2013

Box score Astros manager Bo Porter's late Friday pep talk was replaced Saturday by starting pitcher Lucas Harrell constantly pacing the mound, lifting his cap and wiping the white sleeve of his jersey across his face. Detroit manager Jim Leyland's pre

Upvote Share Tweet

Corporan gets back-to-back starts behind the plate

MLB.com

May 4, 2013

Carlos Corporan was behind the plate again for the Astros on Saturday for his second consecutive start. But it isn't only because Lucas Harrell is the starting pitcher.

Upvote Share Tweet

Young team learns to look for positives in close losses

chron.com

May 4, 2013

Although the home clubhouse was relatively quiet, it wasn't somber Friday night. On orders from their manager, the Astros didn't hang their heads after another gut-wrenching loss to the Tigers. Not long after Jose Veras failed to close out the game, A

Upvote Share Tweet

Cabrera's Six-RBI Night

May 4

Miguel Cabrera tied a career high with six RBIs in the Tigers' 17-2 win over the Astros.