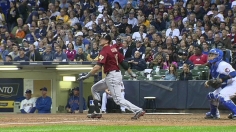 Updated Sep 28, 2012
Share
Tweet
Justin Maxwell, who Monday became the first Astros player in 15 years to play all three outfield positions in the same game, did so again. The Astros went for defense late and survived a Matt Dominguez error in the ninth.
Photos: Astros-Brewers Sept. 28-30

Updated Sep 28, 2012

Share Tweet

See the best photos as the Astros visit Milwaukee.

Source:

chron.com

Updated Sep 28, 2012

Share Tweet

With his steal of third base in the sixth inning of Friday's game vs. the Astros, Ryan Braun notched the 11th season of 40 home runs and 30 stolen bases in Major League history.

Source:

MLB.com

DeFrancesco looks to continue with Astros after being passed over for manager job

Updated Sep 28, 2012

Share Tweet

Astros interim manager Tony DeFrancesco, ultimately a runner-up for the full-time position, said he looks forward to continuing in the organization after general manager Jeff Luhnow reiterated that he'd be offered a position.

Source:

chron.com

Sports Columnists

Peter King: Seahawks defense playing bigger than reputation

Sep 28

Defensive end Chris Clemons has much in common with his peers on the Seattle defense: They're good, they're unknown, and they don't care.

John Clayton's Last Call

Sep 28

The Texans and Falcons appear to be the class of their respective conferences, writes John Clayton.