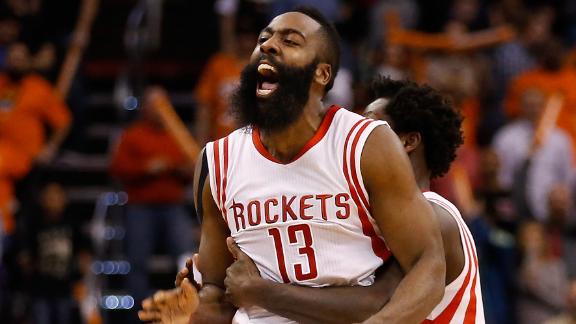 ESPN.com
yahoo.com
dimemag.com
nba.com
Updated 22 hours ago
Houston Rockets forward Dwight Howard left the US Airways Center in a walking boot after injuring his right ankle in the first quarter of his team's win over the Phoenix Suns on Friday night.
Upvote
Share
Tweet
yahoo.com

Jan 22 (2 days ago)

The Chicago Bulls have been working up a pretty trashy brand of basketball recently, watching as their offense goes flat while pairing that putrid play with absolutely terrible defense. The squad has lost six of eight since an impressive home win over t…

Upvote Share Tweet

yahoo.com

Jan 22 (2 days ago)

Here's how Houston Rockets star James Harden referred to the Golden State Warriors before their matchup on Saturday night: The clip of Harden telling his huddled-up teammates that the Warriors — who entered that contest with an NBA-best record of 31-6 —…

Upvote Share Tweet

dimemag.com

Jan 22 (2 days ago)

Dwight Howard and the Houston Rockets have played the Golden State Warriors four times this season, and have come away loser on all four occasions. You'd think Houston's defensive bell cow would have utmost respect for The Bay's team, then, but you'd be…

Upvote Share Tweet

Curry keeps cool after tiff to lead Warriors

ESPN.com

Jan 22 (3 days ago)

Stephen Curry got involved in a rare altercation before finishing with 22 points and 10 assists, and the Golden State Warriors held off the Houston Rockets 126-113 on Wednesday night for their franchise-record 17th straight home win.

Upvote Share Tweet

James Harden Says The Warriors "Ain't That Good"

dimemag.com

Jan 20 (4 days ago)

Today, just three games short of the mid-way point of the 2014-15 NBA season, the Warriors have the NBA's best record at 33-6 — a .846 winning percentage. Before Saturday's game between the Warriors and Rockets, they still had the league's best record, …

Upvote Share Tweet

Harden pours in 45 as Rockets sock Pacers

ESPN.com

Jan 19 (5 days ago)

James Harden scored a season-high 45 points, including 18 in the third quarter, and the Rockets beat the Pacers 110-98 on Monday.

Upvote Share Tweet

Smith embracing 'new beginning' in Houston

nba.com

Jan 18 (6 days ago)

Josh Smith has been a nice addition to the contending Houston Rockets and simply ignores those who credit Detroit's recent success to his release.

Upvote Share Tweet

ESPN.com

Jan 17 (7 days ago)

Stephen Curry and Klay Thompson scored 27 points each and the Golden State Warriors used a huge third quarter to roll to a 131-106 win over the Houston Rockets on Saturday night.

Upvote Share Tweet

Report: OKC-Nets Talks Falter; Rockets Are Now Interested In Brook — Huh?

dimemag.com

Jan 16

According to Adrian Wojnarowski of Yahoo Sports, the Nets-Thunder talks have disintegrated because for Brooklyn, "there was nothing we liked." But Woj also said that Houston had inquired about Brook Lopez's services, which is weird because they already …

Upvote Share Tweet

Rockets drop 40 in 1st to silence Thunder

ESPN.com

Jan 15

James Harden scored 15 of his 31 points in the Houston Rockets' big first quarter in a 112-101 victory over the Oklahoma City Thunder on Thursday night.

Upvote Share Tweet

yahoo.com

Jan 14

Granted, it's not necessarily anything new — I mean, we've seen it before — but man, Victor Oladipo's on-the-break 360-degree dunk is still a very cool dunk: It's especially cool when it comes in the final minute of the fourth quarter, off a lead-pass a…

Upvote Share Tweet

Rockets' Josh Smith Says He's Excited For Pistons, Tunes Out Criticism

dimemag.com

Jan 14

The streak is over, but the story isn't. The Detroit Pistons have won nine of the 10 games they've played since Stan Van Gundy made the shocking decision to waive Josh Smith just before Christmas. And though you might think an upstanding player dismisse…

Upvote Share Tweet

yahoo.com dimemag.com

Jan 14

We're pretty sure Houston Rockets general manager Daryl Morey just sifted through Dwight Howard's drafts folder, looking for a joke to steal. How else would you explain this? No, it is like being a gynecologist, you don't get sick of it RT @chriswk14 do…

Upvote Share Tweet

Brooklyn Nets forward Kevin Garnett has been suspended one game without pay for initiating an altercation with Houston Rockets center Dwight Howard and headbutting him. Howard was fined $15,000 for pushing Garnett in the neck area. The penalties were an…

Upvote Share Tweet

Videos: Josh Smith Dazzles With No-Look Dime, Chase-Down Block, Poster Dunk

dimemag.com

Jan 11

This is the Josh Smith the Houston Rockets envisioned when signing the talented but beleaguered lefty last month. Watch J-Smoove show-off his awesome natural gifts with a sick no-look dime, big chase-down block, and poster dunk in his team's 97-82 win o…

Upvote Share Tweet

yahoo.com

Jan 9

Thursday featured another bit of embarrassment for the New York Knick franchise. The team was easily upended by a powerhouse Houston Rockets squad, on national TV no less. Its head coach was forced to admit that the team's famed president had possibly l…

Upvote Share Tweet

GIF: Knicks Finish Fast Break In Playground Style

dimemag.com

Jan 9

The Knicks got crushed last night by the Rockets, 120-96, dropping a franchise-worst 14th consecutive game. But with J.R. Smith and Iman Shumpert in Cleveland now, it's allowed some of the younger players to spread their wings — no, not Cole Aldrich, bu…

Upvote Share Tweet

Harden Lifts Rockets To Win

Jan 23

James Harden's 20-foot buzzer-beating basket lifted the Rockets past the Suns 113-111.

Harden Drains Game-Winner At The Buzzer

Jan 23

Rockets guard James Harden scored the game-winning shot at the buzzer to lift Houston over the Suns 113-111.

Warriors Rout Rockets, Sweep Season Series

Jan 21

The Warriors scored 100-plus points through the third quarter for the fourth time this season and cruised to a 126-113 win over the Rockets.

NBA All-Star Must-Haves

Jan 21

Doris Burke, Avery Johnson and Jalen Rose break down their starters for the NBA All-Star Game.