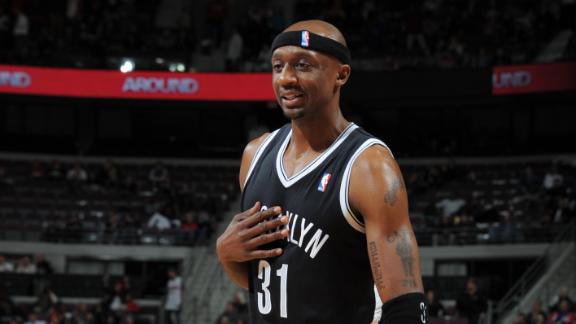 yahoo.com dimemag.com

Aug 27 (6 days ago)

There is little doubt that Houston Rockets All-Star guard James Harden is an extremely talented basketball player — guys don't make the All-NBA First Team by accident, no matter how controversial there selections prove to be. But Harden gets the sort of…

Upvote Share Tweet

Rockets sign forward Tarik Black

nba.com

Aug 27 (6 days ago)

The Houston Rockets have signed forward Tarik Black, who played on their summer league teams in Orlando and Las Vegas.

Upvote Share Tweet

dimemag.com yahoo.com

Aug 15

The Houston Rockets took a big gamble on ace defensive point guard Patrick Beverley when they unloaded Jeremy Lin — and his expiring poison pill contract — on the Lakers this offseason. The move has solidified the starting spot Beverley swiped from Lin …

Upvote Share Tweet

Mark Cuban On Mavs: "The Moves We Made Will Take Us To The Next Level"

dimemag.com

Aug 14

The Dallas Mavericks were very busy this summer. They re-acquired Tyson Chandler in a trade with the Knicks, and were able to get Chandler Parsons to sign a three-year offer sheet that the Rockets declined to match. Where exactly they stand in the Weste…

Upvote Share Tweet

Mavs-Spurs, Rockets-Lakers open NBA slate

ESPN.com

Aug 13

The NBA released its 2014-15 season Wednesday night, with playoff rematches and a heavy dose of the new-look Cleveland Cavaliers featured heavily early.

Upvote Share Tweet

yahoo.com

Aug 12

A look around the league and the Web that covers it. It's also important to note that the rotation order and starting nods aren't always listed in order of importance. That's for you, dear reader, to figure out. C: Red94. Within a nice post on what goes…

Upvote Share Tweet

Barkley On Commercial's Blooper Reel: "I'm Like A F**king Robert DeNiro"

dimemag.com

Aug 11

Houston Rockets guard and likely Team USA member James Harden stars in an amusing Foot Locker ad with Charles Barkley that stresses the importance of a short memory. Given the just-released blooper reel from the commercial's production, that knowledge i…

Upvote Share Tweet

Sources: Rockets, Barca forward reach deal

ESPN.com

Aug 8

The Houston Rockets have struck a deal to bring highly touted European forward Kostas Papanikolaou to the NBA next season, according to sources close to the player.

Upvote Share Tweet

Rocket Donatas Motiejunas On "Hi & Bye" Relations With Howard & Harden

dimemag.com

Aug 8

Rockets 7-foot forward/center Donatas Motiejunas, D-Mo, spoke earlier this summer about former teammate Chandler Parsons and questioned whether Parsons was worth the near-max offer sheet Parsons signed with Dallas. He also wondered whether James Harden …

Upvote Share Tweet

Report: James Harden's Defense Impressing With Team USA

dimemag.com

Aug 4

It seems impossible now, but there was a time when James Harden was considered a capable defender. Before he was traded to the Houston Rockets and began shouldering the heavy offensive load of a superstar playmaker, Harden showed flashes of strong defen…

Upvote Share Tweet

Chris Bosh On Leaving Miami For Houston: "It Was Close, I'm Not Going To Lie"

dimemag.com

Aug 1

This week, Chris Bosh officially inked a five-year, $118 million to remain with the Miami Heat. Yesterday, Bosh talked about how close he actually came to leaving Miami to join the Houston Rockets. Once LeBron James announced his return to Cleveland, ev…

Upvote Share Tweet

dimemag.com

Jul 31

The supposed hot blood simmering between James Harden and former teammate Chandler Parsons after Harden made some damaging comments indirectly demising Parsons' additions for the Rockets, was probably blown out of proportion a tad by the media. The two …

Upvote Share Tweet

Well, here is a picture of James Harden made out of real hair (Photo)

yahoo.com

Jul 28

When I interviewed Filip Peraić, the Croatian artist behind James Harden Illustrated, about four months ago, he explained that what he found so enriching about pursuing artistic freedom within the confines of the Houston Rockets All-Star's side profile …

Upvote Share Tweet

Donatas Motiejunas Questions Chandler Parsons' Contract

dimemag.com

Jul 27

The Houston Rockets would have happily matched the Dallas Mavericks' offer sheet to Chandler Parsons had Chris Bosh done as expected and inked a contract to create the league's newest Big Three with James Harden and Dwight Howard. Just don't tell that t…

Upvote Share Tweet

Dwight Howard Actually Tried To Recruit Jameer Nelson To Houston

dimemag.com

Jul 25

Free agent point guard Jameer Nelson signed a two-year deal with the Dallas Mavericks this week. If Dwight Howard had his way, Nelson would be in Houston instead. According to Shams Charania's sources, Nelson made his decision despite a push from Howard…

Upvote Share Tweet

dimemag.com yahoo.com

Jul 25

Perhaps you've heard the condescending remarks James Harden and teammate Dwight Howard made in the wake of Chandler Parson's departure for Dallas. After the Rockets failed to match Parson's near-max deal with the Mavs, Harden and Dwight basically said i…

Upvote Share Tweet

dimemag.com

Jul 22

The Sacramento Kings defeated the Houston Rockets 77-68 to capture the Las Vegas summer league title on Monday night. Ray McCallum dropped 29 points including a running three-pointer after sprinting from the back-court to beat the shot clock in the fina…

Upvote Share Tweet

Coach K's Ball Pressure

Aug 22

David Thorpe has been watching Team USA, and one thing's for sure: Mike Krzyzewski's team will pressure ball handlers. Even James Harden is active on defense.

Rose, Team USA Pull Away From Puerto Rico

Aug 22

Derrick Rose scored six points and dished out four assists in Team USA's 112-86 win over Puerto Rico.

Team USA Rolls Dominican Republic

Aug 20

Team USA beat the Dominican Republic 105-62 in exhibition play.

Is Harden The Best Basketball Player Alive?

Aug 20

Stephen A. Smith and Skip Bayless discuss Rockets G James Harden's statement that he is the best basketball player alive. They also talk about Harden's ranking among the best players in the NBA.

Sports Columnists

Kevin Durant of Oklahoma City Thunder stays with Nike after shoe company m…

Aug 31

With Kevin Durant on the verge of a move to Under Armour, sources told ESPN on Sunday that Nike has exercised its right to match any rival shoe company's offer to the Oklahoma City Thunder star.

Sources: Spurs, Clips join race to sign Allen

Aug 30

The San Antonio Spurs and the Los Angeles Clippers are the latest elite teams to join the race to sign Ray Allen, ESPN.com has learned.

San Antonio Spurs have interest in signing Mexico star center Gustavo Ayon

Aug 29

The San Antonio Spurs have expressed interest in signing Mexico star center Gustavo Ayon, ESPN.com has learned.