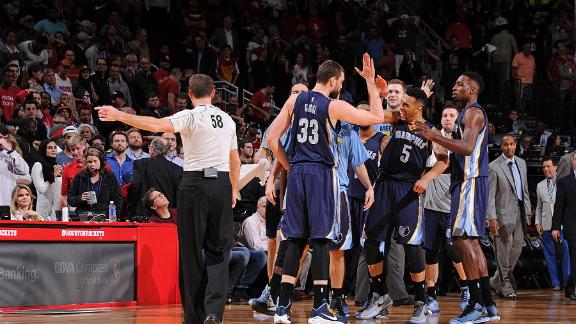 ESPN.com
Updated 1 hour ago
The NBA ruled Thursday the three officials erred in the closing moments of the Houston Rockets' Wednesday nights loss to the Memphis Grizzlies.
Upvote
Share
Tweet
Marc Gasol made a jumper with 0.1 seconds left to give the Memphis Grizzlies a 102-100 victory over the Houston Rockets on Wednesday night.

Upvote Share Tweet

yahoo.com

Mar 3 (2 days ago)

Houston Rockets forward Josh Smith has heard a lot of criticism over the past few years that he takes too many three-pointers. Those comments are accurate — Smith hasn't topped 31 percent from long range since 2010-11 — but it's easy to see how he may h…

Upvote Share Tweet

Rockets' Brewer replaces suspended Harden vs. Hawks

nba.com

Mar 3 (2 days ago)

NBA leading scorer James Harden was not on the floor Tuesday for the Houston Rockets against the Atlanta Hawks as he serves a one-game suspension for kicking LeBron James in the groin.

Upvote Share Tweet

yahoo.com

Mar 3 (2 days ago)

Well, this is depressing. Former Houston Rockets, Orlando Magic and New York Knicks guard Steve Francis got dragged to the floor, stepped on and choked by his own chain, which was later stolen, during an altercation at a hip-hop show in Houston over the…

Upvote Share Tweet

The Houston Rockets went all out after defeating the Cleveland Cavaliers by two points on Sunday, even going so far as to declare James Harden "the new King James" after having vanquished LeBron James in regular-season battle. Unfortunately fo…

Upvote Share Tweet

Rockets guard James Harden was called for a flagrant foul for appearing to kick LeBron James below the belt in Sunday's 105-103 overtime win over the Cleveland Cavaliers.

Upvote Share Tweet

ESPN.com

Feb 28 (5 days ago)

Cavaliers point guard Kyrie Irving will miss his second straight game, Sunday against the Rockets, with a strained left shoulder, an injury the team had thought would only sideline him for one game.

Upvote Share Tweet

Brewer's big 4th helps Rockets down Clips

ESPN.com

Feb 25

Brewer's big 4th quarter helps Rockets beat Clippers 110-105

Upvote Share Tweet

ESPN.com

Feb 23

James Harden had 31 points, 11 rebounds and 10 assists for his second triple-double this season, leading the Rockets to a 113-102 victory over the Timberwolves on Monday night

Upvote Share Tweet

yahoo.com

Feb 23

As the NBA's leading scorer, Houston Rockets star James Harden has made defenders look silly with some regularity this season. But few have looked quite as awkward as Ricky Rubio on one possession in the third quarter of Monday night's game between the …

Upvote Share Tweet

yahoo.com

Feb 23

On one hand, it is reasonable to think that Philadelphia 76ers general manager Sam Hinkie made an odd and perhaps foolish decision by shipping promising rookie swingman K.J. McDaniels to the Houston Rockets at last Thursday's wild and wooly trade deadli…

Upvote Share Tweet

Mavs rebound from blowout, top Rockets

ESPN.com

Feb 20

Devin Harris scored 17 points, Al-Farouq Aminu set season highs with 17 points and 12 rebounds, and the balanced Dallas Mavericks held on to beat the Houston Rockets 111-100 Friday night.

Upvote Share Tweet

Sources: Rockets deal for Prigioni, McDaniels

ESPN.com

Feb 19

Houston acquired guard Pablo Prigioni from the New York Knicks and rookie guard K.J. McDaniels from the Philadephia 76ers, sources told ESPN.com.

Upvote Share Tweet

nba.com

Feb 19

A person with knowledge of the deal says the New York Knicks have traded guard Pablo Prigioni to the Houston Rockets for guard Alexey Shved and two second-round picks.

Upvote Share Tweet

James Harden, Jeremy Lin star in NBA's Chinese New Year promo (w/video)

chron.com

Feb 19

Thursday marks the beginning of Chinese New Year. Accordingly, the Houston Rockets and Golden State Warriors will be mixing up their attire to pay homage to one of the NBA's most loyal fan bases. The Rockets will wear the special jerseys for the first t…

Upvote Share Tweet

Gasol, Grizzlies Fight Off Rockets

Mar 4

Marc Gasol's contested shot in the final seconds pushed the Grizzlies to a 102-100 win over the Rockets.

Hawks Fly By Rockets

Mar 3

Jeff Teague scored a game-high 25 points in the Hawks' 104-96 win over the Rockets.

Daryl Morey's Rocket Science

Mar 3

Houston Rockets GM Daryl Morey makes his pitch for James Harden as MVP and Charles Barkley as Sloan 2016 headliner.

Does Harden's Punishment Fit?

Mar 3

Kate Fagan, Danny Kanell and Freddie Coleman debate whether Rockets guard James Harden deserved a one-game suspension for kicking Cavaliers forward LeBron James.