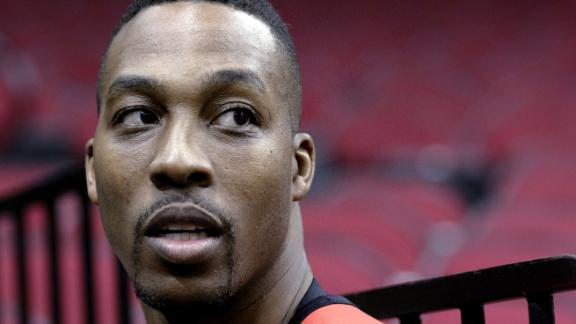 GIF: Wily Kobe Bryant Forces James Harden To Block-Out Francisco Garcia

dimemag.com

Nov 20 (4 days ago)

Is this what Kobe Bryant meant by saying that he'd play differently but just as effectively this season? Not specifically, but exercising more of the veteran savvy shown here would surely help Bryant help the Los Angeles Lakers. Watch the future Hall-of…

Upvote Share Tweet

Nick Young Defines "Swag" By Evoking Pop Legends Michael Jackson, Prince

dimemag.com

Nov 20 (4 days ago)

We might just resort to a "Quote of the Day" post from Nick Young going forward – especially if his swag keeps rubbing off on the Los Angeles Lakers. After helping his team to a road win against the Dwight Howard-less Houston Rockets last night, Young c…

Upvote Share Tweet

Dwight Howard sat out Wednesday's loss to the Lakers with a sprained right knee, but the Rockets center was still a hot topic of discussion for former teammate Kobe Bryant.

Upvote Share Tweet

Report: Goran Dragic Will Have "Open" Free Agency; Lakers, Rockets Options

dimemag.com

Nov 19 (5 days ago)

The Phoenix Suns' three-headed point guard monster might be a single season experiment. According to a report, reigning Most Improved Player and All-NBA Third Team honoree Goran Dragic will have an "open" free agency this summer. Courtesy of the Sportin…

Upvote Share Tweet

Reports: Police re-open Howard abuse case

ESPN.com

Nov 18 (6 days ago)

Police have re-opened a child abuse investigation concerning Houston Rockets forward Dwight Howard, according to multiple media reports.

Upvote Share Tweet

Justin Timberlake To Man Calling Him Bandwagon Grizzlies Fan: "I'm An Owner"

River city native and Memphis Grizzlies part-owner Justin Timberlake is psyched about his team's start to the 2014-2015 season. After the Grit 'N Grind crew dispatched of the Houston Rockets last night to gain the league's best record at 10-1, the "Mirr…

Upvote Share Tweet

Gary Payton Thinks Dwight Howard "Is Disliked By A Lot Of Players"

After reports surfaced of Kevin Durant talking junk to Dwight Howard while witnessing the gross 69-65 Rockets win over the Thunder on Sunday, the Fox Sports 1 crew asked Gary Payton for his thoughts on the Rockets big man. The Glove did not hold back. F…

Upvote Share Tweet

Despite its many advantages, an unyielding spotlight can still be harsh. Just ask Chris Bosh. In an interview with CBS Sports' Ken Berger, the Miami Heat All-Star says that he elected against signing with the Houston Rockets this summer because "all tha…

Upvote Share Tweet

deadspin.com

Nov 18 (6 days ago)

Here's a chart by our friend Ed Kupfer, who does analytics for the Houston Rockets, showing the distribution by percent of every NBA team's offensive and defensive field goals. If you take a second blink through the information overload, it's a shorthan…

Upvote Share Tweet

Griz rout Rockets in matchup of top teams

ESPN.com

Nov 17 (6 days ago)

Mike Conley scored 19 points and the Memphis Grizzlies easily defeated the Houston Rockets 119-93 on Monday night in a matchup of the teams with the NBA's best records.

Upvote Share Tweet

GIF: Tony Allen Blocks Dwight Howard's Shot, Wags Finger To Memphis Crowd

dimemag.com

Nov 17 (6 days ago)

Now this is how you perform Dikembe Mutombo's famed finger-wag, Dwight Howard. Watch Tony Allen come from behind Howard to block the big man's shot and wag his finger to the Memphis Grizzlies' crowd in his team's 119-93 beat-down of the Houston Rockets …

Upvote Share Tweet

If there's any player that knows how stringent the Oklahoma City Thunder can be in contract negotiations, it's definitely James Harden. The Houston Rockets superstar and reigning All-NBA First Team honoree was low-balled by the Thunder after winning Six…

Upvote Share Tweet

Watch Donatas Motiejunas School Serge Ibaka With Shot-Fake, Spinning Layup

Last night's hideous game between the Houston Rockets and Oklahoma City Thunder could have used a lot more of this. Watch Houston's Donatas Motiejunas school shot-blocker extraordinaire Serge Ibaka with a slick pump-fake and spinning layup in his team's…

Upvote Share Tweet

Russell Westbrook Denies Recruiting Efforts Of Lakers Fan: "Go Back To LA"

If only a Washington Wizards follower would test Kevin Durant the same way. During his team's home game against the Houston Rockets last night, injured Oklahoma City Thunder superstar Russell Westbrook staunchly denied the recruiting efforts of a Los An…

Upvote Share Tweet

Kevin Durant Repeatedly Tells Dwight Howard, "You're A Pu**y"

Last night's Thunder-Rockets game was ugly. Houston scored 24 points in the first quarter, and it was the only time either time exceeded 20 points in a quarter; Houston then scored only nine in the third session. The Rockets did, however, get the win wh…

Upvote Share Tweet

Rockets weather struggles to get by Thunder

ESPN.com

Nov 16

James Harden scored 19 points, and the Rockets beat the Thunder 69-65 on Sunday night for their third consecutive victory.

Upvote Share Tweet

ESPN.com

Nov 16

The Timberwolves, fresh off heavy back-to-back losses and in the latest indication of their growing focus on the future, are in active trade discussions with multiple contending teams pursuing veteran swingman Corey Brewer, according to sources.

Upvote Share Tweet

Harden's late shot lifts Rockets past 76ers

ESPN.com

Nov 14

James Harden scored 35 points, including an off-balance layup with 9 seconds left, to lead the Houston Rockets to an 88-87 victory over the winless Philadelphia 76ers on Friday night.

Upvote Share Tweet

GIF: Dwight Howard Does Dikembe Mutombo's Classic Finger-Wag

dimemag.com

Nov 13

Dikembe Mutombo is somewhere shaking his head in disgust. After Trevor Ariza was called for a blocking foul last night against the Minnesota Timberwolves, Dwight Howard channeled his Houston Rockets paint-protecting predecessor by playfully waving his f…

Upvote Share Tweet

Watch Andrew Wiggins Block James Harden's Layup, Blow By Him For Dunk

dimemag.com

Nov 12

Andrew Wiggins is going toe-to-toe with Houston Rockets All-NBA guard James Harden in Mexico City. Watch the Minnesota Timberwolves rookie show off his crazy explosion by blocking Harden's layup, then quickly beating him off the dribble for a baseline s…

Upvote Share Tweet

ESPN.com

Nov 11

The Minnesota Timberwolves will make their second attempt to play a regular-season game in Mexico City, after last year's game with the San Antonio Spurs was canceled because of smoke inside Mexico City Arena.

Upvote Share Tweet

Curry-led Warriors (5-0) 1st to down Rockets

ESPN.com

Nov 8

Curry has 34, Warriors beat depleted Rockets 98-87

Upvote Share Tweet

Rockets' Howard out for battle of unbeatens

ESPN.com

Nov 8

Rockets center Dwight Howard will not play in Saturday night's game against the Warriors, the team announced shortly before tip-off.

Upvote Share Tweet

James Harden Toasts Cory Joseph With Sick Eurostep

dimemag.com

Nov 7

There are a lot of negatives fans now ascribe to James Harden's game these days. Some feel it's somehow ugly, since he's always flailing off a defender and going to the line, or he's too ball dominant to get others involved. The most pernicious comments…

Upvote Share Tweet

Dwight Howard Out Indefinitely

Nov 22

ESPNDallas.com's Tim MacMahon discusses the Rockets' loss of Dwight Howard (knee) and breaks down the therapy the center will receive.

Rockets Rally Past Mavs

Nov 22

James Harden scored 32 points in the Rockets' 95-92 win over the Mavericks.

A No-Show For Dwight Against Lakers

Nov 20

'SportsNation' hosts Michelle Beadle and Marcellus Wiley, along with guest Larry King, discuss whether Houston Rockets center Dwight Howard looked bad for not playing against the Lakers.

Dial It Up Top Plays

Nov 20

Gerald Green shows how high he can jump, Dwight Howard posterizes Nick Collison, and Jeff Green displays his aerial skills.