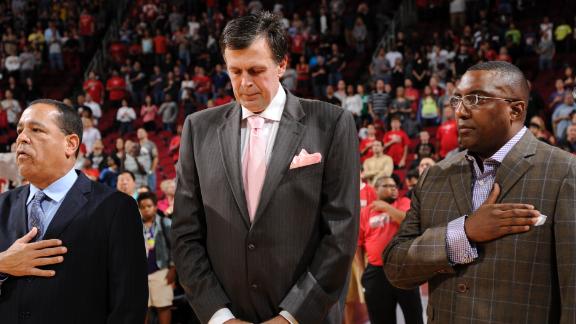 O.J. Mayo scored 40 points, including 10 in the last three minutes, to lift the Dallas Mavericks to a 116-109 victory over the Rockets on Saturday night in coach Kevin McHale's return to the Houston bench.
Share
Tweet
30 Seconds With Kenny Smith

nytimes.com

Dec 8, 2012

Kenny Smith, a Queens native, was drafted by the Sacramento Kings in 1987 with the sixth pick over all. During a 10-year N.B.A. career, Smith, a point guard, also played with Atlanta, Detroit, Orlando and Denver, and he was with Houston when the Rockets…

Share Tweet
Kevin McHale Returns To Rockets' Loss

Dec 8

After missing a month of action due to the loss of his daughter, Kevin McHale returns to the bench and the Rockets fall 116-109 to the Mavericks.