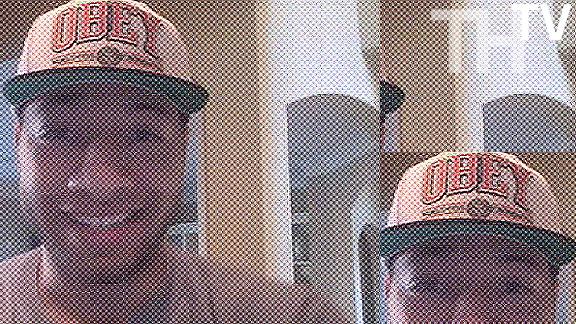 Royce White says he is ready to focus on basketball. White scored seven points, grabbed eight rebounds and had four assists for the Rio Grande Valley Vipers in Tuesday's 139-122 win over Maine, one day after reporting to the Rockets' D-League affiliate.
Share
Tweet
The Top 5 Teams That Should Sign Kenyon Martin

dimemag.com

Feb 12, 2013

Attention Kenyon Martin shoppers. Your power forward is ready for pickup. The 12-year vet, with career averages of 13 points and 7.1 boards, claims he's ready to take advantage of whatever opportunity comes his way at the age of 34. Earlier this season,

Share Tweet
Rockets Hand Warriors Fifth Straight Loss

Feb 12

James Harden leads Rockets with 27 points.

Royce White Makes D-League Debut

Feb 12

Royce White scores seven points in NBA D-League debut.
Sports Columnists
Kobe Bryant says chastising fan on Twitter was 'right thing to do'

Feb 13

Kobe Bryant welcomes challenges, which explains why he chastised a fan on Twitter for using a homophobic slur. "It's the right thing to do," Bryant told ESPN.com. "I couldn't help myself. I saw it, I was like, 'I can't help myself. I have to respond.'"

Ian Thomsen: John Wall's return puts Wizards back on track; more mail

Feb 12

Time to break up the Wiz? Washington has won 11 of its last 18 and has ranked first in defensive efficiency since John Wall returned. Could they sneak into the playoffs as the team no one wants to face in the first round? -- Adam T., Washington D.C.