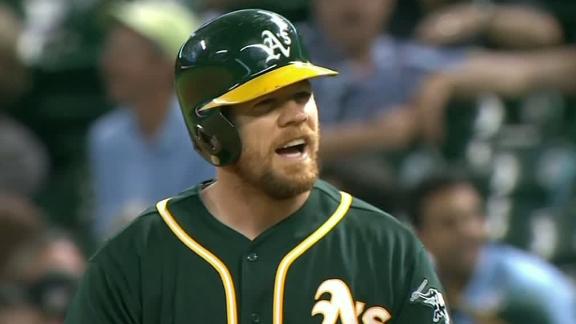 ESPN.com
nytimes.com
chron.com
MLB.com
Updated 3 hours ago
Slumping Brandon Moss hit a go-ahead single during a six-run rally in the ninth inning that sent the Oakland Athletics over the Houston Astros 7-4 on Tuesday night.
Upvote
Share
Tweet
A's rally for six in ninth inning for victory

MLB.com

1 hour ago

The A's scored six times in the ninth inning for a dramatic, come-from behind 7-4 win, evening their series with the Astros at Minute Maid Park. The A's scored off three different pitchers in the ninth.

Upvote Share Tweet

Feldman goes seven strong in revenge game against A's

chron.com

2 hours ago

Facing the A's big trade acquisition for the second time in a week while trying to rebound from the Astros' worst loss of the year, Scott Feldman delivered what arguably was his best outing of the season considering the opposition while out-dueling Jeff…

Upvote Share Tweet

Texans training camp report: Old school tactics provide motivation to avoid mistakes

chron.com

7 hours ago

It may be an old-fashioned tactic, but coach Bill O'Brien is penalizing players for mental mistakes by making them immediately run a lap around the practice field, in full view of their teammates, the media and invited onlookers. Veteran left tackle Dua…

Upvote Share Tweet

Astros hope Carter's recent power surge continues

Astros designated hitter Chris Carter, who is having the best month of his career, isn't worried too much about possibly being traded. He's been traded three times in his career already, and he knows better than to waste time on trade speculation. "Whit…

Upvote Share Tweet

Springer takes BP for first time since landing on DL

For the first time since going on the 15-day disabled list on July 20 with a left quad strain, Astros rookie George Springer took batting practice on the field Tuesday afternoon at Minute Maid Park. "It's big to be out here and just to get some swings,"…

Upvote Share Tweet

Lewis providing veteran leadership in Texans' defensive backfield

Ed Reed was supposed to be the answer. The 2012 Super Bowl winner was a 2013 failure, and the Texans are still searching for a solution at free safety almost a year later. Enter Kendrick Lewis. The Texans are hoping Kendrick Lewis can provide the defens…

Upvote Share Tweet

Face in the crowd: Texans cornerback A.J. Bouye

chron.com

9 hours ago

Cornerback A.J. Bouye could carve out a nice bit of playing time in the Texans' secondary.(James Nielsen / Houston Chronicle) A.J. Bouye Position: Cornerback Ht./Wt: 6-0, 191 College: Central Florida Experience: Second year. An undrafted free agent last…

Upvote Share Tweet

chron.com

9 hours ago

Texans beat writers John McClain and Brian T. Smith discuss the players that have caught their attention at training camp.

Upvote Share Tweet

ESPN.com

10 hours ago

HOUSTON -- A daily review of the hot topics coming out of Houston Texans training camp. Defensive lineman Jeoffrey Pagan, one of the Texans' three sixth-round picks this year, has appeared to catch on pretty well after missing the entire spring while re…

Upvote Share Tweet

chron.com profootballtalk.com

11 hours ago

The team continues to prepare for the upcoming season with full-squad workouts at the Methodist Training Center.

Upvote Share Tweet

Texans' Kollar: Starting nose-tackle job is up for grabs

Defensive line coach Bill Kollar calls the nose-tackle job "wide open" with Earl Mitchell lost through free agency and highly regarded rookie Louis Nix III on the physically-unable-to-perform list because of a knee problem. "The guy that plays the best …

Upvote Share Tweet

Texans' Kareem Jackson eager to help younger teammates

It seems like only yesterday that cornerback Kareem Jackson was a heavily criticized first-round pick from Alabama, but here he is beginning his fifth season as a starter in the Texans' secondary. Jackson, the first-round pick in 2010, has improved in a…

Upvote Share Tweet

Texans' O'Brien says defense is ahead of offense after miscue-filled practice

Texans center Chris Myers prepares to put on his helmet as head coach Bill O'Brien gets practice started on Tuesday. (Brett Coomer/Houston Chronicle) The Texans' fourth training-camp practice had its ragged moments and later head coach Bill O'Brien conc…

Upvote Share Tweet

Houston Texans defensive end Jadeveon Clowney on his transition to the NFL

Jul 29

NFL Media's Willie McGinest goes one-one-one with Houston Texans defensive end Jadeveon Clowney to discuss his health after sports hernia surgery and how the No. 1 overall draft pick is adjusting to the NFL.

Is Ryan Fitzpatrick the answer at quarterback for the Houston Texans?

Jul 29

Can new head coach Bill O'Brien turn Ryan Fitzpatrick into a more consistent quarterback and help get the Houston Texans back to the playoffs?

Expectations for Houston Texans in 2014

Jul 29

NFL Media's Molly Qerim joins "NFL AM" from Houston Texans training camp to talk expectations for head coach Bill O'Brien this season and break down the injuries on the team.

Willie McGinest: Houston Texans linebacker Jadeveon Clowney will be dominant

Jul 29

Former NFL linebacker Willie McGinest weighs in on the potential impact Houston Texans rookie Jadeveon Clowney could impose on the NFL.