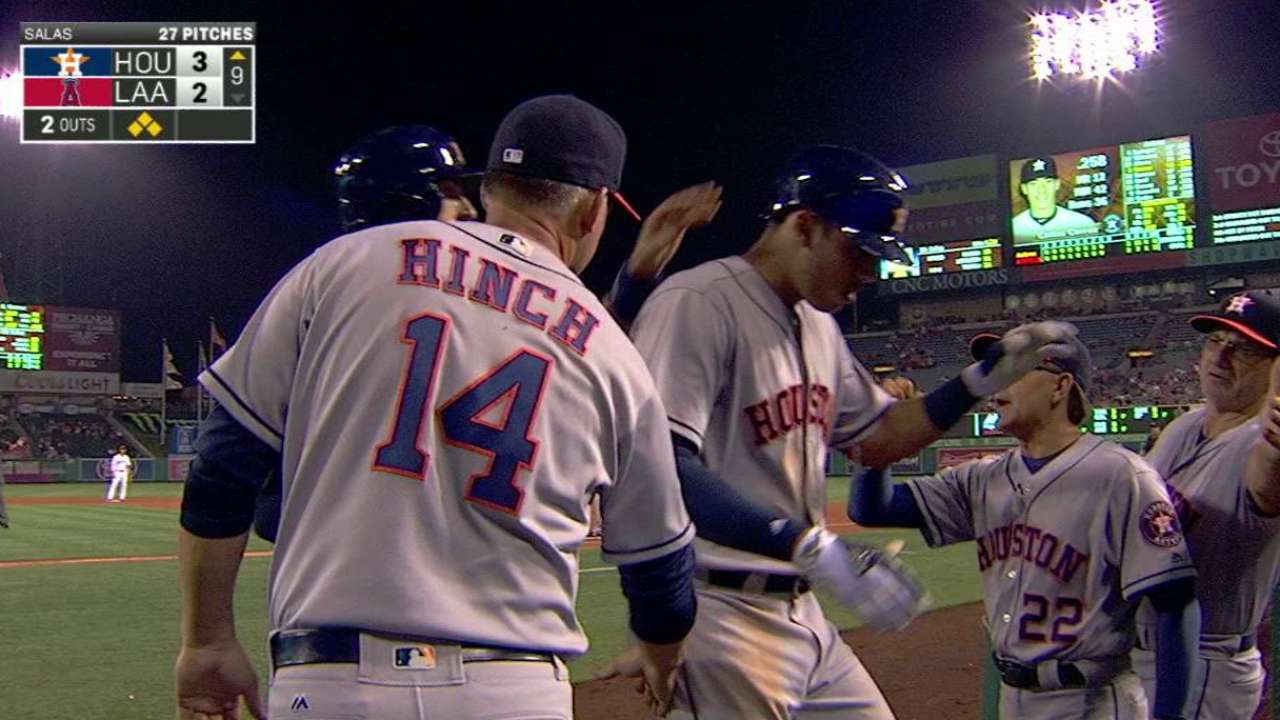 nytimes.com chron.com

4 hours ago

For most of the night Monday, the Astros trailed. Yet manager A.J. Hinch was confident if Houston could simply catch the Angels, the game would swing.

Share Tweet

Altuve extends on-base streak to 30 games

MLB.com

5 hours ago

Astros second baseman Jose Altuve extended his career-long on-base streak to 30 consecutive games by going 2-for-4 in Monday's 4-2 win over the Angels at Angel Stadium. He's the first Astros player to reach in 30 consecutive games since Willy Taveras a …

Share Tweet

Astros' Scott Feldman to make spot start in place of Lance McCullers

chron.com

8 hours ago

McCullers will be pushed back until this weekend's series against the Chicago White Sox or Monday's series opener against the Seattle Mariners, which would have been his next turn. The 22-year-old righthander didn't discover the tenderness on the tip of…

Share Tweet

Luke Gregerson's help with slider aids Brady Rodgers' shot at Astros call-up

chron.com

11 hours ago

Brady Rodgers' slider, which he revamped in spring training with assistance from Luke Gregerson, has strengthened his repertoire and, in turn, improved his career prospects.

Share Tweet

Texans bullish on rookie tight end Stephen Anderson

chron.com

18 hours ago

Stephen Anderson is making the Texans happy they convinced him to sign with them as an undrafted free agent following the NFL draft.

Share Tweet

Astros promoting top prospect Alex Bregman to Class AAA Fresno

chron.com

21 hours ago

Come later this week, top Astros prospect Alex Bregman will be one level from the major leagues.

Share Tweet

nytimes.com MLB.com chron.com yahoo.com

Jun 26 (yesterday)

Ian Kennedy knew Kansas City needed a long outing, and he delivered.

Share Tweet

Nearing the midpoint of the regular season, the Astros are back in the postseason picture, thanks in large part to dynamic second baseman Jose Altuve.

Share Tweet

chron.com yahoo.com MLB.com nytimes.com

Jun 26 (yesterday)

Jose Altuve will play in his 167th consecutive regular-season game on Sunday, the longest active streak in the major leagues.

Share Tweet

chron.com

Jun 26 (yesterday)

A day after making his major league debut as the Astros' designated hitter, A.J. Reed will play his first game in the field at the big-league level on Sunday afternoon.

Share Tweet

Texans hope Jadeveon Clowney has already had as many injuries "as he needs to have"

profootballtalk.com

Jun 26 (yesterday)

When the Texans took linebacker Jadeveon Clowney with the first overall pick of the 2014 draft, their hope was that he'd team with defensive end J.J. Watt to lift the team's defense to the top of the league. Injuries have kept that from happening. Clown…

Share Tweet

profootballtalk.com

Jun 26 (yesterday)

It took some time for WR Will Fuller and the Texans to work out the details of Fuller's first professional contract, but they've finally come to an agreement. According to multiple reports, Fuller has agreed to his rookie deal with Houston. It's a four-…

Share Tweet

Darren Rovell relives Watt workout

Jun 24

Darren Rovell joins SportsCenter to break down the J.J. Watt workout regimen he and other reporters were put through by Watt.

Watt feeling 'great' after 'crazy offseason'

Jun 23

After a crazy offseason, J.J. Watt says he feels great and is excited to get underway with his teammates.

Athletes taking to new sports during offseason

Jun 23

In the dog days of summer, some of the world's most popular sports figures take a crack at sports other than their own.

J.J. Watt is a motivational beast

Jun 23

J.J. Watt pulls Darren Rovell away from his phone and his "business tweeting" for a moment to get a serious workout in and flip some tires.