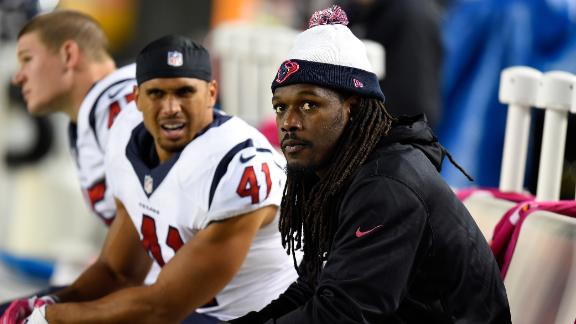 chron.com
ESPN.com
profootballtalk.com
Updated 13 hours ago
Texans outside linebacker Jadeveon Clowney works with linebackers coach Mike Vrabel during practice on Thursday. (Brett Coomer/Houston Chronicle) Rookie linebacker Jadeveon Clowney will likely be limited to third downs if he plays Sunday at the Tennesse…
Upvote
Share
Tweet
chron.com profootballtalk.com

14 hours ago

Brian Cushing is the Texans' leading tackler with 50 tackles. (Brett Coomer/Houston Chronicle) Texans coach Bill O'Brien said that linebacker Brian Cushing is day-to-day, making progress and will travel with the team to Nashville, Tenn., for an AFC Sout…

Upvote Share Tweet

Dwight Howard On Return To Full Health: "I'm Getting There"

dimemag.com

14 hours ago

Dwight Howard's goofy personality, oft-ugly post game, and contentious departures from the Orlando Magic and Los Angeles Lakers make it easy to forget that he's still suffering ill-effects from 2012 back surgery. Recent praise from Houston Rockets teamm…

Upvote Share Tweet

Rookie Zach Mettenberger will start at quarterback for the Tennessee Titans against the visiting Houston Texans, coach Ken Whisenhunt confirmed Thursday.

Upvote Share Tweet

chron.com

16 hours ago

Before the 2014 season, Arian Foster acknowledged that he considered retirement following season-ending back surgery in 2013. Seven games into a new year, Foster is in Pro Bowl-form, ranking second in the NFL in rushing yards (615), yards per game (102.…

Upvote Share Tweet

Ryan Mallett on starting: 'If it happens, it happens. I'll be ready'

chron.com

16 hours ago

Ryan Mallett has appeared in five games in his four-year NFL career. (Karen Warren/Houston Chronicle) Texans coach Bill O'Brien recently credited backup quarterback Ryan Mallett with putting in noticeable extra work. Mallett acknowledged he's been spend…

Upvote Share Tweet

chron.com

17 hours ago

Astros lefthander Dallas Keuchel said in August he had a goal of winning a Gold Glove award. Now he's one step closer. Keuchel was announced Thursday as one of three finalists in the running for the Rawlings Gold Glove award as an American League pitche…

Upvote Share Tweet

profootballtalk.com chron.com

22 hours ago

When Texans receiver Andre Johnson was staying away this offseason, amid reports he was disturbed about the team's rebuilding phase, it was natural to assume he wasn't happy with the quarterback, or lack thereof. But even as coach Bill O'Brien said Ryan…

Upvote Share Tweet

They are two teams with new head coaches trying to install big changes. The Houston Texans are only 3-4, but it's a mark that has them in second place in the AFC South. The Tennessee Titans could pull even with the Texans with a win Sunday at LP Field. …

Upvote Share Tweet

dimemag.com

Oct 22 (yesterday)

Houston Rockets All-NBA First Team honoree James Harden believes that he's "the best all-around basketball player in the NBA." Meanwhile, the agent of Golden State Warriors sharpshooter Klay Thompson recently opined that his client is "the best two-way …

Upvote Share Tweet

Brent Strom setting the standards for Astros pitchers at all levels

Brent Strom is more than just a pitching coach for the Astros. ( Karen Warren / Houston Chronicle ) Only two days after his 66th birthday, Astros pitching coach Brent Strom was back in Houston last week. He spent two days in meetings with the Astros' fr…

Upvote Share Tweet

Alfred Blue showing signs he can be a complete back

Alfred Blue kept the ball after scoring a TD on Monday night. (Brett Coomer/Houston Chronicle) Rookie running back Alfred Blue scored his first NFL offensive touchdown Monday when he caught the 11-yard pass to finish the Texans' longest drive of the sea…

Upvote Share Tweet

Joseph: Texans have to put Monday's meltdown behind them

The Texans have surrendered 13 touchdown passes. Only four teams have allowed fewer. The Titans, who host the Texans on Sunday, have thrown only nine touchdown passes. They've scored more than 17 points only once in their last six games. Quarterback Jak…

Upvote Share Tweet

Inside Edge: Texans-Titans

Oct 23

ESPN NFL Insider Mike Sando delivers stats to help you make a pick for Houston at Tennessee.

Rockets Rally To Edge Magic

Oct 22

James Harden scored nine points in the Rockets' 90-89 win over the Magic.

Weighing Hypothetical Tom Brady Deal

Oct 22

Mark Schlereth breaks down the hypothetical trade deadline deal, in which the New England Patriots would trade QB Tom Brady for Texans WR Andre Johnson and Houston's 2015 first-round draft pick.

NFL Live Prediction: Texans-Titans

Oct 22

The NFL Live crew make their picks for Houston at Tennessee.