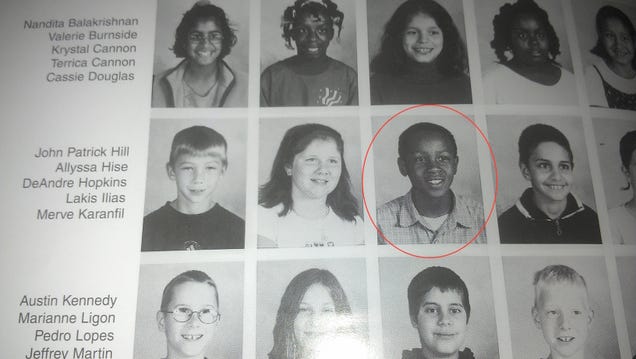 DeAndre Hopkins' Favorite 4th-Grade Memory? Eating Pudding In Class
deadspin.com
Updated 2 hours ago
The pictures in this post come to us from a tipster, whose fiancée went to elementary school in Clemson, South Carolina with Houston Texans wideout DeAndre Hopkins. Like many kids, Hopkins aspired to be a professional athlete. Unlike most kid, he actual…
Upvote
Share
Tweet
Guide to the game: Players to watch and key questions for Texans-Bengals matchup

chron.com

6 hours ago

Players to watch Johnathan Joseph, Texans cornerback He'll be focused on Bengals receiver A.J. Green. Joseph is coming off an outstanding performance in the victory at Cleveland. He's having a good season. He's covered well and has been solid against th…

Upvote Share Tweet

Bill O'Brien pleased with Texans' recent practices

chron.com

18 hours ago

Bill O'Brien hadn't been overly pleased with the Texans' Wednesday workout, but he has liked what he has seen since. "We've had some good energy, especially the last two days," he said. "They were flying around out there today, which was good to see. Of…

Upvote Share Tweet

Texans beat writers Dale Robertson and Brian T. Smith preview Sunday's game against the Cincinnati Bengals at NRG Stadium.

Upvote Share Tweet

chron.com ESPN.com profootballtalk.com

Nov 21 (yesterday)

Texans running back Arian Foster (groin) and linebacker Max Bullough (hamstring) are officially questionable for Sunday's game against the Cincinnati Bengals at NRG Stadium. Cornerback Kareem Jackson (knee) is out. Final injury report: HOUSTON TEXANS We…

Upvote Share Tweet

After being humbled by Bengals, Danieal Manning rises again with Texans

Friday's Houston Chronicle has a feature story about Texans safety Danieal Manning. "My thing is old school: I take all of the fortune and none of the fame," Manning said. Here are some leftovers from the story. Manning on his parents: "They're totally …

Upvote Share Tweet

At the last minute Thursday, the Astros seemed to get it right. Then they did what they've done so well, so often this year: made it messy. The baseball world was confused Thursday when the Astros decided they would protect a low-ceiling, Class AAA infi…

Upvote Share Tweet

chron.com

Nov 20 (yesterday)

Teams with open dates: Carolina & Pittsburgh Last week: 9-5 (.643) straight up; 7-7 (.500) vs. spread. Season: 103-57-1 (.643) straight up; 83-76-2 (.522) vs. spread. twitter.com/mcclain_on_nfl

Upvote Share Tweet

The Astros added infielder Ronnie Torreyes and right-handed pitcher Vincent Velasquez to their 40-man roster on Thursday, which was the deadline to set rosters and protect players them from being selected in next month's Rule 5 Draft.

Upvote Share Tweet

Tigers had talks with Astros about acquiring a catcher

MLB.com

Nov 20 (2 days ago)

The Tigers picked up the club option on Alex Avila's contract earlier this week, but they remain in the news surrounding catching. While Major League sources confirmed a report from FOXSports.com that Detroit had talks with the Astros about their catchi…

Upvote Share Tweet

Josh Zeid claimed by Tigers on waivers

Righthanded pitcher Josh Zeid, who appeared in 48 games the last two seasons for the Astros, has been claimed on waivers by the Tigers, the team announced on its twitter feed. The move leaves the Astros with 37 players on the 40-man roster, which must b…

Upvote Share Tweet

GIF: Wily Kobe Bryant Forces James Harden To Block-Out Francisco Garcia

dimemag.com

Nov 20 (2 days ago)

Is this what Kobe Bryant meant by saying that he'd play differently but just as effectively this season? Not specifically, but exercising more of the veteran savvy shown here would surely help Bryant help the Los Angeles Lakers. Watch the future Hall-of…

Upvote Share Tweet

Texans WRs Johnson, Hopkins in good place in Week 12

Andre Johnson and DeAndre Hopkins are happy heading into what could be a tough matchup with the Bengals. (Patric Schneider/AP) DeAndre Hopkins is happy. Andre Johnson is positive. The Texans' primary wide receivers are in a good place entering a pivotal…

Upvote Share Tweet

Nick Young Defines "Swag" By Evoking Pop Legends Michael Jackson, Prince

dimemag.com

Nov 20 (2 days ago)

We might just resort to a "Quote of the Day" post from Nick Young going forward – especially if his swag keeps rubbing off on the Los Angeles Lakers. After helping his team to a road win against the Dwight Howard-less Houston Rockets last night, Young c…

Upvote Share Tweet

'Lone Survivor' Luttrell, President Bush to participate in Bengals-Texans

A huge Houston sports fan, President George H.W. Bush will be on hand for Sunday's game against the Bengals. (Patric Schneider/AP) The Texans will honor the men and women of the United States Armed Forces during the team's annual Salute to Service Day o…

Upvote Share Tweet

Astros shuffle titles in front office, name new video coordinator

One of the few remaining holdovers from the last Astros regime will not return for 2015, a decision that seems to fit with the overall, new-age direction general manager Jeff Luhnow is moving. Video coordinator Jim Summers, the former Green Beret who sp…

Upvote Share Tweet

ESPN.com

Nov 20 (2 days ago)

When: 1 p.m. ET, Sunday Where: NRG Stadium, Houston TV: CBS The Cincinnati Bengals hold a special place in Houston Texans' lore. The Texans, who have been around since only 2002, have had some of their most memorable moments against the Cincinnati Benga…

Upvote Share Tweet

ESPN.com

Nov 20 (3 days ago)

Dwight Howard sat out Wednesday's loss to the Lakers with a sprained right knee, but the Rockets center was still a hot topic of discussion for former teammate Kobe Bryant.

Upvote Share Tweet

'Playbook': Cincinnati Bengals vs. Houston Texans

Nov 21

The "Playbook Primetime" crew previews the Cincinnati Bengals' Week 12 matchup against the Houston Texans.

Inside Edge: Bengals-Texans

Nov 20

ESPN NFL Insider Mike Sando delivers stats to help you make a pick for Cincinnati at Houston.

Cousin Sal's NFL Week 12 Picks

Nov 20

Cousin Sal makes his picks for week 12 in the NFL.

Dial It Up Top Plays

Nov 20

Gerald Green shows how high he can jump, Dwight Howard posterizes Nick Collison, and Jeff Green displays his aerial skills.