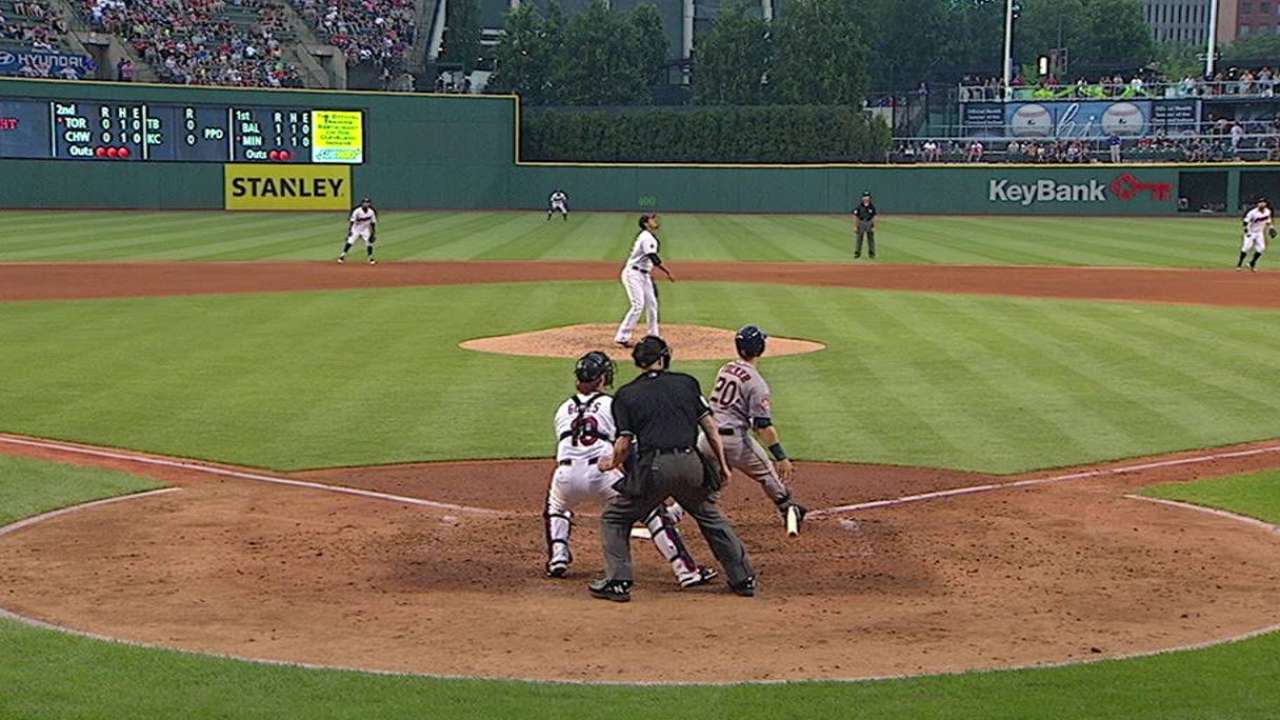 Astros outfielder Preston Tucker celebrated his 25th birthday in style Monday night, setting a career high with four hits and finishing a triple shy of the cycle to pace a 16-hit attack in a 9-4 win over the Indians at Progressive Field.
Share
Tweet
nytimes.com MLB.com

13 hours ago

Dallas Keuchel, chosen for the American League All-Star team earlier Monday, allowed three runs in six innings in helping the Houston Astros defeat the Cleveland Indians 9-4.

Share Tweet

Luis Valbuena day-to-day while dealing with with sprained toe

chron.com

14 hours ago

CLEVELAND — Astros third baseman Luis Valbuena on Monday went for an X-ray on his left big toe and was diagnosed with a sprain that has him day-to-day. "He's sore. His toe is very sore," manager A.J. Hinch said before the X-ray results were known. "He's…

Share Tweet

chron.com

16 hours ago

CLEVELAND — For this pitcher, a great honor boiled down to a formality. Everyone knew Astros ace Dallas Keuchel would be named to the American League All-Star team on Monday night, when the reserves and pitchers for both leagues were announced, and he'l…

Share Tweet

Astros manager A.J. Hinch lobbies for putting Will Harris on all-star team

chron.com

20 hours ago

CLEVELAND — Astros reliever Will Harris is making plans to be in Baton Rouge, La., for the All-Star break, under the assumption he won't be a part of the American League team in Cincinnati. "If something changes, then that'd be great, but you know, I'm …

Share Tweet

Astros trade minor-league pitcher Mitch Lambson to Braves

chron.com

21 hours ago

Mitch Lambson turned pro with the Astros in 2011 after being drafted out of Arizona State. The Astros made a trade Monday, sending minor-league lefthander Mitch Lambson to the Braves for cash considerations. Lambson, who was with Class AAA Fresno, had a…

Share Tweet

There wasn't much going on in the NFL over the holiday weekend. Naturally, that got some folks at NFL.com restless, so they came up with what they called "irresponsible early July predictions," two of which involved the Texans. The first prediction said…

Share Tweet

Florida governor signs bill paving way for new Astros spring training complex

chron.com

22 hours ago

Florida governor Rick Scott formally signed a bill Monday to free up the final 27 acres of land for the 160-acre site of the new spring training complex that will be shared by the Astros and Nationals in West Palm Beach, Fla. Astros owner Jim Crane and …

Share Tweet

yahoo.com

23 hours ago

The best record in the American League belongs to the 48-36 Houston Astros, and it's going to stay that way if they keep getting plays like the one center fielder Jake Marisnick made Sunday. Taking on the Boston Red Sox at Fenway Park, Marisnick showed …

Share Tweet

chron.com

Jul 6 (yesterday)

After coming withing a strike of a no-hitter in his last start. Cleveland Indians starting pitcher Carlos Carrasco will face off with Astros ace Dallas Keuchel in Monday's series opener. (Associated Press / Steve Nesius) Astros-Indians series schedule (…

Share Tweet

According to the final tallies, Astros fans took heed of Orbit's pleas to vote for second baseman Jose Altuve, who will be starting in the 2015 All-Star Game. (Karen Warren / Houston Chronicle) BOSTON — It's one of the 2015 Astros' best come-from-behind…

Share Tweet

MLB.com nytimes.com

Jul 5 (yesterday)

Hanley Ramirez belted a two-run homer to left that just cleared the Green Monster with one out in the seventh that led the Red Sox to a comeback 5-4 victory over the Astros in the rubber match of a three-game series on Sunday at Fenway Park.

Share Tweet

Apologies aplenty as Astros drop final game in Boston

BOSTON — The apologies were delivered immediately and in succession in Sunday's 5-4 loss, just like the mistakes that prompted them. Carlos Correa and Evan Gattis pulled back-to-back home runs that were hit just high enough over the Green Monster in a t…

Share Tweet

Chad Qualls set for rehab assignment in Corpus Christi

BOSTON — The pinched nerve in Chad Qualls' neck seems to be resolved and the reliever is nearing a minor league rehab assignment, manager A.J. Hinch said Sunday. Qualls, who can be activated from the 15-day disabled list on Friday at the earliest, is to…

Share Tweet

MLB.com

Jul 5 (2 days ago)

Aggressive baserunning by the Astros on Friday capped a four-run 10th inning in a 12-8 win over the Red Sox, but it could pay even greater dividends for a lucky fan, thanks to the Quicken Loans "Steal A Home" program.

Share Tweet

MLB.com chron.com nytimes.com

Jul 4 (3 days ago)

Clay Buchholz continued his mastery of the Houston Astros -- and his recent dominance against everyone -- by firing a gem on Saturday afternoon at Fenway Park, leading the Red Sox to a 6-1 victory.

Share Tweet

chron.com

Jul 4 (3 days ago)

Jake Marisnick (left hamstring strain) will be active in Boston on Sunday after finishing up a rehab stint at Class AAA Fresno. The Astros have optioned Domingo Santana to Fresno. Marisnick had an extra-base hit, three stolen bases and a couple of walks…

Share Tweet

Astros report: Rasmus happy to return, fortunate infection wasn't worse

chron.com

Jul 4 (3 days ago)

BOSTON — Colby Rasmus' first game in eight days didn't go particularly well Saturday, with three strikeouts in as many at-bats as the Red Sox fell to the Red Sox 6-1. Considering the medical ordeal Rasmus went through because of an infection that was ca…

Share Tweet

Watch out below: Panda tumbles into dugout

MLB.com

Jul 4 (3 days ago)

Although he's not quite known for his fleetness of foot, Red Sox third baseman Pablo Sandoval still has a penchant for flashing moments of highlight-reel defense at the hot corner. In Saturday's 6-1 win vs. the Astros, he added another quality play to t…

Share Tweet

Red Sox show spunk in roller-coaster loss to Astros

ESPN.com

Jul 4 (3 days ago)

Red Sox show spunk in roller-coaster loss to Astros

Share Tweet

nytimes.com

Jul 4 (3 days ago)

First baseman Mike Napoli allowed Preston Tucker's hard grounder to bounce past him for an error, and Carlos Correa followed with a tiebreaking single in a four-run 10th inning that lifted the Houston Astros over the Boston Red Sox on Friday night for t…

Share Tweet

J.J. Watt scored a goal on an NHL goalie

Jun 26

Texans defensive end J.J. Watt scores goal during charity hockey event with massive slapshot.

Jameis Winston looking forward to facing J.J. Watt

Jun 23

ESPN NFL Insider Jarrett Bell discusses rookie QB Jameis Winston's comments that J.J. Watt is the player he is most looking forward to facing.

Texans' investments lead to a positive offseason grade

Jun 23

ESPN Texans reporter Tania Ganguli says Houston has made key investments and is hoping for a big return.

Texans extend CB Joseph

Jun 18

Jerome Bettis likes the defensive secondary continuity that is created by the Texans' contract extension with cornerback Johnathan Joseph.