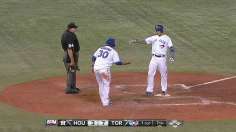 MLB.com
nytimes.com
Updated Apr 9, 2014
Jose Bautista's RBI double and Brett Lawrie's three-run homer helped ice the series win, while Brandon Morrow had nine K's for the Blue Jays in a 7-3 victory over the Astros on Wednesday.
Share
Tweet
Williams exits game with 'minor' groin injury

TORONTO — Astros reliever Jerome Williams was removed in the sixth inning Wednesday because of a right groin strain he called "minor" after a 7-3 Astros loss to the Blue Jays. He's to be re-evaluated Thursday, and chuckled when asked if he would needed …

Share Tweet

nba.com

Apr 9, 2014

? The Rockets will be without center Dwight Howard (left ankle strain) and guard Patrick Beverley (right knee sprain) again tonight. This is the seventh straight game Beverley and Howard have missed. Houston lost its first three without the pair but has…

Share Tweet

Astros prospect gets clearance to enter United States

TORONTO — The Astros minor league outfielder who missed spring training because of visa issues in his native Dominican Republic, Ravel Santana, has been cleared to arrive in the U.S., Astros general manager Jeff Luhnow said Wednesday. Santana, the Astro…

Share Tweet

Grossman's slow start prompts shift in lineup

TORONTO — Maybe a drop in the lineup will help Robbie Grossman get on his way. The Astros left fielder drew a pair of walks on Tuesday in a sign that he's coming around, but he nonetheless entered Wednesday hitting .069 on the season. Manager Bo Porter …

Share Tweet

MLB to send out memo regarding new rules

TORONTO — The confusion of a challenge from Tuesday might bring some clarity to all teams going forward. Astros manager Bo Porter said Wednesday that he expects MLB will send a memo out following a 10-15 minute conversation he had with former manager an…

Share Tweet

Photos: QBs picked No. 1 overall in NFL draft

If the Texans take Blake Bortles, Teddy Bridgewater, Johnny Manziel or any other quarterback with the No. 1 overall pick next month, it will mark the 33rd time that a signal-caller has been selected first in the 79-year history of the NFL draft. Here's …

Share Tweet

Dexter Fowler doesn't expect to feel 100 percent for a few days, but his diet has returned to normal and so has the Astros lineup, now that he's back in the top slot. Six days after his last start, the Astros center fielder was in the starting nine on W…

Share Tweet

The Texans' 2014 preseason schedule features the San Francisco 49ers and Denver Broncos. The four-game slate, which opens in early August at the Arizona Cardinals, will highlight new coach Bill O'Brien's first preseason with the team. The Texans' first …

Share Tweet

Once again, the Houston Astros are in the cellar — of the local TV ratings. Monday's game against the Los Angeles Angels earned the saddest rating of them all, 0.0, according to Nielsen (via the Houston Chronicle), which measures TV viewership. Angels s…

Share Tweet

CNNSI.com

Apr 9, 2014

Just call him Thor: Chicago's Jose Abreu is in a strange new land intent on hitting everything very hard.

Share Tweet

Arian Foster: Back surgery wasn't as major as it sounded

profootballtalk.com

Apr 9, 2014

The Texans signed running back Andre Brown recently, but their incumbent starter doesn't sound like he's ready to take on a smaller workload. Texans running back Arian Foster said last month that he has been medically cleared after the microscopic lumba…

Share Tweet

dimemag.com yahoo.com ESPN.com

Apr 9, 2014

Entering Tuesday night's game against the visiting Rockets, Steve Nash needed just five more assists to pass Mark Jackson for third place for career NBA assists. In what has been possibly Nash's most difficult season as a pro, the two-time MVP made sure…

Share Tweet

Lawrie Launches Two-Run Homer

Apr 9

The Blue Jays' Brett Lawrie hits a two-run home run in the bottom of the seventh inning against the Houston Astros.

Roster Reset: Houston Texans

Apr 9

The "NFL Total Access" crew breaks down the offseason roster moves made by the Houston Texans and discusses what to do with the No. 1 overall pick in the 2014 NFL Draft.

Roster Reset: AFC South

Apr 9

Which team in the AFC South did the best for its squad during free agency? Our analysts break down some of the best signings, which include a wide receiver looking to rebound on a poor 2013 season.

Rockets Flat Against Nuggets

Apr 9

Kevin McHale says the Nuggets' fast start hurt the Rockets.