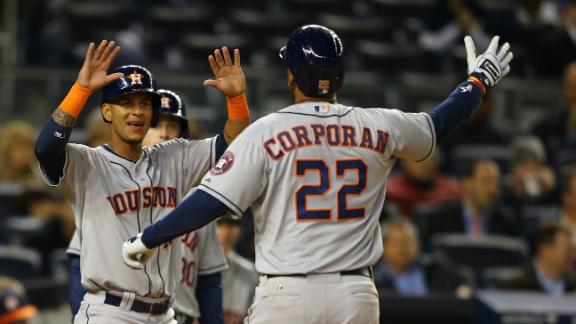 Carlos Corporan homered among his four hits and drove in four runs, Brandon Barnes had three hits and three RBIs, and the Houston Astros fit comfortably into the role of a slugging American League squad in a 9-1 romp over the New York Yankees.
Share
Tweet
Astros report: Porter keeps the faith through early trials

What keeps Astros manager Bo Porter believing through the losses, the short starts by his pitchers and the road embarrassments? His continued assurance the Astros are better than most believe, despite the team's losing 18 of its first 25 games and ownin

Share Tweet

Houston's Jeremy Lin was not in the starting lineup for the Houston Rockets for Game 4 against the Oklahoma City Thunder.

Share Tweet

NEW YORK — Courage. Strength. Self-belief. And that was just the start. When NBA veteran center Jason Collins' announcement Monday that he's gay was mentioned to Astros such as Jason Castro and Wesley Wright and the Yankees' Vernon Wells, MLB play

Share Tweet

CNNSI.com

Apr 29, 2013

The extraordinary precedent for keeping the Kings in Sacramento was laid down three years ago by commissioner David Stern.

Share Tweet

First pitch: Astros' Peacock moved out of rotation, new starter to be named

NEW YORK - Righthander Brad Peacock is no longer part of the Astros' starting rotation and has been moved to the bullpen, manager Bo Porter said Monday. Peacock, 25, was named the Astros' No. 4 starter toward the end of spring training, beating out

Share Tweet

The Titans were completely serious when they said they were not finished adding free agents. Just two days after they finished adding eight draft picks, they had at least two veteran visitors: Former Bears defensive end Isreal Idonije and former Texans …

Share Tweet

The Texans drafted two defensive linemen they are going to turn into strongside linebackers in Sam Montgomery and Trevardo Williams in the third and fourth round. But Peter King of SI.com says they were ready to go linebacker at No. 57 in the second rou…

Share Tweet

My thoughts and an overview of every Houston Texans 2013 draft pick

Round 1 — DeAndre Hopkins, WR, Clemson, #6 Z-Report Draft Grade: 1st/2nd Round (27th Overall) Hopkins is the most game-ready of all the WRs in this draft as far as I'm concerned. He plays with consistency of effort on run plays as well as passing...

Share Tweet

Sam Montgomery: 'Effort was not needed' sometimes against weaker teams

Fans and media have been asking about comments made by outside linebacker Sam Montgomery, a Texans third-round draft choice, at the Indianapolis scouting combine. In his question-and-answer session with the media at the combine, Montgomery discussed a l…

Share Tweet

Draft review: Houston Texans

profootballtalk.com

Apr 29, 2013

After analyzing the draft needs of all 32 teams, PFT will review how well each team addressed those needs. Up next: The Houston Texans. What they needed: Wide receiver, outside linebacker, guard, nose tackle, tight end. Who they got: Round 1: DeAndre Ho…

Share Tweet

RTC: Widespread turnover for Colts

Reading the coverage… A thought on every team's draft from Mike Tanier of Sports on Earth. Houston Texans Receiver DeAndre Hopkins is expected to start opposite Andre Johnson and safety D.J. Swearinger will play in the three-safety package, says John

Share Tweet

J.J. Watt is Houston's most popular current athlete, and it's not hard to see why. The Texans defensive end is charming his town with antics like the above, a fake mound-charge at the J.J. Watt Charity Classic. The event, held this past weekend in Sugar…

Share Tweet

BOSTON - The Astros were still waking up. It was a bright, clear spring morning at Fenway Park. Baseball, daily history and a soon-to-be-sold-out stadium filled with devoted Red Sox fans watching the best team in the game waited. But Saturday night had

Share Tweet

Durant Blows By Rockets

Apr 29

Kevin Durant drives by four Rockets and finishes with the ferocious throw down.

Rockets Survive To Extend Series

Apr 29

Highlight Of The Night: Despite a game-high 38 points from Kevin Durant and the Rockets scoring just 14 points in the fourth quarter, the Thunder came up short in Houston 105-103.

Rockets Survive To Extend Series

Apr 29

Despite a game-high 38 points from Kevin Durant and the Rockets scoring just 14 points in the fourth quarter, the Thunder come up short in Houston 105-103.