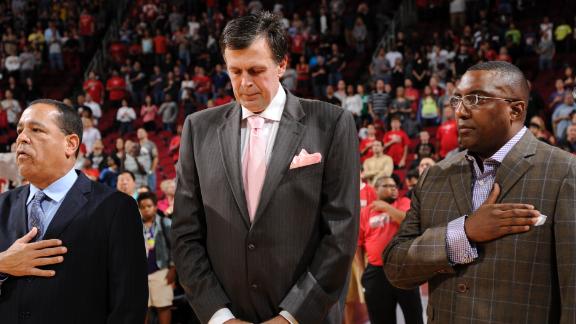 O.J. Mayo scored 40 points, including 10 in the last three minutes, to lift the Dallas Mavericks to a 116-109 victory over the Rockets on Saturday night in coach Kevin McHale's return to the Houston bench.
Share
Tweet
11-1 starts by Texans, Falcons no guarantee of Super seasons

And the South shall rise again? If the AFC's front-running Texans and the NFC-leading Atlanta Falcons stay on track to reach the NFL's finish line in New Orleans on Feb. 3, it will be the first of 47 Super Bowls between two teams from Dixie. At 11-1,

Share Tweet

One day after the regular season ends, a panel of sports writers and broadcasters will vote on individual awards in the NFL for the Associated Press. Three players are in the running for NFL Defensive Player of the Year: Texans defensive end J.J. Watt, …

Share Tweet

profootballtalk.com

Dec 8, 2012

After missing two games with an ankle injury, Patriots defensive end Chandler Jones says he's ready to go for Monday night's AFC showdown against the Texans. Although Jones is listed as questionable on the official injury report, he didn't sound lik

Share Tweet

Know Your Enemy — A Scouting Report on the Patriots

OFFENSE DEFENSE Teams PF/PA Rush Pass Total Rush Vs. Pass Vs. Total Houston Texans 29.3 / 18.4 141.4 247.1 388.5 88.2 234.8 322.9 New England Patriots 35.8 / 21.7 140.8 285.5 426.3 101.1 280.6 381.7 d Patriots on Offense * The Patriots are a much more .…

Share Tweet

30 Seconds With Kenny Smith

nytimes.com

Dec 8, 2012

Kenny Smith, a Queens native, was drafted by the Sacramento Kings in 1987 with the sixth pick over all. During a 10-year N.B.A. career, Smith, a point guard, also played with Atlanta, Detroit, Orlando and Denver, and he was with Houston when the Rockets…

Share Tweet

Texans vs Pats — A critical game…unless it isn't…By DanP

Back by popular demand! Dan P. has offered up his takes on the upcoming MNF match-up between our hometown squad and the New England Patriots. As for my own takes, here's what I think has to happen for the Texans to win: The Texans offense has to play bi

Share Tweet

Texans vie with Patriots for AFC supremacy

ESPN.com

Dec 8, 2012

It's been a while since the New England Patriots won a Super Bowl, but they remain the standard-bearers in the AFC. They've been to two of the past five Super Bowls, including the most recent one. They've been in five of the previous 11 Super Bowls

Share Tweet

yahoo.com

Dec 8, 2012

Your browser does not support iframes. When the Houston Texans travel to meet the New England Patriots this weekend, they'll look a bit like something right out of "Friday Night Lights." That's because every Texans player will be wearing custo…

Share Tweet

Tom Brady The Family Man

Dec 8

Tom Brady sits down with Mike Tirico prior to the Patriots' Monday Night Football game with the Texans.

Kevin McHale Returns To Rockets' Loss

Dec 8

After missing a month of action due to the loss of his daughter, Kevin McHale returns to the bench and the Rockets fall 116-109 to the Mavericks.