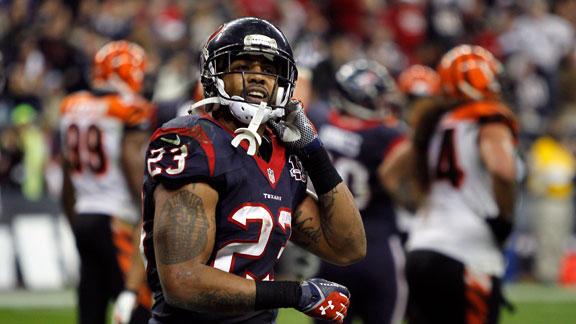 ESPN.com
yahoo.com
chron.com
profootballtalk.com
deadspin.com
Updated Jan 5, 2013
Five things to know about next Sunday's Houston Texans-New England Patriots AFC divisional playoff game at Gillette Stadium: It was ugly last time: On Dec. 10, on "Monday Night Football," the Patriots smoked the Texans 42-14. New England was up 28-0 in
Share
Tweet
profootballtalk.com chron.com

Jan 5, 2013

Saturday's start of the postseason went according to form, as the division champion No. 3 seeds in each conference advanced by winning at home, eliminating the wild card No. 6 seeds. But the similarities between the two games end there. In Houston, the

Share Tweet

No player on the field was under more pressure to win Saturday's wild-card game than Texans quarterback Matt Schaub. Schaub and coach Gary Kubiak were the primary targets for criticism after the Texans failed to secure home-field advantage throughout th

Share Tweet

Survive And Advance: Did the Texans right the ship after their 19-13 w…

CNNSI.com

Jan 5, 2013

Did the Texans right the ship after their 19-13 wild-card win over the Bengals? Austin Murphy says we'll know the answer next Sunday, when Houston re-visits New England.

Share Tweet

Injured Cushing supports teammates from sideline

Once bodies began flying, cleats tore up grass and the Texans went to work, Brian Cushing was fine. But while the national anthem rang out Saturday inside Reliant Stadium and a crowd that swelled to a franchise-record 71,738 settled in to watch Houston …

Share Tweet

chron.com yahoo.com texansgab.com ESPN.com CNNSI.com profootballtalk.com

Jan 5, 2013

If running back Arian Foster was the person who passed out gameballs, and not coach Gary Kubiak, he would give one to Kubiak. Foster said Kubiak delivered a speech on Friday night that carried the Texans' through their wild-card victory over Bengals. "

Share Tweet

James Harden scored 29 points, including 16 in the fourth quarter, and the Houston Rockets defeated the Cleveland Cavaliers 112-104 on Saturday night.

Share Tweet

Johnathan Joseph makes sure he has things covered

If any Bengal was going to beat the Texans on Saturday, A.J. Green figured to be the man. Quarterback Andy Dalton's security blanket, Green had cradled more touchdown catches this season (11) among his 97 receptions than all except two receivers in the

Share Tweet

Owen Daniels, other tight ends grind it out

The Texans played grind-it-out, wear-'em-down, beat-'em-up football Saturday afternoon. In short, it was a tight end's kind of day. Owen Daniels had a team-high nine catches for 91 yards, his best statistical performance of the season, and compatrio

Share Tweet

Redemption, for at least a day, in Houston

HOUSTON -- Don't fast-forward too quickly. Wade Phillips won't. The Houston Texans' defensive coordinator asked for a day before he starts to figure out how to improve on the Texans' terrible showing in New England five weeks ago. That's not unrea

Share Tweet

yahoo.com

Jan 5, 2013

In Cincinnati's 19-13 wild-card loss to the Houston Texans, Bengals quarterback Andy Dalton's day was defined by one underthrow and one overthrow, and a whole lot of bad throws in-between. With 11:10 left in the first half and the ball on his own 38-yar…

Share Tweet

chron.com profootballtalk.com

Jan 5, 2013

QB: C+ Matt Schaub was 29-of-38 for 262 yards and no touchdowns. He threw one interception that was returned for a touchdown. He wasn't sacked. He moved the offense down the field, but they settled for field goals rather than touchdowns. RB: A Arian Fos

Share Tweet

Offensive line manhandles Bengals

Realizing they had not been very dominant in the last month as the Texans failed to seal the top seed in the AFC playoffs, the offensive linemen spent the week challenging each other to step up in the wild-card game against the Cincinnati Bengals. They …

Share Tweet

Who Wants To Sex J.J. Watt? Bengals-Texans, In Three Gifs

deadspin.com

Jan 5, 2013

So, 23 years now, and a guaranteed extra 365 days (at least) on that 8,400 day playoff winless streak for the Bengals. Yikes! They sure do suck. Matt Schaub played just OK but still completed 29/38 passes, Arian Foster ran for 140 yards, and J.J. Watt c…

Share Tweet

Graham's fourth field goal gives Texans 19-10 advantage

The Texans are one quarter away from moving on to an AFC divisional playoff game. Houston leads Cincinnati 19-10 early during the fourth quarter on Saturday during a wild-card matchup at Reliant Stadium. The Texans' latest score came via a 24-yard Shayn

Share Tweet

Bengals' Green hauls in 45-yard bomb; Texans up 16-10

Cincinnati Bengals star wide receiver A.J. Green finally got involved. After going without a catch during the first half, Green hauled in a 45-yard bomb courtesy of a perfect throw by Andy Dalton, setting up a 34-yard Josh Brown field goal with 7:48 lef…

Share Tweet

Photos: Rain can't keep Texans fans away from Reliant

Photos: Rain can't keep Texans fans away from Reliant

Share Tweet

First-half analysis: No touchdowns spell trouble

The Texans have dominated the first half but lead only 9-7 because the offense has stalled in the red zone - big surprise - and been forced to settle for three Shayne Graham field goals. The Bengals' touchdown came on a terrible pass by Matt Schaub

Share Tweet

yahoo.com profootballtalk.com chron.com

Jan 5, 2013

The Houston Texans had dominated the Cincinnati Bengals through the first quarter-and-a-half of their wild-card matchup, at least in yardage. Starting their second drive of the second quarter, the home team at Houston Reliant Stadium had well over 100 t…

Share Tweet

Watch today's wild card games on NBCSports.com

profootballtalk.com

Jan 5, 2013

If you can't get in front of a TV today or you want even more than the TV has to offer, you're in luck: Both of today's wild card playoff games will stream live as part of Wild Card Extra right here at NBCSports.com. Wild Card Extra features the liv

Share Tweet

Cincinnati strong safety Chris Crocker is inactive for the Bengals' AFC wild-card playoff game against Houston.

Share Tweet

Former Astros slugger Lance Berkman has agreed to a one-year, $11-million deal with the Texas Rangers, Fox Sports' Ken Rosenthal reported Saturday.

Share Tweet

The Bengals Really Could Break Their 8,400-Day Playoff Winless Streak Today

deadspin.com

Jan 5, 2013

For a summer in college I interned for the sports department of the Columbus Dispatch, which sent me for a few days to cover Cincinnati Bengals training camp. The 1990s had just come to a close-a dismal era even by the Bengals' standards-and the beat

Share Tweet

It's all doom and gloom in Houston

HOUSTON -- I don't believe I've ever covered a playoff game where the bulk of the crowd had such poor expectations. A home playoff game is usually filled with optimism. But after the Texans blew three chances in the past four weeks in games that could

Share Tweet

Join our ESPN.com NFL experts for the wild-card match up between the Cincinnati Bengals and the Houston Texans. Contribute your thoughts and questions beginning at 4:30 p.m. ET. See you there. Countdown Live: Bengals-Texans

Share Tweet

Harden Leads Rockets To Fourth Straight Win

Jan 5

James Harden scores 29 points as Rockets top Cavs for their 11th win in past 14 games.

Texans postgame press conference

Jan 5

Texans react following game with Bengals

Countdown Daily Recap: Bengals-Texans

Jan 5

Jim Basquil and Eric Allen break down the Texans' 19-13 win over the Bengals

Texans Trump Bengals On Wild-Card Weekend

Jan 5

Arian Foster ran for 140 yards and a touchdown to propel the Texans past the Bengals.