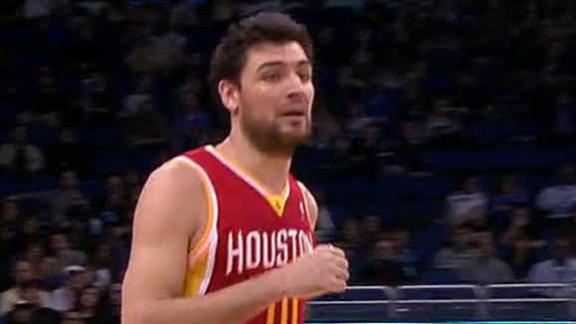 Astros report: Carter takes a liking to Springer's bat

When Chris Carter picked up George Springer's 34-inch bat, the 23-year-old prospect delivered a reassuring message to the 26-year-old slugger attempting to win the left-field position. "It's got a lot of hits in it," Springer said, referring to th

Share Tweet

Baylor shuts out Cal 9-0 in College Classic opener

Baylor shuts out Cal 9-0 in College Classic opener Baylor righthander Dillon Newman and two relievers combined on a three-hitter to lead the Bears to a 9-0 victory over California in Friday's opening game of the Astros Foundation College Classic at Minu…

Share Tweet

Recap: Astros 8, Cardinals 8

KISSIMMEE, Fla. — The Astros and Cardinals drew to an 8-8 nine-inning tie Friday during a Grapefruit League game at Osceola County Stadium. Recap: The Cardinals grabbed a 2-0 lead off Astros starter Bud Norris in the second inning, and led 5-2 heading i

Share Tweet

Welcome to Eight in the Box, an NFL Nation feature that will appear each Friday during the offseason. This week's topic: How each AFC South team needs to address the quarterback position. Houston Texans Matt Schaub didn't finish the season with a high

Share Tweet

Should Texans pursue Patriots' Edelman?

ESPN Insider takes an in-depth look at the Houston Texans before free agency begins March 12. Former NFL scout Gay Horton and Insider reporter Field Yates break down Houston's philosophy on offense and defense, biggest needs and one player who could mak…

Share Tweet

KISSIMMEE, Fla. — The Astros are scheduled to use a regular season-like lineup Friday against St. Louis. Shortstop Tyler Greene, second baseman Jose Altuve and left fielder Chris Carter are among the Astros' starters for a 12:05 p.m. Grapefruit League

Share Tweet

Kobe Bryant dunks on Nikola Pekovic, but their fates turned after the game (VIDEO)

yahoo.com

Mar 1, 2013

The Los Angeles Lakers rolled over the Minnesota Timberwolves on Thursday night, dominating the visitors 116-94 to bring themselves within two games of the Houston Rockets for the final playoff spot in the West. They've now one four of their last five g…

Share Tweet

Solid performance by all of you Thursday in our chat, which flew by. A sampling of topics: A thorough examination of the Colts' salary-cap space. The Texans' bigger deficiency. Contract restructuring. Which AFC South team I'd coach if I could. Matt Hass…

Share Tweet

Recipe for Greatness

Mar 1

Restaurateur and "Fresh Off the Boat" author Eddie Huang on how to build a championship team, experiencing Linsanity as a Taiwanese New Yorker, and why the Barclays Center is the "Epcot" of Brooklyn.