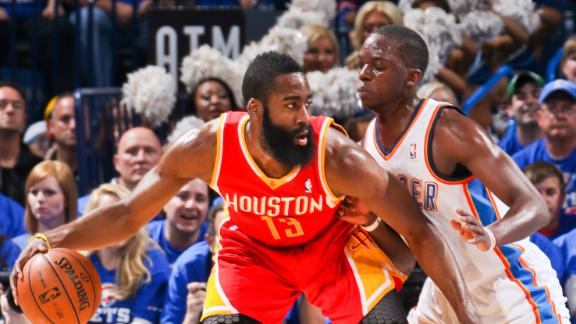 The Astros believe Jordan Lyles has top-of-the-rotation stuff. Now the inconsistent righthander just has to prove it. Lyles, 22, has received another chance to stick in the majors and will be called up Thursday from Class AAA Oklahoma City. He'll start

Share Tweet

chron.com

May 1, 2013

NEW YORK — After winning a series-opener against the Yankees, the Astros dropped the final two games and finished 1-6 on their seven-game road trip. New York downed the Astros 5-4 Wednesday at Yankee Stadium, taking the series 2-1. Big bat: Astros catch

Share Tweet

Wise move on bases leads Yanks to victory

MLB.com

May 1, 2013

Lyle Overbay's smart baserunning on a double-play ball gave the Yankees the lead, and they held on to make it stand up as the difference in a 5-4 victory over the Astros on Wednesday at Yankee Stadium.

Share Tweet

yahoo.com dimemag.com

May 1, 2013

The Oklahoma City Thunder return home Wednesday night with a chance to finish off the Houston Rockets in Game 5 of their best-of-seven first-round playoff series. When they take the court at Chesapeake Energy Arena, though, they'll do so without startin…

Share Tweet

For Playoffs, Seven Isn't Necessarily the Best Number

nytimes.com

May 1, 2013

The N.B.A.'s best-of-seven format for the first round of the playoffs guarantees more basketball, but is that necessarily a good thing?

Share Tweet

ESPN.com

May 1, 2013

A late look at Todd McShay's thinking on the best and most questionable draft pick of each team in the AFC South. Houston Texans Best: Safety D.J. Swearinger, 57th overall Most questionable: Receiver DeAndre Hopkins, 27th overall: My thoughts: McShay sa

Share Tweet

RTC: Projecting the Texans' roster

ESPN.com

May 1, 2013

Reading the coverage ... Houston Texans Links to stories on all the Texans draft picks from during their college careers, compiled by Patrick Starr of State of the Texans. Projecting the initial 53-man roster of the 2013 Houston Texans, with Starr. A cl…

Share Tweet

Teams that improved the most through the draft

May 1

The "Path to the Draft" crew analyzes the teams that improved the most through the 2013 NFL Draft.

Thunder in trouble

May 1

David Thorpe says the Thunder's post-Westbrook offense is so awful and predictably Kevin Durant-centric that he is not even sure they'll beat the Rockets, despite being up 3-1.

Harden Fuels Rockets In Game 5 Win

May 1

James Harden scored 31 points and was 7-for-9 from downtown as he guided the Rockets to a 107-100 win over the Thunder.

Yankees Edge Astros

May 1

Robinson Cano homered and Eduardo Nunez scored the go-ahead run in the Yankees' 5-4 win against the Astros.