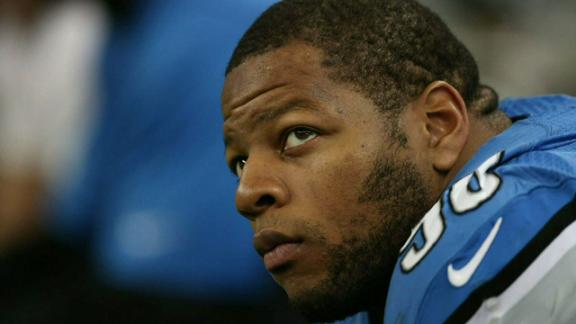 CNNSI.com
profootballtalk.com
chron.com
ESPN.com
yahoo.com
Updated Nov 26, 2012
DETROIT (AP) -- Ndamukong Suh might lose some money for his low blow against Houston Texans quarterback Matt Schaub.
Share
Tweet
Jeff Luhnow hopes his first Winter Meetings as general manager of the Astros will go a long way to improving a club that needs to beef up its production in several areas as it heads into the American League West next year.

Share Tweet

Texans LB Reed has a 'significant' groin injury

The Houston Texans are hurting heading into the stretch run.

Share Tweet

Astros ink Gonzalez, Valdez to Minors deals

MLB.com

Nov 26, 2012

The Astros have signed right-handed pitchers Edgar Gonzalez and Jose Valdez to Minor League contracts with invites to Spring Training. They were both outrighted and removed from the 40-man roster on Nov. 1.

Share Tweet

Astros' Craig Biggio prepares for 2013 Hall of Fame ballot, potential enshrinement

All Craig Biggio could think about when he entered professional baseball in 1987 was surviving. Maybe he could carve out a decent MLB career. If so, hopefully he could stick around long enough to earn a pension.

Share Tweet

Banged-up Texans get back to work

Head coach Gary Kubiak Monday confirmed what we already knew: The Texans are going to be short-handed, especially at linebacker, heading to Tennessee this weekend. Usually the Texans have nine linebackers active, but they'll likely only have seven avail

Share Tweet

What I think they are thinking at the headquarters of the Houston Texans this evening ... Maybe first-round rookie Whitney Mercilus, who will be stepping in to play for the injured Brooks Reed at outside linebacker, will give our pass rush the spark bey…

Share Tweet

The daughter of Houston Rockets coach Kevin McHale has died at 23.

Share Tweet

Unofficial guide to Texans fan meetups in Nashville

Going to Nashville to watch the Texans-Titans? Alas, I am not, but I have the weekly unofficial fan meetup info for Nashville that was put together by folks who are going. The nice thing about meetups in cities smaller than New York and Chicago is it i.…

Share Tweet

PFT Live: Lions talk with Dave Birkett, Browns talk with Tony Grossi

profootballtalk.com

Nov 26, 2012

Thanksgiving created a little break for PFT Live, but it's back with a packed show this Monday. Mike Florio will talk to Dave Birkett of the Detroit Free Press about the Lions in the wake of their Thanksgiving loss to the Texans. The latest bit of footw

Share Tweet

In Texans' playoff chase, only mystery is seeding Houston Chronicle Copyright 2012 Houston Chronicle. All rights reserved. This material may not be published, broadcast, rewritten or redistributed. Updated 9:23 a.m., Monday, November 26, 2012 Clinching …

Share Tweet

Tender/non-tender decisions next up in Astros' methodical off-season

The methodical winter for the Astros' rebuilding, retooling, restructuring of the organization continues this week. After establishing its 40-man roster (currently stands at 36) with new additions like Jarred Cosart, Chia-Jen Lo, Robbie Grossman and Jo

Share Tweet

Is Ndamukong Suh A Dirty Player?

Nov 26

Merril Hoge and Ron Jaworski discuss the latest allegations of dirty play by Ndamukong Suh.