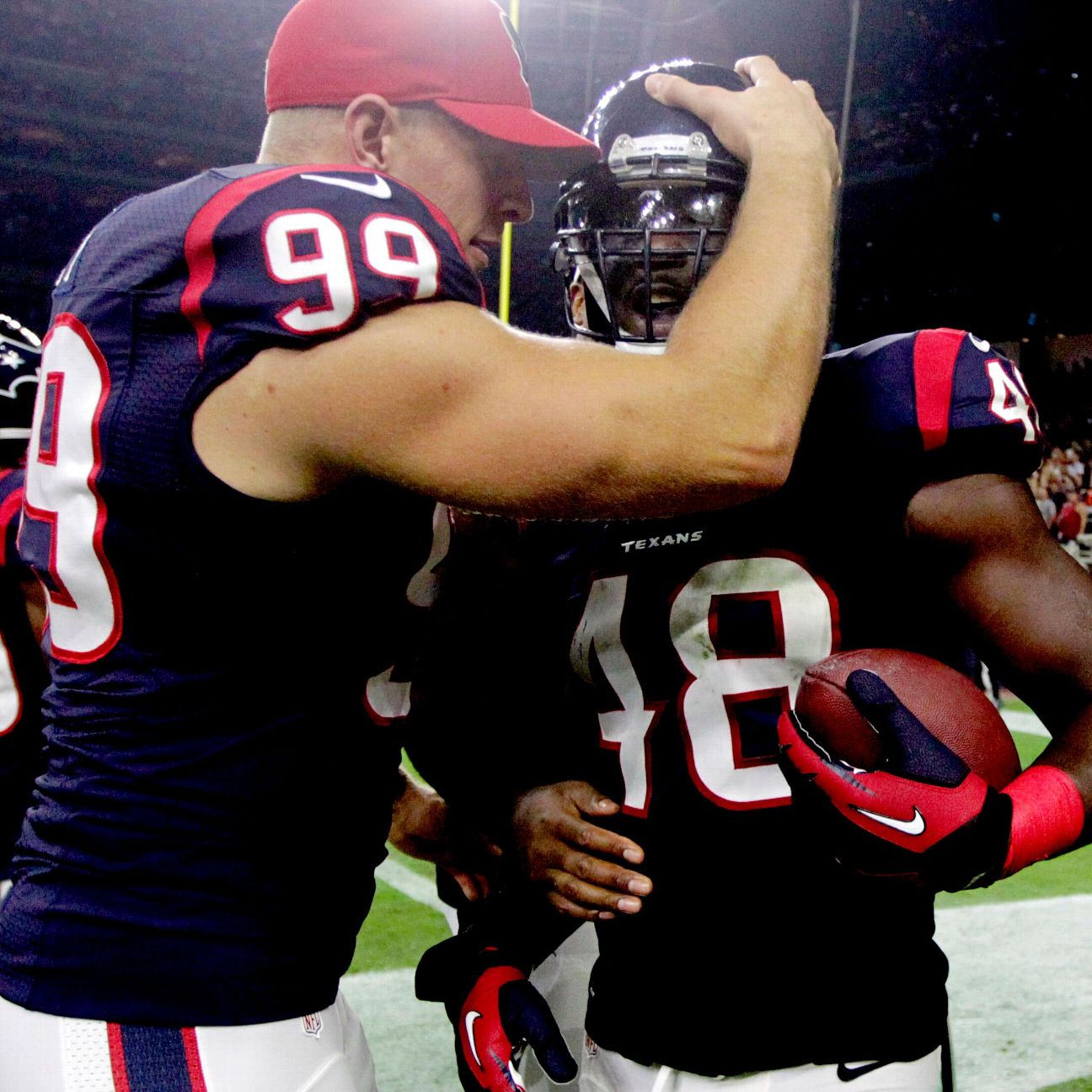 ESPN.com
Updated 11 hours ago
Texans' Bill O'Brien considers this week a dress rehearsal, but not Sunday's game
Share
Tweet
Texans' converted cornerback Andre Hal making progress at strong safety job

chron.com

4 hours ago

When the Texans shifted Andre Hal from cornerback to strong safety, they envisioned a situation where they could upgrade the coverage skills at the position. Hal is battling with Eddie Pleasant for the starting strong safety job. A seventh-round draft p…

Share Tweet

profootballtalk.com chron.com

7 hours ago

With running back Arian Foster out after groin surgery and Brian Hoyer starting at quarterback, the Texans' likeliest path to success early this season probably isn't going to be using offensive firepower to outscore their opponents in shootouts. That m…

Share Tweet

yahoo.com profootballtalk.com chron.com

8 hours ago

The Houston Texans are being mum on the status of Ryan Mallett, who was visibly emotional and upset after losing the starting QB battle to Brian Hoyer this week. Mallett missed Thursday's practice, and the Texans are not saying why. "That's between Ryan…

Share Tweet

Texans' offensive coordinator George Godsey praises Brian Hoyer

chron.com

8 hours ago

Offensive coordinator George Godsey spends more time with the Texans quarterbacks than any coach. Godsey spent one season with Brian Hoyer when both were at New England. They were reunited this year. Coach Bill O'Brien anointed Hoyer as the starter over…

Share Tweet

Texans running back Jonathan Grimes: 'The more you can do, the more valuable you are'

chron.com

9 hours ago

Texans running back Jonathan Grimes' preseason got off to an inauspicious start against the 49ers. He gained just four yards on five carries in the preseason opener, an average of 0.8 yards per carry. Grimes got back on track against the Broncos, though…

Share Tweet

Texans rookie Benardrick McKinney has sprained MCL, sources say

Texans rookie inside linebacker Benardrick McKinney has a mildly sprained medial collateral ligament in his right knee, according to sources with knowledge of the situation not authorized to speak publicly. The second-round draft pick from Mississippi S…

Share Tweet

ESPN.com

Aug 26 (yesterday)

Kourtnei Brown making right impression on Texans staff

Share Tweet

Roster cuts loom for Texans next week

The Texans' locker room is about to become a lot less crowded as the regular season approaches Within the next 10 days, the Texans' current 90-man roster will be cut down to 53 players. Following the Texans' third preseason game Sunday against the Saint…

Share Tweet

Texans defensive end J.J. Watt: 'I wasn't very good my rookie year'

As dominant as Texans star defensive end J.J. Watt is now, the two-time NFL Defensive Player of the Year recalls a time when that wasn't the case. At least not by his gold standard. As a rookie after being drafted 11th overall out of Wisconsin, Watt rec…

Share Tweet

nytimes.com profootballtalk.com chron.com

Aug 26 (yesterday)

Jadeveon Clowney is expected to play in Houston's season opener against the Kansas City Chiefs on Sept. 13.

Share Tweet

Mike Mohamed draws favorable comparison from Bill O'Brien

Bill O'Brien coached a guy with New England in Wes Welker who'd been humbled at the outset of his NFL career, but rebounded sufficiently to become one of the best slot receivers of his generation. O'Brien believes Texans linebacker Mike Mohamed could be…

Share Tweet

NFL analyst compares Brian Hoyer to Andy Dalton; NFL executive calls him a 'caretaker'

Brian Hoyer has heard it all before. He's been an underdog all of his life. Now that he's been named the Texans' starting quarterback, that definitely hasn't changed. While there's considerable respect for Hoyer around the NFL for his intangibles and fu…

Share Tweet

Highlights from "Hard Knocks" episode No. 3

The Texans' third of five episodes on HBO's "Hard Knocks" aired Tuesday. It wasn't necessarily the most entertaining hour of the show to date, but it had the most momentous moment of training camp to date, with coach Bill O'Brien picking a starting quar…

Share Tweet

Where are you drafting him?

Aug 27

Field Yates discusses where to take players who have red flags heading into your drafts.

O'Brien: Clowney on track for Week 1

Aug 26

ESPN NFL analyst John Clayton discusses how Texans coach Bill O'Brien can ease linebacker Jadeveon Clowney back onto the field and increase his playing time each week.

Houston may have a problem

Aug 25

ESPN's John Clayton examines the Houston Texans' quarterback situation and whether coach Bill O'Brien can work his magic with Brian Hoyer.

Ganguli: Week 1 a possibility for Clowney

Aug 25

ESPN Texans Reporter Tania Ganguli provides an update on LB Jadeveon Clowney and how his condition is progressing throughout training camp.