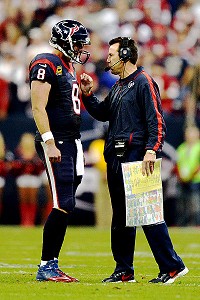 Texans need to throw into the end zone
ESPN.com
Updated Jan 8, 2013
The first two questions Gary Kubiak fielded at his Monday news conference were about the team's red zone offense. In each answer, he mentioned checking the ball down. First: "We had a lot of second-and-nines down there from that standpoint, but we got t
Share
Tweet
Winning turnover battle vital if Texans to beat Patriots

Ask Gary Kubiak what the Texans absolutely must do to beat the New England Patriots on Sunday, and he's answering almost before the question is finished. "The most important thing," Kubiak said, "is to win the turnover battle." There you have

Share Tweet

A focus on Texans red zone efficiency and brain matter

Many things looked right about about the Bengals-Texans game that did not look right in previous games: Fat time of possession at 38:49. Dominant defense. 420 net yards of offense. 13 passing first downs, 8 rushing first downs. No missed field goals. M.…

Share Tweet

Arian Foster's place is secure as a fan favorite in Houston. But when it comes to basketball, the three-time Pro Bowl selection pledged his loyalty to his West-Coast roots. The Texans' running back is often spotted courtside for Rockets games at the T

Share Tweet

Texans' Brown didn't find column funny

ESPN.com

Jan 8, 2013

Arian Foster put up the lead of Dan Shaughnessy's recent Boston Globe column as his Twitter avatar. When a follower asked if he felt disrespected by the piece that called the Texans a layup and tomato cans for Patriots on Sunday, Foster replied: "Not

Share Tweet

Key matchups: Vince Wilfork vs. Ben Jones

As we get ready for Texans-Patriots Part 2 on Sunday in Foxborough, the Chronicle will take a daily look at some of the key matchups: Vince Wilfork vs. Ben Jones Only Tom Brady has been with the Patriots longer than Vince Wilfork, that big mass in the m…

Share Tweet

ESPN.com

Jan 8, 2013

Reading the coverage... Houston Texans "The Texans' red zone offense has plummeted from prolific to pathetic over the last four games," says John McClain of the Houston Chronicle. I've got some thoughts on this topic coming in a bit. Houston players

Share Tweet

Patriots heavily favored in divisional playoff matchup

The Texans lost 42-14 at New England on Dec. 10. No wonder they're 9½-point underdogs Sunday against the Patriots. "There's no excuses for what took place," coach Gary Kubiak said Monday. "You have to give them all the credit. We battled the pa

Share Tweet

Key to Houston Texans pulling off upset of New England Patriots

Jan 8

Solomon Wilcots and Charley Casserly weigh in on how the Houston Texans can pull off the upset of the New England Patriots in their divisional round matchup.

Blogger Blitz: Can Schaub Handle The Road?

Jan 8

AFC South blogger Paul Kuharsky talks about the Texans' chances of beating the Patriots in New England

Boston Globe Writer Calls Out Texans

Jan 8

Eric Mangini, Stephen A. Smith and Skip Bayless discuss how the Texans will react to being called fraudulent by Boston Globe writer Dan Shaughnessy.