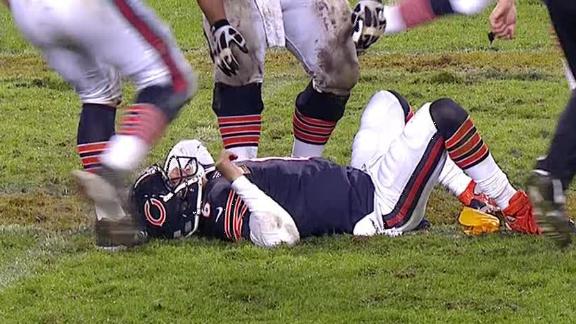 Updated Nov 11, 2012
Share
Tweet
Arian Foster finished with 102 yards rushing and a touchdown catch, and the Texans intercepted Jay Cutler twice before knocking him out of the game with a concussion on their way to a 13-6 victory over the Bears on Sunday night.
Sources:
ESPN.com
deadspin.com
chron.com
Updated Nov 11, 2012

Share Tweet

CHICAGO — Last week, Texans receiver Andre Johnson called Sunday night's game against the Chicago Bears the most important in the team's regular-season history. For the first time this season, the Texans entered a game as an underdog, and based on t

Sources:

chron.com CNNSI.com ESPN.com profootballtalk.com

Defenses dominating game so far

Updated Nov 11, 2012

Share Tweet

This is old-fashioned football at its worst if you like offense. If you prefer defensive-oriented games, you're in heaven. The defenses are dominating at halftime, and the Texans lead the Chicago Bears 10-3 at Soldier Field. The Bears have four first do

Updated Nov 11, 2012

Share Tweet

Sloppy weather brought sloppy football in Chicago. But once the Texans and Bears stopped turning the ball over, a great, competitive game broke out. Arian Foster made an amazing diving touchdown catch to give the Texans a 10-3 lead at the half. The team…

Sources:

chron.com profootballtalk.com

Updated Nov 11, 2012

Share Tweet

Bears cornerback Tim Jennings got his second interception of the game of Texans quarterback Matt Schaub and eighth of the season. Jennings went into the end zone, but he was ruled down by contact at the Texans' 38. The play was reviewed but the ruling o

Updated Nov 11, 2012

Share Tweet

The turnover total is up to four with a minute left in the first half. It would appears that the sloppy weather is going to lead to sloppy football. Danieal Manning forced his second turnover of the game against his former team, picking off a Jay Cutler…

Texans fumble on very first play is overturned

Updated Nov 11, 2012

Share Tweet

The Bears are the best in the NFL in forcing turnovers. And it looked like they might have forced their first against the Texans just seven seconds into the game. But Keshawn Martin's fumble was overturned on the opening kickoff when it was determined h

Updated Nov 11, 2012

Share Tweet

The Texans hope to rebound from their last embarrassing prime-time game and improve on their woeful record under Gary Kubiak in spotlight games. The Texans lost 42-24 to the Packers in a Sunday Night Football game at Reliant on Oct. 14. The previous gam…

Updated Nov 11, 2012

Share Tweet

The Texans will head into their matchup with the 7-1 Bears on Sunday night without one of Matt Schaub's favorite targets. Tight end Owen Daniels will not play as a result of the hip injury that bothered him all week. Daniels missed practice on Wednesday

Sources:

profootballtalk.com yahoo.com ESPN.com

Updated Nov 11, 2012

Share Tweet

Join our ESPN.com NFL experts for the game of the week as the Houston Texans take on the Chicago Bears. Contribute your thoughts and questions beginning at 8:30 p.m. ET. See you there. Countdown Live: Texans-Bears

Source:

ESPN.com

Updated Nov 11, 2012

Share Tweet

With a pair of teams that love to play good defense and run the ball, it already was shaping up to be an old-school game at Soldier Field on Sunday night between the Texans and Bears. So why not throw in some bad weather? Courtesy of our friends at Weat…

Source:

profootballtalk.com

Watt: 'We found a way to win'

Nov 11

Houston Texans defensive end J.J. Watt explains how the team was able to go into Chicago and defeat the Bears in one of the best defensive matchups of 2012.

GameDay: Texans vs. Bears highlights

Nov 11

The Houston Texans defense forces four turnovers, while RB Arian Foster rushes for over 100 yards and catches a touchdown pass in a 13-6 victory over the Chicago Bears.

Hank Goldberg's Week 10 Picks

Nov 11

Hank Goldberg makes his picks for Week 10 of the NFL season.

Cutler Suffers Concussion In Loss To Texans

Nov 11

After Jay Cutler exits with concussion at the end of the first half, Texans go on to improve to 8-1 with 13-6 win over Bears.

Sports Columnists

Don Banks: Giants in the midst of another stagnant second half; more Snaps

Nov 11

CHICAGO -- Musings, observations and the occasional insight on Week 10 in the NFL, from a wind-swept Soldier Field...