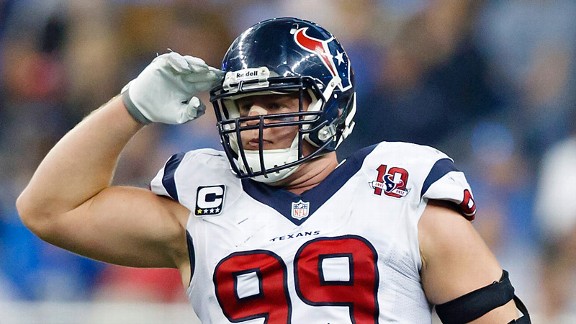 chron.com
ESPN.com
profootballtalk.com
CNNSI.com
Updated Nov 22, 2012
DETROIT - The Texans troika of quarterback Matt Schaub, receiver Andre Johnson and running back Arian Foster ignited a rally that produced another come-from-behind overtime victory that devastated the Detroit Lions on Thursday. Schaub threw for 315 yard
Share
Tweet
Reliant's new turf to get heavy high school playoff duty

Reliant's new turf to get heavy high school playoff duty With Reliant Stadium getting artificial turf for the first time, the home of the Texans will feature six games over two days this weekend. The Tigers played in the first high school game at Relian…

Share Tweet

DETROIT — When Texans kicker Shayne Graham saw the football bounce off the right upright after Lions kicker Jason Hanson attempted a game-winner, he had one simple thought. "I can't wait for another chance," Graham said. "That's the first thin

Share Tweet

CNNSI.com

Nov 22, 2012

DETROIT (AP) The left cleat of Detroit Lions defensive tackle Ndamukong Suh connected with Houston Texans quarterback Matt Schaub in his groin area in their Thanksgiving game.

Share Tweet

DETROIT — Everybody watching Texans running back Justin Forsett in the third quarter learned a valuable lesson in the 34-31 overtime victory: Never give up on a play. Forsett was tackled by the Lions, but he didn't think he was down, so he kept going

Share Tweet

QB: A- For the second time in five days, Matt Schaub brought the Texans from behind to win an overtime game. Also, for the second week in a row, he was able to overcome an interception in overtime. He threw for 315 yards and one touchdown. RB: A- Arian …

Share Tweet

Chicago Bears quarterback Jay Cutler practiced on a limited basis Thursday for the first time since he suffered a concussion late in the first half of the team's game against the Houston Texans on Nov. 11.

Share Tweet

Andre Johnson: Best back-to-back ever

DETROIT -- Andre Johnson outdid his favorite receiver, Calvin Johnson, Sunday in the Texans' 34-31 overtime win over the Lions Thursday. Andre Johnson also followed up his career best 14-catch, 273-yard game against Jacksonville with another big day: Ni

Share Tweet

As good as the early game was, second game as slow

profootballtalk.com

Nov 22, 2012

With a little luck, you planned your Thanksgiving dinner for about 15 minutes ago. After a frantic back-and-forth first game between the Texans and Lions, the Cowboys and Redskins are the tryptophan coma portion of the day. A scoreless tie at the end of…

Share Tweet

Shayne Graham's 32-yard field goal with 2:21 left overtime lifted the Houston Texans to a 34-31 win over Detroit on Thursday after the Lions' coach made a costly mistake in regulation.

Share Tweet

chron.com profootballtalk.com jacksonville.com

Nov 22, 2012

1. The Texans, who claimed a 34-31 win, their second overtime win in four days, have finally become residents of Clutch City. Oh, they have sported the name Houston since their inception, but a Clutch City address is reserved for those special citizens …

Share Tweet

Jason Hanson's game-winning 47-yard field goal attempt bounced off the right upright, as the Lions missed out on the victory. Lions cornerback Chris Houston intercepted Matt Schaub, setting up the Lions at the Texans' 41-yard line with seven minutes l

Share Tweet

Epic 97-yard Texans drive ties game at 31

The Texans used an epic 15-play, 97-yard drive to score the game at 31 with 1:55 remaining. Andre Johnson had four catches for 64 yards on the game-tying scoring drive, capped off by a 1-yard Arian Foster. Johnson had three catches on third or fourth do…

Share Tweet

Texans tie score 24-24 on field goal

Shayne Graham kicked a 45-yard field goal to tie the score 24-24 with 2:36 left in the fourth quarter. The drive covered 40 yards in seven plays and took three minutes.

Share Tweet

The Texans-Lions Thanksgiving Day matchup was marked by controversy on both sides of the field Thursday.

Share Tweet

chron.com profootballtalk.com ESPN.com

Nov 22, 2012

DETROIT — The Texans are losing 21-14 at halftime of an entertaining Thanksgiving game because their defensive backs, especially Alan Ball, can't cover Calvin Johnson. For whatever reason, Ball has stuck with Johnson, who has five catches for 103 yard

Share Tweet

ESPN.com chron.com profootballtalk.com

Nov 22, 2012

Houston linebacker Brooks Reed has left its game against the Detroit Lions with a groin injury. His return is questionable.

Share Tweet

Owen Daniels' TD catch ties score at 14

Texans tight end Owen Daniels caught a nine-yard touchdown pass from Matt Schaub to tie the score at 14 with 2:11 left in the first half. The key play on the drive, which went 75 yards on eight plays in 3:49, was a 43-yard juggling catch by Andre Johnso…

Share Tweet

Ball's failed interception grab costs Texans

For Alan Ball, it was both a great play and a terrible mistake. On first-and-goal from the 5-yard line, Detroit quarterback Matthew Stafford threw a fade route to the corner of the end zone for Calvin Johnson. Ball, the Texans cornerback, was in perfect…

Share Tweet

Texans cannot slow Megatron

DETROIT -- What's the attraction of the Alan Ball-Calvin Johnson matchup for Wade Phillips? That's the question we're all wondering at halftime at Ford Field, where the Lions lead the Texans 21-14. Johnathan Joseph typically follows a team's best

Share Tweet

Lions' Backus inactive, ending 186-game streak

Detroit Lions offensive tackle Jeff Backus is inactive against the Houston Texans, ending his 186-game starting streak.

Share Tweet

chron.com profootballtalk.com

Nov 22, 2012

A short week wasn't enough for cornerback Johnathan Joseph to recover fully from a hamstring strain last week. Joseph is inactive against the Detroit Lions today and Alan Ball will start in his place. The Texans will also be without nose tackle Shaun Co

Share Tweet

RTC: Barwin's unique view of Detroit

Happy Thanksgiving! We're reading the coverage in Detroit... Houston Texans Starting in fourth grade, seeking a bigger challenge in youth basketball, Connor Barwin left suburban Hazel Park to play on a team in a racially segregated Detroit metro area, w…

Share Tweet

Houston Texans running back Arian Foster: 'The heart of this team is just resilient'

Nov 22

NFL Network reporter Albert Breer catches up with Houston Texans running back Arian Foster after the team's second overtime win in five days to ask how the team continues to play at a high level.

Texans Get Controversial Win Over Lions

Nov 22

The Texans improved to 10-1 after an overtime win over the Lions.

Texans vs. Lions highlights

Nov 22

The Houston Texans defeated the Detroit Lions 34-31 in overtime on Thanksgiving Day as Matt Schaub threw for 315 yards in his team's Week 12 victory.

Shayne Graham 32-yard game winning field goal

Nov 22

Texans kicker Shayne Graham nails a 32-yard kick in overtime to seal the win for the Texans over the Lions 34-31.