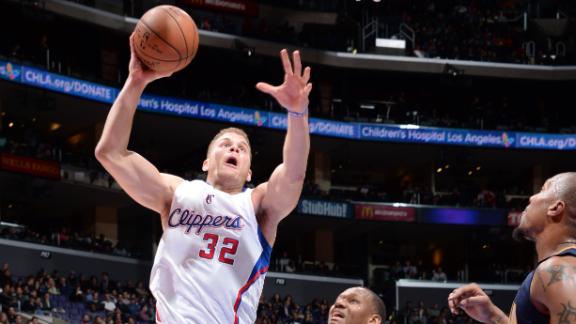 Dirk Nowitzki: Kobe Bryant Is "Probably The Greatest Player In My Generation"

dimemag.com

14 hours ago

Dirk Nowitzki is a better shooter than Reggie Miller, anyway. A day after the Indiana Pacers Hall-of-Famer bashed Kobe Bryant, the Dallas Mavericks' future one praised his fellow championship-winning elder statesman. Touching on Bryant passing Michael J…

Upvote Share Tweet

Pacers Owner Would Welcome Stephenson Back, But "Bird Has To Decide"

dimemag.com

Dec 16 (yesterday)

The Pacers lost Lance Stephenson to the Hornets this past summer when he inked a three-year, $27 million deal with owner Michael Jordan. But Stephenson has struggled with his shot, and the Hornets are at 6-18 so far after finishing 44-38 last season for…

Upvote Share Tweet

Stuckey propels Pacers' rout of cold Lakers

ESPN.com

Dec 15 (2 days ago)

Rodney Stuckey got his second consecutive double-double, scoring 20 points and grabbing 10 rebounds to lead Indiana over the Lakers 110-91 on Monday night.

Upvote Share Tweet

Watch Jamal Crawford's Filthy Crossover Put C.J. Miles On His Butt

dimemag.com

Dec 11 (7 days ago)

Before we show you Jamal Crawford's crossover that put C.J. Miles on skates before he hit the deck, know that Crawford missed the ensuing three-point attempt. But he made a couple others — as you'll see — for a team-high 18 points in LA's rather ugly 10…

Upvote Share Tweet

Dime Q&A: Lavoy Allen On P. George, Tim Duncan & "Crazy Rush" Of Playoff BBall

dimemag.com

Dec 8

The Indiana Pacers have quietly stayed within striking distance of a playoff spot in the Eastern Conference despite a myriad of reasons why they should instead be in contention for a high lottery pick. Even more forgotten is one of their key reserves, L…

Upvote Share Tweet

Pacers' Mahinmi out six to eight weeks

nba.com

Dec 7

The Indiana Pacers announced Sunday that center Ian Mahinmi will be out six to eight weeks with a torn left plantar fascia.

Upvote Share Tweet

Police Lock Down Moda Center As Hundreds Of Protesters Gather Outside

deadspin.com

Dec 4

Police aren't letting anybody enter or leave the Moda Center—better known as the Rose Garden, and the site of a Trail Blazers-Pacers game that is currently in the fourth quarter—according to KOIN News. Hundreds of demonstrators have amassed outside, arr…

Upvote Share Tweet

ESPN.com

Nov 30

The Cleveland Cavaliers claimed veteran guard A.J. Price off waivers from the Indiana Pacers on Sunday, sources told ESPN.com. To make room for Price on the roster, the Cavs waived rookie guard Will Cherry.

Upvote Share Tweet

Love's 28 points lead Cavaliers over Pacers

ESPN.com

Nov 29

Kevin Love scored a season-high 28 points, Kyrie Irving added 24, and the Cleveland Cavaliers defeated the Indiana Pacers 109-97 on Saturday night.

Upvote Share Tweet

LeBron James Fools Pacers By Pointing Directions, Dishing Sweet No-Look

dimemag.com

Nov 29

LeBron James, thespian? Watch The King show off his acting chops and fool the Indiana Pacers' defense by pointing and barking directions to Shawn Marion before dishing a sweet no-look pass to Kyrie Irving for a layup. Got us, too. Spurred by 18 points f…

Upvote Share Tweet

ESPN.com

Nov 29

Cleveland Cavaliers center Anderson Varejao will miss Saturday's game against the Indiana Pacers with a rib contusion, the team announced.

Upvote Share Tweet

dimemag.com

Nov 28

The Charlotte Hornets — after making the playoffs last year and signing Lance Stephenson in the offseason as well as extending point guard Kemba Walker — enter tonight's contest against the Warriors with a substandard 4-12 record. Recent reports suggest…

Upvote Share Tweet

Spurs coach Gregg Popovich missed Wednesday night's 106-100 win over the Indiana Pacers after undergoing what the team is calling a minor medical procedure.

Upvote Share Tweet

dimemag.com ESPN.com

Nov 25

No win in the NBA can be assumed – all 30 teams employ professional basketball players. And considering that logic, no loss should be overly disappointing, either. The Dallas Mavericks don't subscribe to the latter line of thinking. After falling to the…

Upvote Share Tweet

Pacers forward Paul George could take the next step in his recovery from a broken right leg as early as next week.

Upvote Share Tweet

Solomon Hill Turns Air Ball Into Game-Winning Buzzer-Beater

deadspin.com

Nov 20

The Pacers snatched an 88-86 victory away from the Hornets last night, and they did it with an unlikely buzzer-beater that was equal parts hilarious incompetence and impressive determination.Read more...

Upvote Share Tweet

yahoo.com

Nov 19

Indiana Pacers wing Solomon Hill entered the 2014-15 season with a chance to make a name for himself following the season-ending leg injury suffered by superstar Paul George this summer. The 23-year-old out of Arizona remains a work in progress, but he …

Upvote Share Tweet

yahoo.com deadspin.com

Nov 19

Two things were kind of a big deal in 2004. Quoting "Anchorman" was of paramount importance to your social appeal, and Detroit Pistons/Indiana Pacers matchups were well worth the price of theater admission. The NBA may have scheduled for those…

Upvote Share Tweet

yahoo.com

Nov 19

Long before the careless whispers and all-around antics of last spring's Eastern Conference Finals, Lance Stephenson was a second-round pick given a shot at an NBA career by the Indiana Pacers in 2010. It took time for Stephenson to develop, but when he…

Upvote Share Tweet

Pacers Snap Eight-Game Slide

Dec 15

The Pacers held the Lakers to 27 first-half points and rolled to a 110-91 win.

Hornets Exploring Trade Options For Stephenson

Dec 14

ESPN NBA Insider Amin Elhassan discusses why the Hornets are exploring options to trade swingman Lance Stephenson and which team could be the best fit for him.

Pacers Lose Eighth Straight

Dec 13

LaMarcus Aldridge led Portland with 19 points and 14 rebounds in the Trail Blazers' 95-85 win over the Pacers.

Clippers Hold Off Pacers

Dec 10

The Clippers beat the Pacers 103-96 for their ninth straight victory.