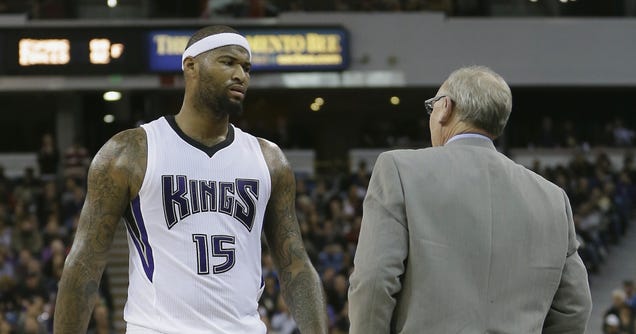 The Sacramento Kings Are Just A Huge Fuckin' Mess
deadspin.com
Updated Feb 6 (yesterday)
Two weeks ago, DeMarcus Cousins scored a then-career high 48 points as the Kings beat the Pacers for their fifth straight, and you could almost talk yourself into this misshapen collective of wonky players led by a too-old-for-this-shit coach who doesn'…
Share
Tweet
Bon Voyage, Bon Appetit: Kobe Bryant's Culinary Farewell Tour – Toronto, Indianapolis, San Antonio

dimemag.com

Feb 6 (yesterday)

Getty Image Kobe Bryant's Culinary Farewell tour continues with our first extended road trip. Kobe travels to San Antonio and Indianapolis before enjoying the festivities in Toronto for All-Star Weekend. It's kind of fitting that the Spurs and Pacers ar…

Share Tweet

Paul George Hits A Wild Circus Shot From Downtown While Trying To Draw The Foul

dimemag.com

Feb 5 (yesterday)

With just over a minute to go and the Pacers trailing the Hawks 95-90 Friday night, Paul George lined up an open three. He came up short, but like our coaches taught us in third grade, followed his shot and somehow came away with the rebound out near th…

Share Tweet

Al Horford Put Solomon Hill On A Poster With This Filthy One-Handed Jam

dimemag.com

Feb 5 (yesterday)

With the Hawks down 72-69 to the Pacers with under a minute left in the third quarter Friday night, Al Horford decided to take matters into his own hands. After getting his defender to bite on the pump fake, Horford took it straight down main street for…

Share Tweet

dimemag.com

Feb 4 (3 days ago)

Getty Image It doesn't take many viewings of NBA basketball to understand just how abnormal basketball players are. They're freakishly tall in most cases, and capable of stunning acts made possible only by their height. But there's another side to the w…

Share Tweet

Kevin Love Finally Got In The Picture, And The Cavs Are Clicking

deadspin.com

Feb 2 (5 days ago)

With last night's victory against the Indiana Pacers, the Cleveland Cavaliers are 5-1 since David Blatt was fired and Tyronn Lue was named head coach. After the game, Kevin Love punctuated his team's string of successes with this Instagram post:Read mor…

Share Tweet

Myles Turner Lifts Off From Just Inside The Free Throw Line For The Two-Handed Jam

dimemag.com

Feb 1 (6 days ago)

Miles Turner down the lane on NBATV! #NBARapidReplay #CLEatIND — NBA (@NBA) February 2, 2016 Myles Turner has been a revelation since returning to the court from injury in late December. The Indiana Pacers big man is making a midseason push for All-Rook…

Share Tweet

dimemag.com deadspin.com

Jan 24

Subscribe to UPROXX DeMarcus Cousins has been as dangerous of a force as any NBA player this season. The Indiana Pacers learned as much on Saturday night when Cousins scored a career-high 48 points on 29 shots. The Pacers' bigs – indeed the entire Pacer…

Share Tweet

dimemag.com

Jan 23

How did the Golden State Warriors celebrate the debut of Steve Kerr? By dropping 64 points, 16 assists, and eight three-pointers to build a double-digit lead over the Indiana Pacers at halftime, of course. But Steph Curry, naturally, took welcoming back…

Share Tweet

Steve Kerr had butterflies Friday night for his long-awaited season debut coaching the defending NBA champions.

Share Tweet

Pacers' Mahinmi, Suns' Morris exit from Indy win

Share Tweet

Pacers' Stuckey out two weeks with foot injury

nba.com

Jan 14

Indiana Pacers guard Rodney Stuckey is expected to miss at least two weeks with an injured right foot.

Share Tweet

The Boston Celtics entered Wednesday having lost four straight games and six of their last seven, reeling after a Tuesday loss to the New York Knicks that had head coach Brad Stevens questioning his team's commitment to doing the little things that win …

Share Tweet

James Harden the playmaker helps the Rockets outlast Pacers

ESPN.com

Jan 10

James Harden the playmaker helps the Rockets outlast Pacers

Share Tweet

ESPN.com

Jan 5

Pacers' Paul George sees a lot to like in Heat rookie Justise Winslow

Share Tweet

Dwyane Wade Flashes Vintage Form On This Lefty Alley-Oop Dunk Over The Pacers

dimemag.com

Jan 4

Dwyane Wade apparently found the fountain of youth somewhere along one of Miami's many beaches, because this alley-oop (with an absolutely gorgeous pass from Goran Dragic) is something straight out of Wade's "Flash" era. It's not just that Wade was able…

Share Tweet

Pacers-Heat delayed by lighting malfunction

nba.com

Jan 4

The start of Monday's Indiana-Miami game was delayed 27 minutes after lights malfunctioned in the arena following the introduction of the Heat starting lineups.

Share Tweet

ESPN.com nba.com dimemag.com

Jan 4

Pacers' George, Pistons' Morris fined for skirmish

Share Tweet

yahoo.com

Dec 31, 2015

Chicago Bulls wing Jimmy Butler has been at the center of controversy in the past couple weeks for statements regarding the methods of first-year head coach Fred Hoiberg and reports of discord with teammates. If the media seems particularly intent on pa…

Share Tweet

Bulls Beat Pacers On Fantastic Tipped Lob

deadspin.com

Dec 31, 2015

Maybe this was the play design all along, or maybe Pau Gasol just saw an opening and lofted the ball up. Either way this play should've been dead in the water, with Jimmy Butler blanketed by Paul George and unable to grab the ball and dunk it home. Inst…

Share Tweet

yahoo.com

Dec 24, 2015

Glenn Robinson III is living the dream. A native of Indiana, he's playing as a rotation worker on his state's NBA team, the Pacers, and though the Pacers are kicking some early season tail at 16-12 right now, they remain a little under the radar. [Follo…

Share Tweet

Cavs Win Second Straight

Mar 20

LeBron James scored a game-high 29 points in the Cavs' 95-92 win over the Pacers.

Will Paul George Return This Season?

Mar 16

Chris Broussard discusses whether Pacers forward Paul George will return before the end of the season.

Lowry Leads Raptors To Win

Mar 16

Kyle Lowry recorded a triple-double of 20 points, 11 rebounds and 10 assists in the Raptors' 117-98 win over the Pacers.

NBA Top 3 Plays Of The Night

Mar 16

Check out the top plays from the night in the NBA, including LeBron James' bug dunk.