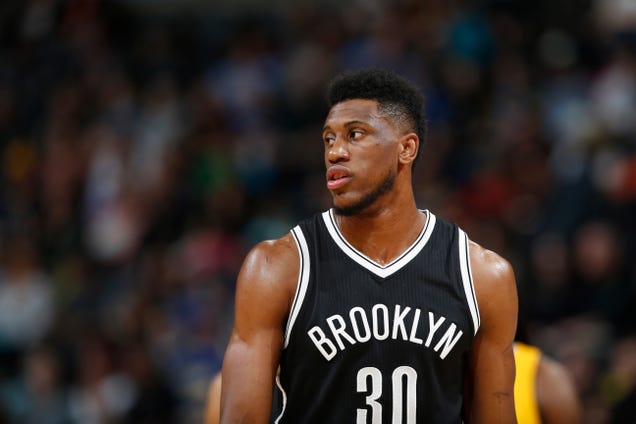 deadspin.com
dimemag.com
Updated Jun 23 (3 days ago)
The Brooklyn Nets have gotten themselves into the pre-draft trade bonanza, reportedly sending forward Thaddeus Young to the Indiana Pacers in exchange for the 20th pick in tonight's draft and a future second-round pick. To the Pacers I say, "So you just…
Share
Tweet
nba.com dimemag.com

Jun 22 (4 days ago)

The Pacers traded one Indianapolis native for another Wednesday, sending George Hill to Utah and acquiring Jeff Teague in a point guard swap that also includes Atlanta.

Share Tweet

Hectic summer keeping Pacers' McMillan busy

nba.com

Jun 9

New Indiana Pacers coach Nate McMillan has been a busy man the past few weeks.

Share Tweet

dimemag.com

May 26

USA TODAY Sports Larry Bird's May 5 press conference, in which he announced that the Indiana Pacers were not bringing back head coach Frank Vogel, was memorable for a lot of reasons, not the least of which was Bird's insinuation that Vogel begged him fo…

Share Tweet

dimemag.com deadspin.com

May 19

Getty Image When Frank Vogel was surprisingly let go by the Indiana Pacers, he became the hottest name on the head coaching market. When Scott Skiles surprisingly resigned as head coach of the Orlando Magic, a young and talented team found itself with a…

Share Tweet

dimemag.com ESPN.com nba.com

May 16

Getty Image When Larry Bird announced 11 days ago that he wasn't renewing Frank Vogel's contract as coach of the Indiana Pacers, one of his chief criticisms of Vogel was that he didn't run a fast-paced offense. That makes Bird's hire of Nate McMillan, w…

Share Tweet

yahoo.com

May 11

Following another awful shooting night in the Miami Heat's Game 4 win over his Toronto Raptors, DeMar DeRozan made a promise. He had struggled all postseason to find the bottom of the net, first due to the defense of Indiana Pacers lockdown artist Paul …

Share Tweet

USA TODAY Sports The phone calls are already coming in for former Pacers Coach Frank Vogel. Which is completely expected considering Vogel is the winningest coach in Pacers History. The more surprising part is that the New York Knicks have been calling.…

Share Tweet

dimemag.com

May 6

Getty Image The Toronto Raptors can't score in the playoffs. They scratched and clawed to a round-one win against the Indiana Pacers by virtue of home-court advantage more than anything else, and fared even worse offensively through splitting the first …

Share Tweet

dimemag.com

May 5

Getty Image Playoff demons have lurked around every corner for the Raptors this spring. Toronto narrowly escaped their first-round series with the underdog Indiana Pacers after a heated seven-game series. It was the first time they'd advanced in the pos…

Share Tweet

ESPN.com deadspin.com dimemag.com

May 2

Pacers president Bird unsure of Vogel's future

Share Tweet

Is Paul George Worthy Of Dwane Casey's Comparison To 'Young Kobe Bryant'?

dimemag.com

May 2

Getty Image The Indiana Pacers shouldn't have had a chance against the Toronto Raptors. Frank Vogel's team was in stage one of a rebuilding process, went through multiple stylistic and rotational changes throughout the regular season, and lacked home-co…

Share Tweet

Even Drake Couldn't Help But Respect Paul George After The Pacers' Rally Fell Short

dimemag.com

May 2

Getty Image The Raptors almost blew it, just as the Pacers actually blew it in Game 5 in the first round's most evenly-matched series. Still, the end to the Pacers-Raptors series had a few things going for it. It was Game 7 and the Pacers made it extrem…

Share Tweet

Cavs Win Second Straight

Mar 20

LeBron James scored a game-high 29 points in the Cavs' 95-92 win over the Pacers.

Will Paul George Return This Season?

Mar 16

Chris Broussard discusses whether Pacers forward Paul George will return before the end of the season.

Lowry Leads Raptors To Win

Mar 16

Kyle Lowry recorded a triple-double of 20 points, 11 rebounds and 10 assists in the Raptors' 117-98 win over the Pacers.

NBA Top 3 Plays Of The Night

Mar 16

Check out the top plays from the night in the NBA, including LeBron James' bug dunk.