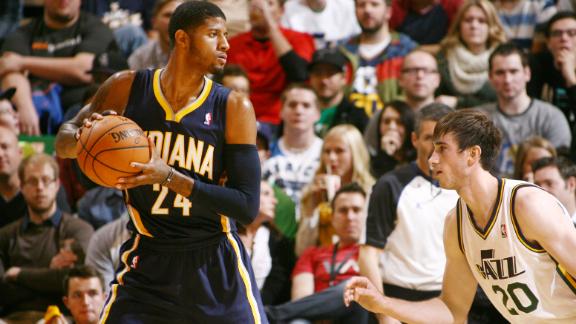 Updated 7 hours ago
Share
Tweet
Paul George scored 19 points and the Indiana Pacers returned to their defensive ways in beating the Utah Jazz 95-86 on Wednesday.
Source:
ESPN.com
George and Durant named Kia NBA Players of the Month

Updated Dec 3 (yesterday)

Share Tweet

Indiana Pacers' Paul George and the Oklahoma City Thunder's Kevin Durant were today named the Kia NBA Eastern and Western Conference Players of the Month, respectively, for games played in October/November.

Source:

nba.com

The NBA's Eastern Conference Isn't This Bad, They're Just Injured

Updated Dec 3 (yesterday)

Share Tweet

We're more than a month into the 2013-14 NBA season and the Eastern Conference is about as top heavy as it gets. Aside from Indiana (16-2), Miami (14-3) and the Wiz (9-9), no team is at .500 or above. Consequently, 12 teams in the West are at .500 or be…

Updated Dec 3 (yesterday)

Share Tweet

The Portland Trail Blazers beat the Indiana Pacers, 106-102, on Monday night in what might have been the best single game of the 2013-14 NBA season to date. Here are five reasons why this particular matchup of conference-leading beasts was so awesome, a…

Sources:

yahoo.com dimemag.com ESPN.com CNNSI.com nba.com

Hibbert & Aldridge With Jocular Back-And-Forth On Twitter

Updated Dec 3 (yesterday)

Share Tweet

The Blazers won at home last night against the visiting Pacers who had only lost once this season before falling Monday night. LaMarcus Aldridge had 28 points and 10 rebounds in the victory, and Roy Hibbert matched his double-double with 16 and 13 of hi…

Paul George Was Out Of His Mind Last Night

Updated Dec 3 (yesterday)

Share Tweet

Just in case you were not yet aware, Paul George is the truth. The Pacers' budding superstar proved as much last night, when he went for 43 points in a 106-102 loss to the Blazers, a game that ended with George hitting five three-pointers in the last th…

Source:

deadspin.com

The NBA's 10 Best Frontcourts

Updated Dec 2 (3 days ago)

Share Tweet

The NBA has evolved into an athletic, perimeter-heavy league. While this type of emphasis can excite the audience with spectacular plays, strong froncourts are still the belly of the beast for many teams. Teams that boast dominant frontcourts are a forc…

Updated Dec 2 (3 days ago)

Share Tweet

The Indiana Pacers are rolling these days, working with a 16-1 record and leading both the Eastern Conference and the NBA in winning percentage, mainly because of a fantastic mixture of internal development and added depth procured during the offseason.…

Numbers don't lie: Pacers dominating competition

Updated Dec 2 (3 days ago)

Share Tweet

How dominant have the Pacers been this year? Their numbers are so good they look like a mistake.

Pacers beat Clippers to improve to 16-1

Updated Dec 1 (3 days ago)

Share Tweet

The Pacers took their campaign of NBA domination to Los Angeles, where they beat the Clippers 105-100.

Updated Dec 1 (3 days ago)

Share Tweet

David West scored 14 of his 24 points in the third quarter and grabbed 12 rebounds, Paul George had 27 points, and the league-leading Indiana Pacers improved their best start in franchise history to 16-1 with a 105-100 victory over the Los Angeles Clipp…

Sources:

ESPN.com dimemag.com

Updated Dec 1 (4 days ago)

Share Tweet

The Lakers won't have future Hall of Famers Kobe Bryant or Steve Nash back for tonight's game against the visiting Trail Blazers, but their returns might not be far off, coach Mike D'Antoni revealed before the game. Bryant, who underwent surgery for a t…

Source:

nba.com

Updated Nov 29 (5 days ago)

Share Tweet

Paul George scored 23 points and Roy Hibbert added 13 and eight rebounds to lead the surging Indiana Pacers past the injury hampered Washington Wizards 93-73 on Friday night.

BT Sport secures NBA's UK TV broadcast rights

Updated Nov 28 (7 days ago)

Share Tweet

LONDON (AP) - The NBA is returning to British television.

Watson's late barrage guides Pacers to 14-1

Updated Nov 27

Share Tweet

C.J. Watson knocked down five 3-pointers in the fourth quarter and finished with 18 points to pace the Indiana Pacers to their fifth straight victory, a 99-74 win over the Charlotte Bobcats on Wednesday night.

Source:

ESPN.com

Funky James Brown Perfect For New Paul George Video

Updated Nov 26

Share Tweet

The Pacers are flying high this year after starting 13-1 through their first 14 games, including a 9-game winning streak to open things up. Everyone knew they improved their bench, but not many were expecting Paul George to make such a dramatic leap in …

Paul George hammers home windmill dunk, sparks 2nd-half run to push Pacers past Wolves (Video)

Updated Nov 26

Share Tweet

One night after Gerald Green did this: ... Paul George did this: ... which has me thinking that maybe all of the NBA's rangy, ridiculously athletic swingmen decided to try to turn every post-steal runout into an opportunity for thunderous windmill dunks…

Kravitz: Indiana Pacers are men on a mission

Updated Nov 25

Share Tweet

They are burning with the memory of what happened in Game 7 in Miami. It inspires them, pushes them every practice and every game, makes them chase excellence each and every night of the long NBA season.

Source:

indystar.com

Updated Nov 23

Share Tweet

A new knee injury will test the ability of Derrick Rose and the Bulls to adapt to different expectations.

J.R. Smith is in panic mode, which doesn't seem so fantastic

Updated Nov 21

Share Tweet

It is no great revelation to declare that the New York Knicks are currently in the midst of a rough time. After Wednesday night's terribly disappointing late-game loss to the Indiana Pacers, the Knicks sit at 3-8, tied for last place with the cross-rive…

Updated Nov 21

Share Tweet

[J.R. Smith during last night's Knicks-Pacers game, making a funny face while tracking down a loose ball. Photo by Bruce Bennett/Getty]Read more...

Source:

deadspin.com

Updated Nov 21

Share Tweet

While there's all this talk around here about how the Knicks will never beat the Miami Heat because Carmelo Anthony will never get past LeBron James, it might be time to amend that statement to include Paul George and Indiana, as well.

Sources:

nydailynews.com CNNSI.com

Who's Ready to Join the Elite?

Dec 4

Which current stars have what it takes to move into the NBA's top echelon?

Pacers Push Past Jazz

Dec 4

The Pacers topped the Jazz 95-86 to hand Utah its 16th loss of the season.

Trail Blazers Deal Pacers Second Loss

Dec 2

Paul George scored 43 points, but Lamarcus Aldridge and Damian Lillard combined to score 54 points to lead the Trail Blazers past the Pacers 106-102.

Blazers Outlast Pacers

Dec 2

Doug Kezirian and Tim Legler on Portland's win over Indiana.