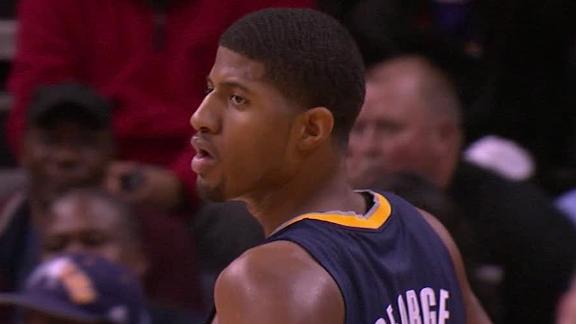 George Hill scored 13 points, including a clinching free throw with 1.4 seconds remaining to give the Indiana Pacers an 82-81 victory over the Memphis Grizzlies in the annual Martin Luther King Day game on Monday afternoon.
Share
Tweet
Tyler Hansbrough Throws Down A Strong Follow Through

dimemag.com

Jan 21, 2013

Gerald Green misses a three, but Tyler Hansbrough is there to throw down the follow through basket drawing the contact in today's matchup between the Indiana Pacers and Memphis Grizzlies.The post Tyler Hansbrough Throws Down A Strong Follow Through appe

Share Tweet

Bob Kravitz: Pacers will not let David West depart

indystar.com

Jan 21, 2013

This will not rank as some kind of news blast or Deadspin.com-worthy eye-opener, but the Indiana Pacers want David West, and they want him for the long term.

Share Tweet

Pacers Hold Off Grizzlies

Jan 21

Rudy Gay's last-second shot was too late as the Pacers beat the Grizzlies 82-81.

Mike Conley Dish To Wayne Ellington

Jan 21

Mike Conley with nice pass in transition to Wayne Ellington for the lay in.

Zach Randolph Bucket and The Foul

Jan 21

Randolph makes a nice baseline move for the floater and the foul.