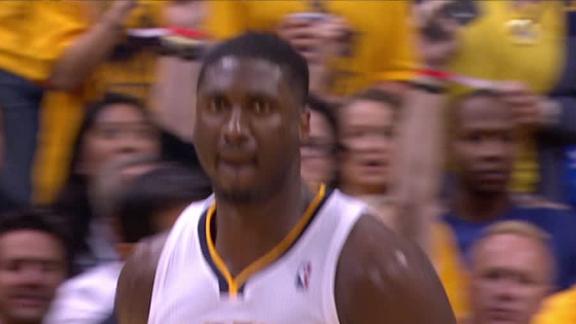 Roy Hibbert had 24 points and 11 rebounds, Paul George finished with 28 points, and the Indiana Pacers forced a deciding game in the Eastern Conference finals with a 91-77 victory over the Miami Heat on Saturday night.
Share
Tweet
Paul George Throws Down A Vicious Facial On Chris Bosh

dimemag.com

Jun 1, 2013

In an up-and-down first quarter during Game 6 in the Eastern Conference Finals, Paul George threw down a nasty facial on Chris Bosh's head. It wasn't the most incredible dunk you'll ever see, but it definitely came out of nowhere. What do you think?

Share Tweet

Miami Heat big man Chris Bosh has had a fairly poor Eastern Conference Finals, struggling to defend the Indiana Pacers' big men inside and not having the offensive impact that many expect of a player of his caliber. With Chris "Birdman" Anders…

Share Tweet

CNNSI.com

Jun 1, 2013

The East finals are tied 3-3. The Pacers responded to LeBron James's dominant Game 5 by beating the Heat 91-77 in Game 6 and proved yet again, they won't go down quietly.

Share Tweet

Birdman's Suspended Tonight Against The Pacers, And That Is Bullshit

deadspin.com

Jun 1, 2013

After Thursday's dustup between Heat forward Chris "Birdman" Andersen and the elder Hansbrough formerly known as Psycho T, the league allowed Birdman to finish out the rest of the game. Yesterday night, the NBA announced they're suspending Bir…

Share Tweet

ESPN.com

Jun 1, 2013

Miami Heat center Chris Andersen said he "can't regret" his suspension for Game 6 against the Indiana Pacers in the Eastern Conference Finals.

Share Tweet

Bob Kravitz: 3 things I'm curious about before Pacers vs. Heat Game 6

indystar.com

Jun 1, 2013

Will the Pacers get anything from their backcourt? The problem for George Hill is, the Heat tend to blitz the ball handler on the pick-and-roll, which leaves Hill in the role of facilitator and takes him out as a scoring threat.

Share Tweet

Flummoxed, Pacers Reportedly Consult Shaman About Extending Series

deadspin.com

Jun 1, 2013

But according to South Florida's Sun-Sentinel, he wasn't much help.Read more...

Share Tweet

Pacers Force Game 7

Jun 1

Paul George and Roy Hibbert combined for 52 points as the Pacers held the Heat to 36 percent shooting to send the series back to Miami.

Defense Key For Pacers In Game 6

Jun 1

Kurt Rambis breaks down the Pacers' 91-77 Game 6 win.

How Can Pacers Force Game 7?

Jun 1

Bruce Bowen talks about the adjustments the Pacers will have to make to force Game 7 against the Heat.

Bosh Needs To Step Up In Game 6

Jun 1

Stephen A. Smith thinks Chris Bosh needs to step up in Chris Andersen's absence, but if all else fails, LeBron James can step up and take over Game 6.