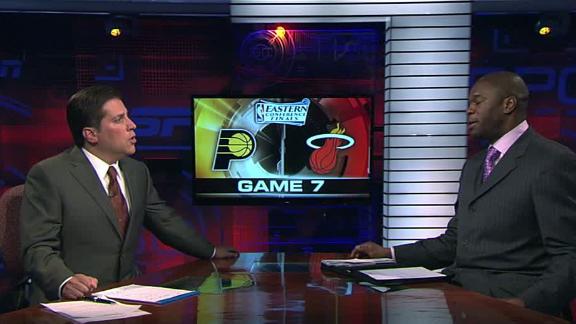 Pacers' Jeff Pendergraph, Heat's Norris Cole, Flo Rida's manager ejected late in Game 7 (Videos)

With just over two minutes remaining in Game 7 of the Eastern Conference finals and the Miami Heat holding a very comfortable lead over the Indiana Pacers, coaches Erik Spoelstra and Frank Vogel had largely emptied their benches, resulting in end-game p…

Upvote Share Tweet

The Miami Heat have a reputation as one of the most explosive teams in the NBA, the sort of outfit that can pull of highlight-reel plays and big runs in an instant. However, the Indiana Pacers have been on the right end of many of the most exciting play…

Upvote Share Tweet

CNNSI.com

Jun 3, 2013

LeBron, Wade rout Indy, lead Heat back to NBA Finals

Upvote Share Tweet

Deadspin Up Al Night: Sing Along

deadspin.com

Jun 3, 2013

Thank you for your continued support of Deadspin. You've got Game 7 of Pacers-Heat, Game 2 of Bruins-Pens, and some baseball. Our man Drew Magary is also doing a reading and a Q&A in Brooklyn RIGHT NOW, with drankin' to follow. Enjoy your night.Read…

Upvote Share Tweet

Our 5-on-5 panel previews Game 7 between the Pacers and Heat.

Upvote Share Tweet

Chris Bosh gave his team a needed apology after his third straight terrible game on Saturday

On Monday, in advance of Game 7 of the Eastern Conference finals, ESPN's Tom Haberstroh reported that Miami Heat All-Star Chris Bosh actually apologized to his team following the Heat's Game 6 loss on Saturday against the Indiana Pacers. Bosh shot 1-8

Upvote Share Tweet

Paul George could make the Eastern Conference finals his own with a knockout Game 7

Buried deep in Lee Jenkins' recent fantastic Sports Illustrated profile of Indiana Pacers All-Star Paul George was this aside about George's still-developing all-around game: Last week, George was watching Oklahoma City against Memphis on television i

Upvote Share Tweet

Heat-Pacers Game 7: Three role-player-related things to keep an eye on

Game 7 is just hours away, we already know that LeBron James needs to go supernova, that Paul George needs to attack like he's the best player in the Eastern Conference finals, that Game 7 will serve as a reputation-altering referendum on multiple membe…

Upvote Share Tweet

Bob Kravitz: Vogel defends Hibbert as 'highest character person I've ever coached'

indystar.com

Jun 3, 2013

How will the inexperienced Pacers react to a Game 7 with an NBA Finals berth on the line? My guess: Just fine.

Upvote Share Tweet

NBA Rumors: Ray Allen Wants to Return to the Boston Celtics

dimemag.com

Jun 3, 2013

Well, if there's one thing that the Miami Heat don't need right now, it's more distractions. They are already dealing with a weirdly confident, rabid Pacers team, injuries, unexpected infighting, and the seeming general disdain of fans nationwide. T

Upvote Share Tweet

Report: Floyd Mayweather Has Massive Multi-Million Dollar Bet on Tonight's Heat / Pacers Game 7

dimemag.com

Jun 3, 2013

WOW. Floyd Mayweather has apparently been watching a different Miami Heat than everyone else, because he is reportedly awfully confident in a Heat Game 7 W tonight. Check out what popped up a little while ago: Yeah, that's right. $5.9 MILLION on the Mia

Upvote Share Tweet

Bob Kravitz: Whatever happens in Game 7, Indianapolis is a Pacers town again

indystar.com

Jun 3, 2013

Whatever happens now, the local NBA franchise has made Indianapolis a Pacers town once again.

Upvote Share Tweet

Roy Hibbert's Marketability

Jun 3

David Schwab discusses the impact of Roy Hibbert's inappropriate postgame comments on his brand and marketability.

Game 7 not about X's and O's

Jun 3

Adonal Foyle says by this time of year it's not about coaching heroics or new plays. It's about keeping calm and doing what you know you can do. He also says the best thing LeBron James can do is show Roy Hibbert who's boss.

Game 7

Jun 3

David Thorpe on LeBron James, Roy Hibbert, Dwyane Wade, Paul George, Chris Bosh, big-game mentality and what's at stake for the Heat and Pacers in Game 7 -- and who will win.

Pacers-Heat Game 7 Preview

Jun 3

Bruce Bowen discusses the Game 7 mentality and expects a big game from both LeBron James and Paul George.