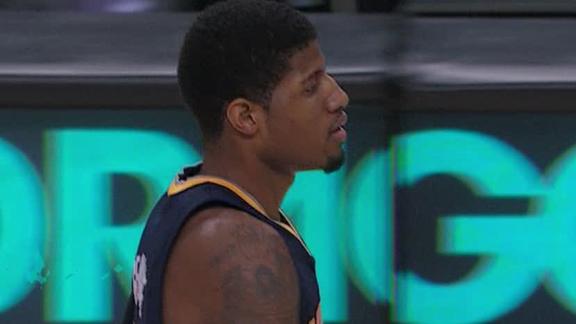 We Reminisce: Chris Webber's 51-Point, 26-Rebound Demolition

We've seen some gaudy performances fron NBA big men over the last few days. Last night Joakim Noah went berserk with a 23-point, 21, rebound, 11-block game against Philly, and on Wednesday night Tyson Chandler had 16 points and 28 boards in "The Steph

Share Tweet

Blake Griffin Dunks Right Through 6-11 Ian Mahinmi With His Off Hand

Blake Griffin has been on quite a tear these last few weeks, seemingly unloading some vicious dunk (or two) on some opposing player almost every single night. Last night in Indiana kept true to the schedule, with Blake detonating a lefty dunk on the Pac…

Share Tweet

Chris Paul Drops Paul George With a Nasty Crossover and Spin

Chris Paul was a monster in the Clippers' win over the Pacers in Indiana last night. Aside from scoring the final eight points of the game for the Clippers (of his 29 total), he also dropped eight dimes and a Paul George. Watch CP3 hit George with a ser

Share Tweet

Kobe 'Dominates' The Timberwolves; Chris Paul Dices Up A Vaunted Defense

Now this is more of what we expected of L.A. basketball this season. In the Midwest, the Pacers could have filed a claim with Cliff Paul for the damage point god Chris Paul did to their defense in the fourth quarter of the Clippers' road win. Out West,

Share Tweet

CNNSI.com

Mar 1, 2013

Paul scores 29 as Clippers cool off Hibbert-less Pacers

Share Tweet

George's Double-Double Lifts Pacers Past Raptors

Mar 1

Paul George leads Pacers to sixth win in seven games.