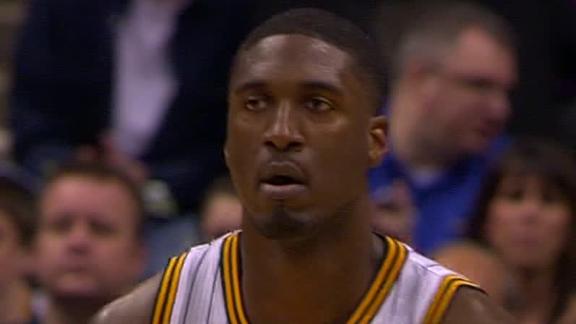 Updated Mar 25
Share
Tweet
Gerald Green scored 19 points and Roy Hibbert finished with 17 points and 13 rebounds Monday night, leading the short-handed Indiana Pacers past the Atlanta Hawks, 100-94.
'Ice Cream Guy' explains on 'Good Morning America,' 'Ice Cream Girl' gets year of free ice cream (Video)

Updated Mar 25

Share Tweet

Last Wednesday, we shared with you NBA TV analyst Chris Webber's detailed dissection of a man's refusal to share his ice cream with his lady love at a less-than-thrilling game between the Indiana Pacers and Orlando Magic. The moment itself wasn't super …

Source:

yahoo.com

Larry Sanders fined $95,000 in 10 days, and in danger of developing a Rasheed Wallace-like rep

Updated Mar 25

Share Tweet

The Milwaukee Bucks had a terrible, terrible evening on Friday night in Indianapolis. It wasn't just that they lost to the division-leading Indiana Pacers by 24 points. It was the knowledge that the Pacers had gotten into their heads as they worked towa

Source:

yahoo.com

Short-Handed Pacers Hold Off Hawks

Mar 25

Roy Hibbert tallied 17 points and 13 rebounds to lead the Pacers past the Hawks 100-94.