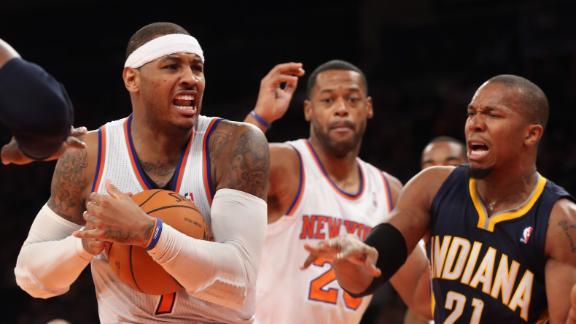 Updated Nov 18, 2012
Share
Tweet
Carmelo Anthony had 26 points and nine rebounds, and the New York Knicks bounced back from their first loss of the season, beating the Indiana Pacers 88-76 on Sunday.
Source:
ESPN.com
Scalped Wes Anderson Character Is Playing Point Guard For The Knicks

Updated Nov 18, 2012

Share Tweet

The Knicks are playing the Pacers this afternoon at Madison Square Garden. As of this writing, the Knicks had a 16-point lead halfway through the third quarter. Sadly, Jason Kidd suffered a head injury and was replaced by what appears to be a scalped Bo…

Source:

deadspin.com
Knicks Bounce Back With A Win

Nov 18

Carmelo Anthony scored 26 points and the Knicks beat the Pacers 88-76.