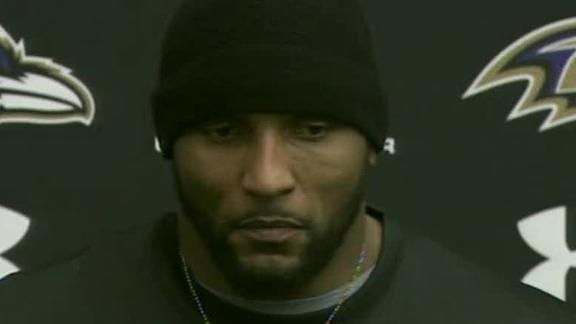 yahoo.com
CNNSI.com
ESPN.com
profootballtalk.com
Updated Jan 2, 2013
At the age of 37, Ravens LB Ray Lewis decided this will be his final season in uniform. While every career ends at some point, Mike Florio calls today's decision curious. A week before the Ravens are set to face the Colts in an AFC wild card game, Flori…
Share
Tweet
Colts notebook: Reinforcements arrive off injury list for postseason

A team intent on extending its season and magic began the heavy work of playoff preparation Wednesday. The Indianapolis Colts did so in 20-degree weather on a plowed practice field around which snow was heaped five feet high.

Share Tweet

ESPN.com

Jan 2, 2013

What would Andrew Luck tell someone who asked him what kind of head coach Bruce Arians would be? "Terrible things," Luck told Indianapolis media Wednesday. "Terrible, terrible things." Then he smiled. The Colts would hate to lose suc…

Share Tweet

Bob Kravitz: Colts expect passion from Baltimore fans on Sunday

For most of the callow Colts, the history of the franchise's move from Baltimore to Indianapolis might as well be as distant and foreign as the publication of the Magna Carta and the War of 1812.

Share Tweet

indystar.com profootballtalk.com

Jan 2, 2013

Vontae Davis learned Wednesday he had been named AFC Defensive Player of the Week for Week 17 of the NFL season.

Share Tweet

ESPN.com

Jan 2, 2013

Mel Kiper's All-Rookie Team is loaded with AFC South skill players on offense. Kiper likes Colts quarterback Andrew Luck ahead of both Robert Griffin III and Russell Wilson as his rookie quarterback. "He gets the most juice here because no team in his

Share Tweet

profootballtalk.com

Jan 2, 2013

While it is debatable whether stats accumulated against the Chiefs should count as impressive, the NFL has honored Peyton Manning as the AFC offensive player of the week anyway. Manning completed 23-of-29 passes for 304 yards and three touchdowns, pilin…

Share Tweet

Reiss' P.A.T.

Jan 2

In this week's edition of P.A.T., Field Yates fills in and speaks with the Patriots' Chandler Jones.

Blogger Blitz: Power Of Momentum

Jan 2

AFC South blogger Paul Kuharsky talks about how momentum is playing a role for both the Colts and Texans

Countdown Daily AccuScore: IND-BAL

Jan 2

Prim Siripipat goes inside the numbers for the Colts-Ravens

Sports Columnists

Kerry J. Byrne: Momentum means a lot in the playoffs, but who has it?

Jan 2

The Denver Broncos and Seattle Seahawks enter the 2012 postseason red hot and razor sharp. If momentum matters, they're heading for a collision course in New Orleans.