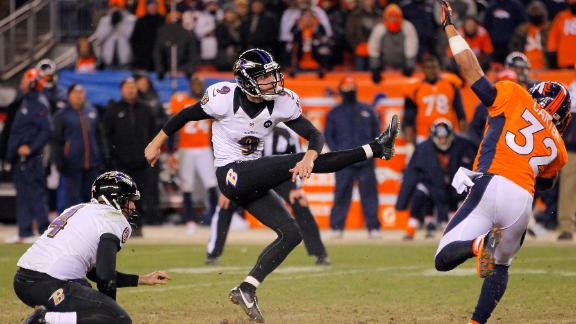 Updated Jan 12
Share
Tweet
DENVER — This wasn't Peyton Manning's fault. John Fox got a little conservative. Safety Rahim Moore somehow let Jacoby Jones behind him for a miraculous touchdown with less than a minute left. The Ravens put up 479 yards. When a 10-point underdog pulls
Updated Jan 12

Share Tweet

The Baltimore Ravens have reached the AFC Championship Game for the third time in the last five seasons after rookie Justin Tucker's 47-yard field goal gave the underdogs a 38-35 double overtime win over the No. 1-seed Denver Broncos in Saturday's divis…

Sources:

yahoo.com profootballtalk.com

Gene Frenette: How many years will Jaguars' new GM need?

Updated Jan 12

Share Tweet

About midway through the 2012 season, Jaguars owner Shad Khan began to realize that his $760 million investment needed more extensive repair than at the time of purchase. Some people would like to think repeating what the Indianapolis Colts did this sea…

Source:

jacksonville.com

Peyton Manning, Broncos fall short to Ravens in double OT 38-35

Updated Jan 12

Share Tweet

DENVER -- Baltimore's Justin Tucker kicked a 47-yard field goal 1:42 into the second overtime Saturday to lift the Ravens to a 38-35 victory over the Denver Broncos in the AFC playoffs.

Source:

indystar.com

Updated Jan 12

Share Tweet

Ten months after Denver dumped Tim Tebow in favor of Peyton Manning, Tebow's brother is delighted to see the Broncos advance no further in the playoffs this year than they did last year. Peter Tebow, the older brother of Tim Tebow, went on Twitter and t

Peyton Manning's third-quarter fumble brings the Tuck Rule back into the spotlight

Updated Jan 12

Share Tweet

Depending on where you stand on the NFL's "Tuck Rule," the Baltimore Ravens either got a fumble recovery they deserved with 2:37 left in the third quarter, or the Denver Broncos were completely jobbed by a rule that should not even be in the r…

Updated Jan 12

Share Tweet

After benefitting from what initially appeared to be a "tuck rule" special which wasn't called that way, the Ravens have tied their game at Denver entering the fourth quarter. After taking over on a short field after a Peyton Manning fumble - whic

Pace slows, but Broncos reclaim lead

Updated Jan 12

Share Tweet

While it no longer appears the first one to 60 will win this Divisional Round playoff game, the back-and-forth continues. The Broncos just reclaimed the lead, now up 21-14, on Peyton Manning's 14-yard touchdown pass to Knowshon Moreno. Broncos offensive

Peyton Manning throws perfect pass to Brandon Stokely to bring Broncos-Ravens to 14-14 at end of first quarter

Updated Jan 12

Share Tweet

There have been just two times in NFL playoff history that a first quarter ended with a 14-14 tie until today's game between the Denver Broncos and Baltimore Ravens. The Broncos started the scoring with a 90-yard punt return from Trindon Holliday, and B…

Manning bounces back with long drive, ties game

Updated Jan 12

Share Tweet

Yes, this is now officially better than Wild Card weekend. It's not even the second quarter, and both sides have taken turns making big plays, with the Ravens and Broncos tied 14-14. Peyton Manning just tied it back up with a 15-yard touchdown pass to B

Ravens get a pick six, may have gotten away with pass interference

Updated Jan 12

Share Tweet

It would be a stretch to blame Peyton Manning for his first interception against the Ravens. But the Broncos sure might have a case to blame the officials. On a short pass to Eric Decker, Ravens cornerback Chykie Brown tipped the ball in the air. The re…

Glove not making a difference as Ravens reclaim lead

Updated Jan 12

Share Tweet

Much has been made this week of Peyton Manning's record in cold weather games, and the fact he's wearing a glove on his throwing hand. CBS' Solomon Wilcots even reported that Manning was sticking his hand into a bucket of ice water in practice, to s

Welcome to Denver — it's cold (almost the coldest game of Peyton Manning's career, in fact)

Updated Jan 12

Share Tweet

DENVER - The pregame chatter about it being very cold here for the AFC playoff game between the Ravens and Broncos is very true. Trust me. This is very close to being the coldest game of Peyton Manning's NFL career, in fact. The coldest game Manning has…

Updated Jan 12

Share Tweet

Baltimore at Denver, 4:30 p.m. (CBS): It'll be cold and probably lopsided, but the first thing might negate the second thing, so who knows. It'll also either be the last game of Ray Lewis's career or the last game of Peyton Manning's much-ballyhooed com…

Source:

deadspin.com

Ravens, Broncos to deal with frigid temps

Updated Jan 12

Share Tweet

That glove Peyton Manning has been wearing on his throwing hand will come in quite handy Saturday for what could be the coldest home postseason game in Denver Broncos' history.

Source:

ESPN.com

Updated Jan 12

Share Tweet

A resurgent Peyton Manning has the Broncos in search of their 12th consecutive victory. But can Ray Lewis and Baltimore spoil Denver's path to the Super Bowl? Follow the action.

Source:

CNNSI.com

Updated Jan 12

Share Tweet

Indianapolis Colts special teams coordinator Marwan Maalouf will not be back on coach Chuck Pagano's staff next season.

Sources:

ESPN.com profootballtalk.com

Updated Jan 12

Share Tweet

NEW YORK (AP) -- It's unanimous, on both sides of the ball.

Source:

CNNSI.com

Sports Columnists

Jim Trotter: Kaepernick answers another question with dazzling playoff deb…

Jan 12

SAN FRANCISCO -- Perhaps 49ers coach Jim Harbaugh is a football savant, because his decision to change starting quarterbacks midway through the season is, for the time being, proving to be as cunning as it was calculated.