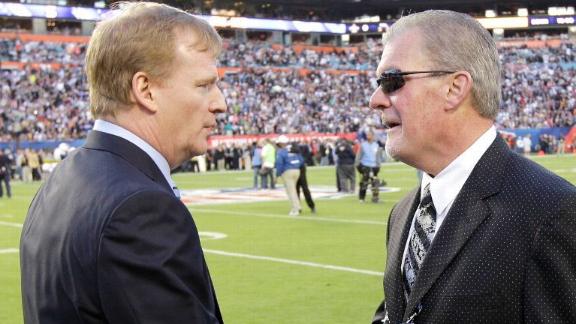 profootballtalk.com
ESPN.com
yahoo.com
Updated May 21, 2014
It's become fashionable over the last two days to accuse the NFL of applying a different standard to Colts owner Jim Irsay than the rules that are applied to players. The truth, however, is that the NFL hasn't applied a double standard when it comes to …
Share
Tweet
ESPN.com profootballtalk.com

May 21, 2014

INDIANAPOLIS -- Indianapolis Colts linebacker Robert Mathis stood at his locker Wednesday afternoon and spent several minutes talking to the media for the first time since being suspended by the NFL for four games for violating the league's drug policy.…

Share Tweet
Colts LB Mathis Regrets Decision, Accepts Ban

May 21

Antonio Pierce discusses why an NFL protocol to protect players from taking banned substances wouldn't necessarily be effective.

Clark: Goodell's Hypocrisy Exposed

May 21

Redskins safety Ryan Clark was critical of NFL commissioner Roger Goodell for not yet punishing Colts owner Jim Irsay for his arrest on preliminary charges of driving under the influence.

Ryan Clark Voices Opinion On Irsay Situation

May 21

NFL safety Ryan Clark appeared on "First Take" to share his thoughts on Roger Goodell's handling of the discipline for Colts owner Jim Irsay.