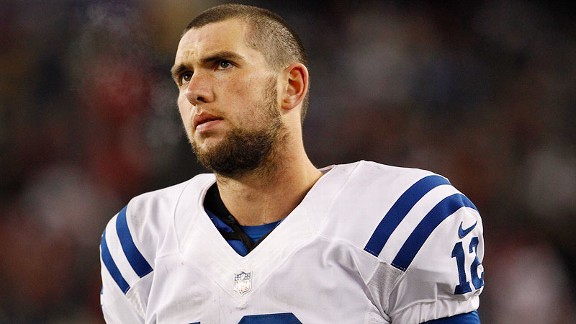 indystar.com
CNNSI.com
ESPN.com
profootballtalk.com
Updated Nov 18, 2012
FOXBOROUGH, Mass. -- Outside linebacker Robert Mathis said last week the Indianapolis Colts hoped to make Sunday a statement game. They did. Mathis issued the statement.
Share
Tweet
Don Banks: Luck, Colts get an up-close lesson about what it takes to be elite

CNNSI.com

Nov 18, 2012

FOXBORO, Mass. -- By late Sunday night there was still no word yet on whether Andrew Luck's mother (or perhaps his father in this case) told him there'd be days like this. But no matter. By the time this one was over, it was well understood that a messa…

Share Tweet

Bob Kravitz's Colts report card

Sunday was a major test for the Indianapolis Colts, and Star columnist Bob Kravitz is pretty harsh with his grades after the Colts surrendered 59 points to New England.

Share Tweet

Colts Insider: This game is gone in 61 seconds

FOXBOROUGH, Mass. -- Sixty-one seconds. That's how long it took for things to begin to unravel Sunday evening at Gillette Stadium.

Share Tweet

ESPN.com yahoo.com profootballtalk.com

Nov 18, 2012

New England Patriots tight end Rob Gronkowski broke his forearm at the end of the team's 59-24 rout of the Indianapolis Colts on Sunday, a league source confirmed to ESPN NFL Insider Adam Schefter.

Share Tweet

Colts notebook: Reggie Wayne's milestones take back seat to loss

FOXBOROUGH, Mass. -- It was a 6-yard second-quarter move-the-chains pass to Reggie Wayne that looked like nothing more than it was, one of 938 in a 12-year career, and another first down on a night the Indianapolis Colts would have 28 of them.

Share Tweet

Here's what the Indianapolis Colts should do with this game, an embarrassing 59-24 loss to the New England Patriots.

Share Tweet

ESPN.com

Nov 18, 2012

Peyton Manning threw for three touchdowns and Von Miller had three sacks, as the Denver Broncos defeated the San Diego Chargers 30-23 on Sunday to take a three-game lead in the AFC West.

Share Tweet

profootballtalk.com

Nov 18, 2012

In case there was any doubt before, there's no doubt now: The Broncos are in complete control of the AFC West. Today's 30-23 win over the Chargers gives the 7-3 Broncos a three-game lead over the 4-6 Chargers in the division, and Denver has now swept

Share Tweet

Patriots pulling away, up 31-17 in third

profootballtalk.com

Nov 18, 2012

Well, if Andrew Luck really has that magic quarterback gene, we'll find out in a moment. The Patriots just went up 31-17 early in the third on a Tom Brady touchdown pass to Julian Edelman, who scored a punt return touchdown earlier. The Colts have no an

Share Tweet

yahoo.com

Nov 18, 2012

Now that the New York Jets have actually won in a convincing fashion since they beat the Colts, 35-9, on October 14, it's time for linebacker Bart Scott to act stupid again. Scott, who threatened a reporter in the team locker room in September, tried to…

Share Tweet

deadspin.com ESPN.com

Nov 18, 2012

We have four more games left on the day and three more begin right now. OK, fine-due to some scheduling rejiggering this year, there is actually one more right now and then two more in the coming 20 minutes, but you get the point. We've actually got a p

Share Tweet

FOXBOROUGH, Mass. - Josh Chapman's wait to make his NFL debut will last at least another week.

Share Tweet

profootballtalk.com ESPN.com

Nov 18, 2012

In the same game in which Colts quarterback Andrew Luck put his head into the leg of Jaguars safety Dawan Landry, Luck was subjected to a couple of illegal shots to the head, according to his interim head coach. Bruce Arians tells ESPN's Sal Paolantonio

Share Tweet

Sunday Blitz: Colts-Patriots Recap

Nov 18

Jim Basquil and Eric Allen break down the Patriots' 59-24 win over the Colts.

Patriots Trounce Colts

Nov 18

Tom Brady threw for 331 yards and three touchdowns to lead the Patriots over the Colts 59-24.

Colts postgame press conference

Nov 18

Colts react following game with Patriots

Indianapolis Colts vs. New England Patriots highlights

Nov 18

New England Patriots QB Tom Brady throws for over 300 yards and three touchdowns and the Patriots return two interceptions for touchdowns in a 59-24 romp of the Indianapolis Colts.