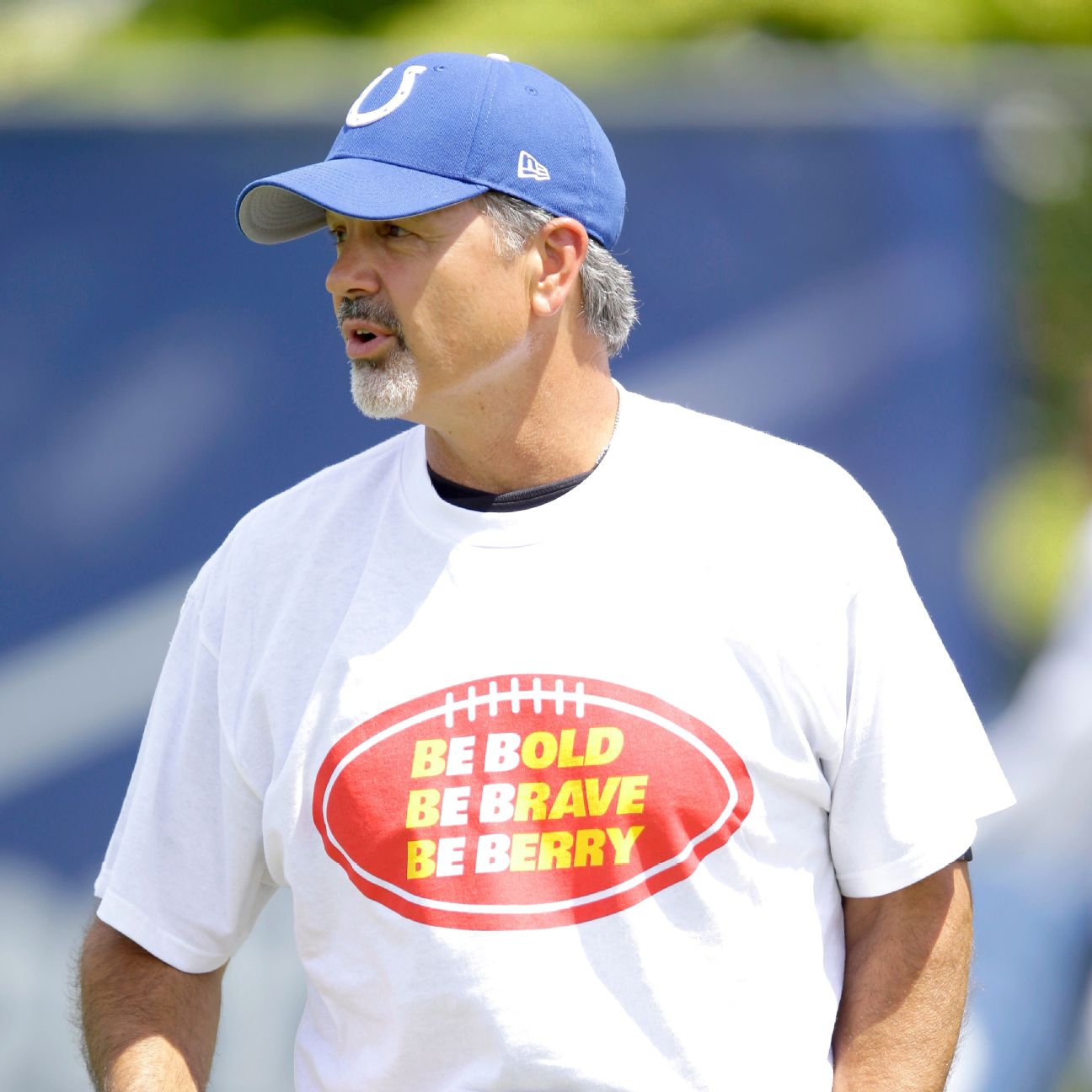 profootballtalk.com

3 hours ago

In the days before they played the Patriots in the AFC Championship Game, the Colts were alerted by the Ravens to pay special attention to potential problems with the game balls. Colts equipment manager Sean Sullivan sent an email to G.M. Ryan Grigson b…

Share Tweet

ESPN.com profootballtalk.com

7 hours ago

Agent Drew Rosenhaus: Contracts talks with Colts, T.Y. Hilton 'really productive'

Share Tweet

Hakeem Nicks: "My style of play" didn't fit with Colts

profootballtalk.com

13 hours ago

Wide receiver Hakeem Nicks looked like he was on the cusp of stardom after catching 155 passes for 2,244 yards during the 2010 and 2011 seasons with the Giants, but things haven't played out that way. Nicks pouted about his contract and hurt his foot an…

Share Tweet

Anthony Castonzo talking extension with Colts

profootballtalk.com

15 hours ago

Quarterback Andrew Luck's going to need a new contract soon and wide receiver T.Y. Hilton hasn't been shy about discussing his desire for a bigger deal with the Colts, but Indianapolis's contract concerns on offense go beyond those two players. Tight en…

Share Tweet

Chuck Pagano to Robert Mathis: Slow down, it's a long season

profootballtalk.com

Aug 3 (yesterday)

The Colts placed linebacker Robert Mathis on the physically unable to perform list at the start of camp because he's continuing to work his way back from last year's torn Achilles. That's hardly unexpected and you could say the same about Mathis's push …

Share Tweet

Robert Mathis and Donald Thomas placed on Colts' PUP list

ESPN.com

Aug 2 (2 days ago)

Robert Mathis and Donald Thomas placed on Colts' PUP list

Share Tweet

yahoo.com

Aug 2 (2 days ago)

There are many, many problems with the way the NFL handled deflate-gate, and one is pretty basic: The league never cared about the air pressure of footballs before hammering the New England Patriots. That was clear from the Wells report, when it came to…

Share Tweet

ESPN.com

Aug 1 (3 days ago)

T.Y. Hilton on his contract: 'That's between my agent and the Colts'

Share Tweet

Grading the Quarterback Class of 2012: Some A's and a Few Incompletes

nytimes.com

Aug 1 (3 days ago)

With the Dolphins' Ryan Tannehill the first to sign a contract extension, a look at how the quarterback class of 2012 stacks up now.

Share Tweet

Indiana Pacers newcomer Jordan Hill was arrested near Atlanta on charges of reckless driving and speeding after police clocked his car going 107 mph in a 65 mph zone.

Share Tweet

coltsgab.com

Jul 30 (5 days ago)

Everyone knows that the quarterback is almost always the most important player on the team, and as far as the Colts go, their quarterback is by far and away their most important, this determined by NFL.com – who talked about teams where the QB is the mo…

Share Tweet

profootballtalk.com

Jul 30 (6 days ago)

Tackle Gosder Cherilus spent the first five years of his career with the Lions and he may get a chance to resume his career there after being released by the Colts. Cherilus visited with the Bills on Wednesday, but, according to multiple reports, will b…

Share Tweet

deadspin.com

Jul 29 (6 days ago)

Following through on what they promised after Roger Goodell upheld Tom Brady's four game suspension for his part in the deflation of footballs prior to the AFC Championship game against the Colts, Brady and the NFL Players Association filed suit against…

Share Tweet

ESPN.com

Jul 28

Tom Brady's first game following his suspension remains against the Colts

Share Tweet

The big news on the Monday after the start of the 2015 regular season would have been the torn Achilles suffered by Colts linebacker Robert Mathis while working out on his own during a four-game PED suspension, but for the whole Ray Rice video thing. Ne…

Share Tweet

Rams sign Isaiah Battle

When the Colts signed a pair of third-round picks on Friday, all 2015 draft picks were under contract. On Monday, the entire 2015 supplemental draft class agreed to terms. It was a class of one. The Rams have announced that Clemson tackle Isaiah Battle …

Share Tweet

coltsgab.com profootballtalk.com

Jul 27

Former Colts quarterback Jack Trudeau has been arrested on preliminary charges of operating while intoxicated, public intoxication and intimidating a police officer, the Associated Press reports. Zionsville police say the arrest occurred Sunday night. A…

Share Tweet

Colts owner Jim Irsay says he isn't trying to get NFL Commissioner Roger Goodell to deny Patriots quarterback Tom Brady's appeal of his Deflategate suspension. Shortly after Ravens owner Steve Bisciotti denied lobbying Goodell to uphold Brady's four-gam…

Share Tweet

Uncertainty on Colts' offensive line could hurt Luck

Aug 1

ESPN Colts reporter Mike Wells discusses the uncertainty surrounding the Colts' offense, specifically the impact of Jack Mewhort, last season's starting guard, moving over three spots and starting at right tackle this season.

Luck focused on camp, starting fresh

Aug 1

Colts QB Andrew Luck talks about the team's expectations for this season and learning from the past.

Luck to cash in with richest contract in history?

Aug 1

ESPN NFL Insider Field Yates explains why Colts QB Andrew Luck will likely receive the richest contract for a quarterback in NFL history.

What's up with Colts ratting on Patriots?

Jul 28

Jemele Hill confronts comedian Mike Epps about his Colts snitching on the Patriots and creating the Deflategate uproar.