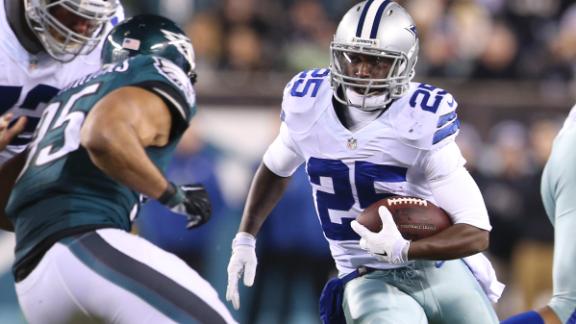 profootballtalk.com
ESPN.com
Updated 11 hours ago
Officially listed as questionable, unofficially Cowboys running back DeMarco Murray is determined to play on Sunday against the Colts. Murray, per a source with knowledge of the situation, declared even before having surgery to repair a broken bone in h…
Upvote
Share
Tweet
ESPN.com nytimes.com

13 hours ago

INDIANAPOLIS – The Indianapolis Colts talked about wanting continuity on the offensive line this season. That hasn't been the case, as they could be using their ninth different starting lineup on the line against the Dallas Cowboys on Sunday. Right tack…

Upvote Share Tweet

profootballtalk.com ESPN.com

15 hours ago

The Colts are listing wide receiver T.Y. Hilton as questionable for Sunday's game against the Cowboys, and he has taken the designation to heart. Hilton told Stephen Holder of the Indianapolis Star that he felt "50-50," in reference to his ankle injury,…

Upvote Share Tweet

A Look at NFL's Most Underappreciated, Overblown

nytimes.com

Dec 19 (yesterday)

Tony Romo, Dez Bryant and the rest of the Dallas Cowboys head into Sunday's game against the Colts leading the NFC East and on the verge of a playoff berth. A ton of the credit for that should go to head coach Jason Garrett's assistants.

Upvote Share Tweet

profootballtalk.com

Dec 18 (yesterday)

The Cowboys were in prime time last Sunday night, which means that the eyes of the football world were squarely on Philadelphia when wide receiver Dez Bryant caught three touchdown passes in a victory over the Eagles. His performance didn't escape the n…

Upvote Share Tweet

Clips edge Pacers as Griffin, Jordan go big

ESPN.com

Dec 18 (2 days ago)

Blake Griffin had 31 points and 16 rebounds, DeAndre Jordan added 23 rebounds and 15 points, and the Clippers beat the Pacers 102-100 on Wednesday night.

Upvote Share Tweet

Dirk Nowitzki: Kobe Bryant Is "Probably The Greatest Player In My Generation"

dimemag.com

Dec 17 (2 days ago)

Dirk Nowitzki is a better shooter than Reggie Miller, anyway. A day after the Indiana Pacers Hall-of-Famer bashed Kobe Bryant, the Dallas Mavericks' future one praised his fellow championship-winning elder statesman. Touching on Bryant passing Michael J…

Upvote Share Tweet

Colts face a challenge in stopping Dallas' offense

ESPN.com

Dec 17 (3 days ago)

INDIANAPOLIS -- The list of quarterbacks and teams that have dissected the Indianapolis Colts this season is an impressive one. Peyton Manning and the Denver Broncos. Ben Roethlisberger and the Pittsburgh Steelers. Tom Brady and the New England Patriots…

Upvote Share Tweet

profootballtalk.com

Dec 16 (3 days ago)

The Cleveland Browns claimed offensive tackle Andrew McDonald off waivers from the Indianapolis Colts on Tuesday. The Browns are the fourth team McDonald has been with this season. McDonald was signed off the Carolina Panthers practice squad by the Seat…

Upvote Share Tweet

Pacers Owner Would Welcome Stephenson Back, But "Bird Has To Decide"

dimemag.com

Dec 16 (4 days ago)

The Pacers lost Lance Stephenson to the Hornets this past summer when he inked a three-year, $27 million deal with owner Michael Jordan. But Stephenson has struggled with his shot, and the Hornets are at 6-18 so far after finishing 44-38 last season for…

Upvote Share Tweet

QB snapshot: Andrew Luck

A quick observation of quarterback Andrew Luck and how he played in the Indianapolis Colts' 17-10 victory over the Houston Texans in Week 15: Houston safety Keenan Lewis' interception return for a touchdown in the first quarter on Sunday marked the seve…

Upvote Share Tweet

Join us Tuesday at 1 p.m. ET (10 a.m. PT) for ESPN NFL Nation TV's Spreecast, as episode No. 36 will cover the latest from the NFL. Host Paul Gutierrez (San Francisco 49ers reporter) and co-hosts Coley Harvey (Cincinnati Bengals reporter) and Mike Wells…

Upvote Share Tweet

Politeness of being: Luck's kudos baffle foes

Indianapolis Colts quarterback Andrew Luck has started to confound pass rushers not by his impressive play, but by congratulating defenders for hard hits.

Upvote Share Tweet

Colts' defense used embarrassing game against Patriots to fuel them

INDIANAPOLIS -- They walked back to the huddle after most of the runs embarrassed. They walked off the field with their heads down after being humiliated. Their pride was squashed. All because of New England Patriots running back Jonas Grey ran through,…

Upvote Share Tweet

NFL Live Prediction: Colts-Cowboys

Dec 18

The NFL Live crew make their picks for Indianapolis at Dallas.

Inside Edge: Colts-Cowboys

Dec 18

ESPN NFL Insider Mike Sando delivers stats to help you make a pick for Indianapolis at Dallas.

Clippers Edge Pacers

Dec 17

Blake Griffin scored a game-high 31 points in the Clippers' 102-100 win over the Pacers.

Turnover-Prone Colts Need To Clean Up Their Mistakes

Dec 16

Colts reporter Mike Wells says Indianapolis won't get away with turnovers in the playoffs against the likes of New England, Pittsburgh and Denver.

Sports Columnists

Dallas Mavericks frontrunners for Jermaine O'Neal after Rajon Rondo acquis…

Dec 19

The acquisition of Rajon Rondo has given the Dallas Mavericks an undeniable edge in the race to lure veteran big man Jermaine O'Neal back to the NBA, according to league sources.

A New NFC West Rivalry

Dec 19

RENTON, Wash. — Remember, oh, about three long months ago, when 49ers-Seahawks was the best rivalry in the NFL? The Niners are 7-7, oddly out of the playoff hunt, and are 1-5 against Seattle since late in 2012. So, is it really such a great rivalry now,…

Source: Seahawks extend Avril four years

Dec 19

The Seahawks have signed pass-rusher Cliff Avril to a four-year extension worth $28.5 million, with $16 million guaranteed, a source confirmed to ESPN...