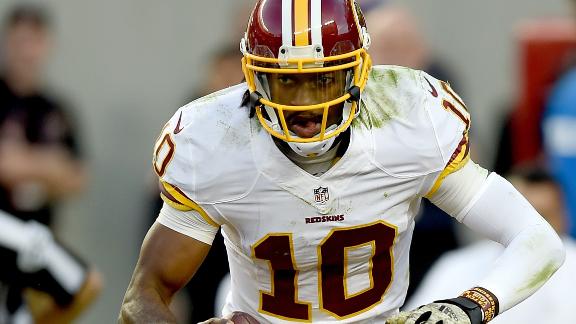 ESPN.com
Updated 1 hour ago
The Washington Redskins are planning to start Colt McCoy over Robert Griffin III this Sunday against the Indianapolis Colts, according to a team source.
Upvote
Share
Tweet
Analysis: ESPN's Total QBR Tries to Quantify the Other Things Passers Do

nytimes.com

11 hours ago

The Colts' Andrew Luck is a good example of how Total QBR credits quarterbacks for positive plays that are otherwise ignored.

Upvote Share Tweet

Colts' practice squad adds Griff Whalen, sprinter Jeff Demps

profootballtalk.com

12 hours ago

Griff Whalen wasn't gone from the Colts for long. Whalen, the return man who was cut to make room for the signing of Josh Cribbs, has remained in Indianapolis and signed to the practice squad. The Colts also announced that they will bring Jeff Demps bac…

Upvote Share Tweet

ESPN.com jacksonville.com

12 hours ago

A quick observation of quarterback Blake Bortles and how he played in the Jacksonville Jaguars' 23-3 loss in Week 12: Bortles played the worst game of his career against the Colts (15-of-27 for 146 yards with an interception) and that continued a trend …

Upvote Share Tweet

ESPN.com

12 hours ago

A quick observation of quarterback Andrew Luck and how he played in the Colts' 23-3 win in Week 12: Andrew Luck mentioned it. So did coach Chuck Pagano. Receiver Reggie Wayne was blunt about it. In order for the Colts to have an effective pass game they…

Upvote Share Tweet

dimemag.com ESPN.com

13 hours ago

No win in the NBA can be assumed – all 30 teams employ professional basketball players. And considering that logic, no loss should be overly disappointing, either. The Dallas Mavericks don't subscribe to the latter line of thinking. After falling to the…

Upvote Share Tweet

Jaguars In Review: A look at loss to Colts

jacksonville.com

16 hours ago

Observations and notes from the Jaguars' 23-3 loss Sunday at Indianapolis: OFFENSE * Playing time leaders (54 snaps): RB – Denard Robinson 36 and Will Ta'ufo'ou 16. WR – Cecil Shorts 51, Allen Hurns 49 and Marqise Lee 35. TE – Marcedes Lewis 43, Nic Jac…

Upvote Share Tweet

Colts bring back Victor Butler

profootballtalk.com

17 hours ago

The Colts shuffled up the makeup of their defense on Monday, bringing back a former member of the team a week after letting him go. Linebacker Victor Butler is back in Indianapolis and the team has waived defensive tackle Kelcy Quarles. Butler initially…

Upvote Share Tweet

ESPN.com profootballtalk.com

Nov 24 (yesterday)

INDIANAPOLIS -- Indianapolis Colts starting guard Hugh Thornton is week-to-week with a sprained MCL, coach Chuck Pagano said Monday. Thornton suffered the injury in Sunday's 23-3 victory over the Jacksonville Jaguars. Xavier Nixon and A.Q. Shipley spent…

Upvote Share Tweet

Pagano purposely called plays late to extend Reggie Wayne's catch streak

INDIANAPOLIS -- Reggie Wayne's streak of at least three catches in a game was in jeopardy. Serious jeopardy, for that matter. The Indianapolis Colts receiver only had one reception through the first three-plus quarters of Sunday's game against the Jacks…

Upvote Share Tweet

It was another Monday of questions for Washington coach Jay Gruden about quarterback Robert Griffin III, including whether Griffin would be in the starting lineup against the Colts this week. Gruden said that he had "every intent" of putting Griffin in …

Upvote Share Tweet

Josh Cribbs on his debut: 'I still wasn't even at my best'

INDIANAPOLIS -- I walked up to Josh Cribbs at his locker after Sunday's game against the Jacksonville Jaguars and asked the Indianapolis Colts' return specialist if he planned to have Josh Gordy buy him dinner after his penalty cost Cribbs an 82-yard to…

Upvote Share Tweet

INDIANAPOLIS -- There were signs of struggles in recent weeks, but the here-we-go-again moment came in the first half against the Jacksonville Jaguars for the Indianapolis Colts' offensive line. The Colts gave up five sacks in the first half, putting qu…

Upvote Share Tweet

Colts shake off flu, fumble for rushing success

INDIANAPOLIS -- It was surprising when Indianapolis Colts running back Daniel "Boom" Herron's name was announced with the rest of the offensive starters before Sunday's game against the Jacksonville Jaguars. That was supposed to be Trent Richa…

Upvote Share Tweet

For most people, the birth of a child is enough activity for one day. Colts wide receiver T.Y. Hilton did a bit more than just support his wife during the birth of their daughter, however. He was roused from sleep at 5 a.m. by a team manager at the team…

Upvote Share Tweet

Patriots running back Jonas Gray shot from obscurity to the cover of Sports Illustrated by running for 201 yards and four touchdowns against the Colts last week, but the elevator back down to Earth may have travelled even faster. Gray arrived late to pr…

Upvote Share Tweet

Trading Places: Griffin III And Luck

Nov 25

Tim Hasselbeck talks about what would hapen if Andrew Luck were a Redskin and Robert Griffin III were a Colt.

Hilton Scores TD For Newborn Daughter

Nov 24

Colts WR T.Y. Hilton discusses the birth of his daughter Eugenia and his emotional 73-yard touchdown catch in her honor.

Sloan, Pacers Stun Mavs

Nov 24

Donald Sloan scored 29 points to power the Pacers to a 111-100 win over the Mavericks.

Game Balls: Jacksonville at Indianapolis

Nov 23

Colts reporter Mike Wells' game ball goes to receiver T.Y. Hilton, who caught a 73-yard touchdown pass. Jaguars defensive end Chris Clemons gets the game ball from Mike DiRocco after three sacks and two forced fumbles.