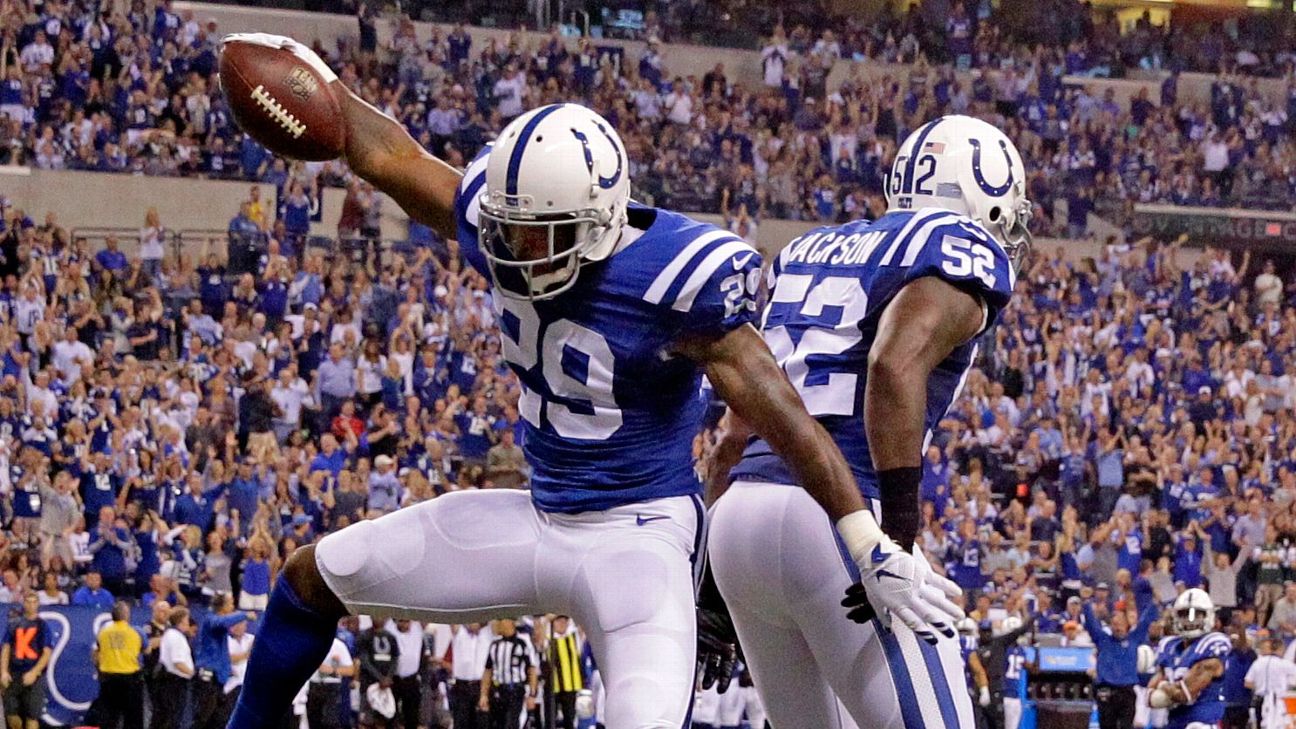 profootballtalk.com

46 minutes ago

The Colts are going to have to find another quarterback to ride around in the revolving door, because Josh Johnson has another job. The Bills announced they had signed the journeyman backup, who has yo-yoed on and off the Colts roster the last two weeks…

Share Tweet

profootballtalk.com

5 hours ago

The Bills need to get pressure on Andy Dalton in Week Six. The Dolphins defensive line knows they've played below expectations. "It's just another game" was the party line for the Patriots when asked about facing the Colts. Jets DE Sheldon Richardson wa…

Share Tweet

profootballtalk.com nytimes.com

7 hours ago

Whatever the Colts did in practice yesterday, quarterback Andrew Luck was a full participant in it, as far as you know. And if you were looking for more clarity from Luck himself, it wasn't there either. "It feels better every day," Luck said after what…

Share Tweet

profootballtalk.com

18 hours ago

On Saturday, cornerback Shareece Wright got what he wanted — his walking papers from the 49ers. On Monday, his effort to find a new team began. Per a league source, Wright visited the Colts. It was a visit, not a workout. But Wright presumably doesn't n…

Share Tweet

profootballtalk.com

23 hours ago

Dwight Freeney is back in the NFL. Freeney has passed a physical in Arizona and will sign with the Cardinals today, Chris Mortensen of ESPN reports. A three-time first-team All-Pro defensive end with the Colts, Freeney played for Cardinals coach Bruce A…

Share Tweet

ESPN.com

Oct 12 (yesterday)

Colts prepare for first meeting with Patriots since Deflategate

Share Tweet

yahoo.com

Oct 11 (yesterday)

Charles Woodson and Peyton Manning will always have a historic link. Woodson controversially beat Manning for the 1997 Heisman Trophy. They were both top-four picks in the 1998 NFL draft. They're two of the three players still active from that draft (th…

Share Tweet

yahoo.com

Oct 11 (2 days ago)

ESPN's Adam Schefter is reporting that the Miami Dolphins, who canned head coach Joe Philbin earlier this week, could be interested in inquiring about the availability of New Orleans Saints head coach Sean Payton. The report is not surprising in that Pa…

Share Tweet

jacksonville.com

Oct 10 (3 days ago)

It's amazing how a football hooking left, a Jason Myers missed field goal drifting 2 or 3 feet wide of the upright, can extend a tiresome Jaguars narrative. Last week's gut-wrenching 16-13 overtime loss to the Indianapolis Colts isn't just the differenc…

Share Tweet

Skip thinks spread is too high in favor of Pats

Oct 13

First Take's Skip Bayless and Stephen A. Smith debate whether the 7.5 point spread for the Patriots vs. Colts game is reasonable.

Colts prepare for first meeting with Patriots since Deflategate

Oct 12

ESPN Colts reporter Mike Wells discusses the Colts' preparation for their meeting with the Patriots.

Colts-Patriots meet in rematch of AFC Championship game

Oct 12

Colts hope to get first victory over Patriots in the Andrew Luck era. Patriots seek revenge for Indianapolis starting Deflategate.

His & Hers: Matt Hasselbeck helped save the season

Oct 9

Michael Smith and Jemele Hill react to Colts QB Matt Hasselbeck's standout performances in the last two games and break down what Andrew Luck can learn from his teammate.

Sports Columnists

NBA - Blake Griffin wants to take his defense and the Clippers to another …

Oct 7

Blake Griffin is looking to become an elite defender and a vocal leader, and in turn take the Clippers to a championship, writes J.A. Adande.

NBA - Los Angeles Clippers must learn to play without DeAndre Jordan

Sep 25

The Clippers were able to re-sign DeAndre Jordan. With a more able reserve unit behind him, the team must now learn how to win without him, writes J.A. Adande.

See the rankings (Insider)

Sep 22

Chad Ford says the Knicks are managed by "a neophyte coach, a buffoonish owner and an unproven team president." Amazingly, New York still isn't last p...