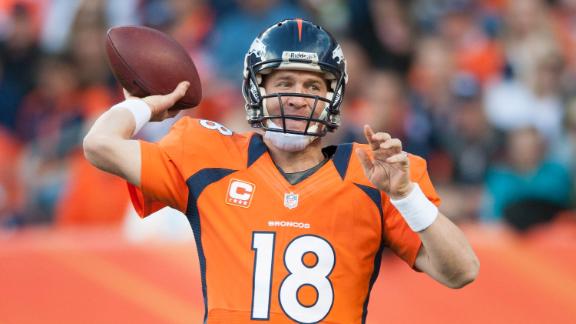 ESPN.com
Updated Dec 2, 2012
Peyton Manning threw three touchdowns, including one to defensive tackle Mitch Unrein, to help the Denver Broncos wrap up the AFC West with a 31-23 victory Sunday over the Tampa Bay Buccaneers.
Share
Tweet
Colts notebook: Rookies Fleener, Brazill finally get on the scoreboard

DETROIT -- Indianapolis Colts rookies Coby Fleener and LaVon Brazill finally celebrated their first NFL touchdowns Sunday. Well, Fleener did, with a dance. Brazill just spiked the ball and ran off Ford Field.

Share Tweet

Bob Kravitz's Colts report card: Indy springs surprise

Down 12 with four minutes to go, Star columnist Bob Kravitz was all set with his grades for this week's report card, and they weren't flattering. Well, so much for that. An improbable comeback later and suddenly The Dopey Report Card isn't looking so ba…

Share Tweet

Banged up Colts defense tightens to allow comeback

DETROIT -- Indianapolis Colts defensive end Cory Redding stood outside a jubilant visitors' locker room at Ford Field and reveled in an improbable victory Sunday.

Share Tweet

Colts Insider: 12-point deficit, 4 minutes left? No problem.

DETROIT -- They simply don't know any better. The Indianapolis Colts paid no attention to the "rebuilding" chatter after owner Jim Irsay and general manager Ryan Grigson took the only appropriate course and dismantled the previous roster in February.

Share Tweet

Megatron continues historic pace, but last-second loss to Colts dilutes the buzz

yahoo.com

Dec 2, 2012

We all know that Detroit Lions receiver Calvin Johnson is great, but just how amazing has he been this season? With a quarterback in Matthew Stafford, an ostensible second receiver in Titus Young who can't stay out of the doghouse, and precious little i…

Share Tweet

ESPN.com yahoo.com profootballtalk.com indystar.com

Dec 2, 2012

Andrew Luck threw a 14-yard touchdown pass to Donnie Avery with no time left to lift the Indianapolis Colts to a dramatic 35-33 comeback win over the Detroit Lions on Sunday.

Share Tweet

Megatron Makes It Look Easy: Your Sunday NFL GIF Roundup

deadspin.com

Dec 2, 2012

We'll be putting all our GIFs for the day here, from the silky-smooth Calvin Johnson to Mark Sanchez getting his hopes up. We'll update the post as the later games conclude, so stay tuned. More »

Share Tweet

Bob Kravitz: On Kansas City playing today's game

DETROIT - I've read columns saying "play the game" and I've read columns saying "play it another day," and writers on both ends of the spectrum make good points. I tend to take the former approach. Which, I'm sure, makes me sound terribly crass.

Share Tweet

Sunday Breakdown: Week 13

Dec 2

Jorge Andres and Eric Allen break down how rookie quarterbacks Andrew Luck and Russell Wilson both lead their teams to exciting victories

Colts postgame press conference

Dec 2

Colts react following game with Lions

Luck's Two TDs In Final 2:39 Shock Lions

Dec 2

Andrew Luck threw a 14-yard touchdown pass to Donnie Avery with no time left on the clock to stun the Lions.

Colts vs. Lions highlights

Dec 2

Indianapolis Colts QB Andrew Luck threw 4 touchdown passes and had 391 yards in his Week 13 35-33 come from behind win against the Detroit Lions.

Sports Columnists

Don Banks: Backs against wall, Batch, Steelers prove they're not quite don…

Dec 2

BALTIMORE -- We probably should have seen this one coming. The aging Charlie Batch has looked like he was on his last legs for years now. Just like the aging Pittsburgh Steelers. But they both refuse to go away. At least quietly.

Orlando Magic defeat Dwight Howard's Lakers

Dec 2

The Magic turned the tables on Dwight Howard and were able to get a victory at Staples center.