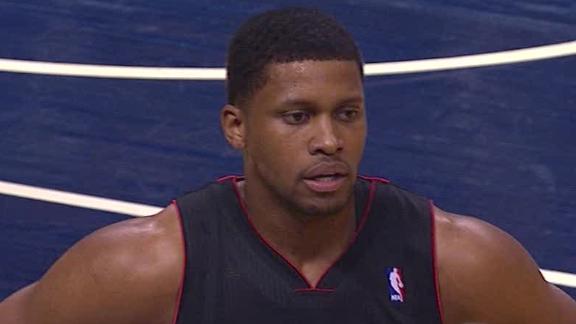 Rudy Gay's Vicious Alley-Oop Spike Dunk

dimemag.com

Feb 8, 2013

Kyle Lowry lobs the rock to Rudy Gay who leans into the alley-oop spike dunk.The post Rudy Gay's Vicious Alley-Oop Spike Dunk appeared first on Dime Magazine (dimemag.com) : Daily NBA News, NBA Trades, NBA Rumors, Basketball Videos, Sneakers.

Share Tweet

indystar.com

Feb 8, 2013

TEMPE, Ariz. -- A trip to Duke University a year ago to help Peyton Manning work his way back from neck surgery turned out to be just as beneficial for his longtime offensive coordinator Tom Moore.

Share Tweet

coltsgab.com

Feb 8, 2013

Athleticism + 320 lbs athlete who runs and moves extremely well for his size + Built like a boulder, solid and possesses great natural strength both in the lower half and upper body + Extremely quick and agile for DT, can change direction, extremely lig…

Share Tweet

Paul George, Roy Hibbert, George Hill play dodgeball with Pacers fans (VIDEO)

yahoo.com

Feb 8, 2013

It's like my grandfather always said: "After you sweep the NBA's only back-to-back-to-back of the season to run your winning streak to five games and retake the lead in the Central Division, you need to find a way to wind down." Clearly, Paul …

Share Tweet

Dwight Freeney wants to retire in Indianapolis

profootballtalk.com

Feb 8, 2013

Defensive end Dwight Freeney has spent his entire 11-year NFL career as a member of the Indianapolis Colts and he doesn't want that to change. But Freeney understands that he may not have a choice as he heads toward free agency next month. Freeney was a

Share Tweet

Raptors Snap Pacers' Home Winning Streak

Feb 8

Ridy Gay leads Raptors past Pacers.