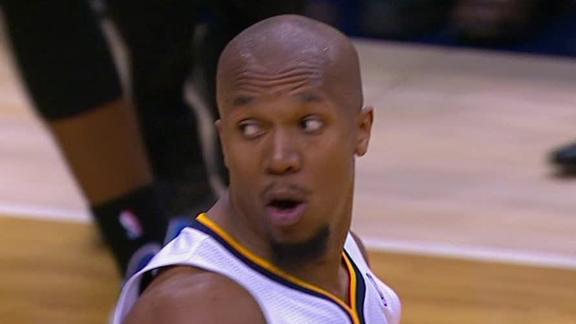 Updated Feb 22
Share
Tweet
David West scored 18 points, George Hill had 15 and the surging Indiana Pacers beat the Detroit Pistons 114-82 on Friday night.
Source:
ESPN.com
Updated Feb 22

Share Tweet

Quarterback Peyton Manning had a great year in his first year with the Broncos.  And in the eyes of his boss, V.P. of football operations John Elway, it can't get any better. Elway told Friday's edition of Pro Football Talk that Manning gets an A+ fo

Source:

profootballtalk.com

Updated Feb 22

Share Tweet

Notre Dame running back Cierre Wood has heard various opinions on the importance of an NFL prospect's 40-yard dash.

Paul George's Incredible Two-Handed Block

Updated Feb 22

Share Tweet

Paul George hustles and denies Rodney Stuckey's dunk attempt with two hands.The post Paul George's Incredible Two-Handed Block appeared first on Dime Magazine (dimemag.com) : Daily NBA News, NBA Trades, NBA Rumors, Basketball Videos, Sneakers.

Source:

dimemag.com

Colts' coach Chuck Pagano says he is 'doing great'

Updated Feb 22

Share Tweet

You notice the salt-and-pepper hair, which is losing its battle to waves of gray.

Updated Feb 22

Share Tweet

A circus is expected to take over the Faegre Baker Daniels Club at Lucas Oil Stadium Saturday.

Quest to save football may begin at Indiana high schools with helmet experimentation

Updated Feb 22

Share Tweet

'We have only scratched the surface of what we can do from a safety perspective. I have no doubt we can develop new protective equipment and make football viable long-term.'

Updated Feb 22

Share Tweet

Chuck Pagano joked with reporters at the NFL scouting combine that the only restriction his doctors have put on him pertains to very little media access.

Source:

ESPN.com

Dime Q&A: Lance Stephenson On His Basketball Ascension In Indiana

Updated Feb 22

Share Tweet

In New York City, the name Lance Stephenson is one that many would say will live forever. His success as a teenager at Lincoln High School put him in the limelight early. As his game progressed and he was drafted into the NBA in 2010, many thought the I…

Source:

dimemag.com

Updated Feb 22

Share Tweet

Through the haze of confetti, trouble looms for the Ravens. The defending champions will look very different next season, but that doesn't mean all is lost, Don Banks writes.

Source:

CNNSI.com

Dunk Of The Night: Gerald Green's Monster Finish

Feb 22

D.J. Augustin alley-oops to Gerald Green, who finishes with the big dunk against the Pistons.

Sports Columnists

Don Banks: Traditional pocket passers becoming extinct? Don't tell this QB…

Feb 22

INDIANAPOLIS -- Perhaps the irony of the NFL's incoming quarterback class on display here at the scouting combine is that while the read-option trend seems to be the wave of the future within the league, the future clearly isn't now. At least not in ter…

2013 NFL combine -- Friday observations about offseason, Weeden and more

Feb 22

Will the NFL push back the dates on the offseason? Not if the players' union has anything to say about it, writes John Clayton.

Don Banks: Baltimore Ravens 2013 Offseason Preview

Feb 22

SI.com is laying out offseason road maps for all 32 teams as they start their journey for the Lombardi Trophy -- two teams per day, from the teams that need the most work to contend in 2013 to the ones that are in pretty good shape. See them all.