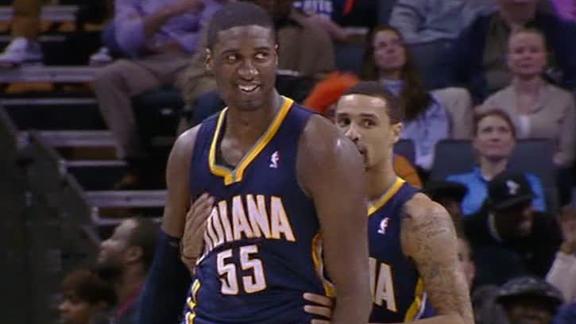 Roy Hibbert had 18 points and seven rebounds, and the Indiana Pacers handed the Charlotte Bobcats their 13th straight home loss with a 103-76 victory Tuesday night.
Share
Tweet
Ryan Grigson walked into the Colts pressroom with a cup of coffee. There's always a cup of coffee within arm's length of the Colts' general manager. It's how he survives the days after four hours of troubled sleep.

Share Tweet

Ryan Grigson is hoping for the best but prepared for the worst, which might involve the Indianapolis Colts losing offensive coordinator Bruce Arians to the Chicago Bears.

Share Tweet

While there's enough blame to go around when teams lose, and it's unfair to blame one guy for everything, the fact Manning is 9-11 in the playoffs is a compelling statistic. So I looked into it today, for several reasons.

Share Tweet

For Indiana's George, a Breakout Season

nytimes.com

Jan 15, 2013

With Danny Granger out, the Pacers' Paul George has made the most of his opportunities.

Share Tweet

Is Something Wrong?: Critics are still buzzing over the Broncos' costl…

Critics are still buzzing over the Broncos' costly decision-making Saturday, but what role does Peyton Manning's health play in the situation? Peter King tackles that and more.

Share Tweet

Jim isn't the only Harbaugh to have a bold late-season move pay off. In Baltimore, the switch to Jim Caldwell as OC has the once free-falling Ravens thriving, Don Banks writes.

Share Tweet

Don Banks: Once left for dead, Ravens a threat again thanks to bold Caldwell move

Everyone understood it was a bold and risky move to make at such a vital position so late in the season. But that Harbaugh guy clearly knew what he was doing, because it has quickly elevated his team's offensive production to new heights and brought a S…

Share Tweet

5 Benches That Could Hold Back NBA Playoff Contenders

dimemag.com

Jan 15, 2013

What makes San Antonio so frustrating for opponents and fun to watch for us, the fans, is the parallel personnel magic GM R.C. Buford and coach Gregg Popovich seem to always have working. It's twofold: The Spurs' core of Tony Parker, Tim Duncan and M

Share Tweet

ESPN.com

Jan 15, 2013

John Fox would tell Peyton Manning to take the knee again.

Share Tweet

The Indianapolis Colts moved quickly to fill the vacancy created by Tom Telesco's relocation to San Diego by hiring former Chargers' personnel man Jimmy Raye.

Share Tweet

FOXBOROUGH, Mass. (AP) -- The New England Patriots have done just fine without Rob Gronkowski.

Share Tweet

Pacers Hand Bobcats Their 13th Straight Home Loss

Jan 15

Roy Hibbert leads the way with 18 points in Pacers' 103-76 win over Bobcats.